Lena Dunham Explains Why She Isn't Ready to Get Married
She's just a little "intimidated."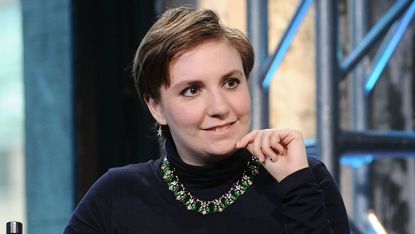 (Image credit: Getty Images)
Much like Brangelina, proud LGBT supporter Lena Dunham once vowed that she and her boyfriend, Jack Antonoff, would hold off on getting married until gay marriage was made legal in all 50 states. Well, now that same sex couples are free to tie the knot across America, we—along with Ellen Degeneres—can't help but wonder: "Where's your ring?"
When asked about her current plans to walk down the aisle, Dunham openly admitted that she has none—because she and Antonoff are nowhere near ready to become husband and wife (regardless of the Supreme Court's ruling).
"So it was funny," she said during a Friday appearance on Ellen. "The day that gay marriage became legal across this country, we were thrilled, we were celebrating. And suddenly, the texts just started coming from our friends, from our mothers, from our exercise instructors being like, 'Finally, it's your time!'"
And that's when the pressure started to kick in: "We kind of looked at each other and were like, 'Oh God, what have we done?!'" she explained. "I'm excited to marry him at some point, but it just felt like a lot to just go for it that day."
Plus, Dunham doesn't want her nuptials to be upstaged by the "gay people [who] are kind of killing it at weddings right now." "I feel intimidated," she revealed. "They're kind of winning at weddings. So, I don't want to go in and just pale in comparison."
Fair enough.
Even with assurance from Degeneres that her ceremony will be a "cool" and "amazing" one, the Girls star isn't so sure. "I have a lot of big ideas which I share with Jack as he's falling asleep," she lamented. "And he goes, 'Maybe we can talk about it tomorrow...or in five or six years.'"
Watch the full interview below:
Celebrity news, beauty, fashion advice, and fascinating features, delivered straight to your inbox!