Mega Maggie Gyllenhaal
Once the queen of quirky indie movies, The Dark Knight star Maggie Gyllenhaal braces for the highs — and surprising lows — of blockbuster-size fame.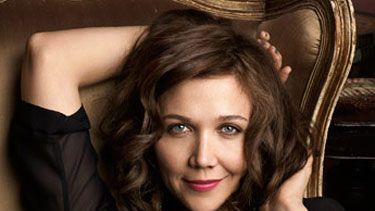 (Image credit: Mark Abrahams)
Marie Claire Newsletter
Celebrity news, beauty, fashion advice, and fascinating features, delivered straight to your inbox!
Thank you for signing up to Marie Claire. You will receive a verification email shortly.
There was a problem. Please refresh the page and try again.
For her breakthrough role as a kinky office assistant in 2002's Secretary, Maggie Gyllenhaal earned $65,000 for a performance that required her to be spanked and deliver mail on all fours. The budget was so low for her star turn as a troubled ex-convict in Sherrybaby (2006) that she didn't have a trailer; the crew carried around a hospital cot so she could take catnaps between scenes. Now, the onetime indie queen finds herself squarely in Hollywood blockbuster territory, playing Batman's girlfriend in The Dark Knight — budget $180 million — where there are as many pitfalls as perks. Consider: Suddenly, she's a target for the fashion police.
"Oh, my God, all the time," says Gyllenhaal, her voice rising. After she wore a sweeping purple Peter Som gown to the Metropolitan Museum Costume Institute gala last May, her photo appeared on a "worst dressed" Website accompanied by vicious put-downs from bloggers. "I thought I looked great," she says. "Sometimes it freaks me out. I've been so hurt and felt so bad." But with extra star wattage from her actor fiancé, Peter Sarsgaard, and her famous younger brother, Jake, she knows that everything about her is considered fair game — now more than ever. "People will always say mean things about you if you put yourself out there," she says — and she has never been one to hold back.
"Maggie's got a lot of sass," says Aaron Eckhart, who stars as the disfigured vigilante Two-Face in The Dark Knight. He starts to laugh as he adds, "She has very strong opinions on acting and things outside moviemaking. She's not afraid to speak her mind."
On this sunny afternoon at the cozy restaurant Savoy, a Soho mainstay, Gyllenhaal, who has come directly from her 8-year-old niece's dance recital, is dressed — full fashion alert — for comfort, in sandals, blue jeans, a gray jersey wrap top, a Miu Miu red cardigan sweater, an antique diamond engagement ring, and a gold necklace with her 22-month-old daughter Ramona's name engraved on a tiny angel pendant. Tall and slender, she has a throaty voice and a lopsided smile. It has become de rigueur for anorectic actresses to consume big meals when dining with reporters to prove they do eat, but Gyllenhaal does not appear to be acting when she digs into a plate of pork sausage.
When I first met Gyllenhaal two years ago, she was very pregnant and house-hunting. Today she's deep into motherhood and renovating the 1860s brownstone she owns with Sarsgaard ("We made every mistake you can make"). Gyllenhaal — who's been cool with playing tortured characters and graphic sex scenes — admits that it took her a while to adjust to the mommy role. "I've spent all my time learning how to be a mother and make a home with a child," she says, adding that when Ramona was first born, "I didn't know what I was doing. It's so hard and requires so much work and careful thought. You just get stronger and stronger."
She thinks a lot about the kind of example she wants to set for her daughter, a topic she frequently hashes out in therapy. "For me it's about getting to know my own mind," she says of regularly seeing a shrink. "It makes it easier to grow, and to grow up. I'm always thinking about what I want to take from my mother and what I don't."
Gyllenhaal was raised in a close-knit baby-boomer household in California with politically active parents (her father, Stephen, is a director; her mother, Naomi Foner, a screenwriter). "They were not celebrities," she notes, which allowed her and Jake to have tabloid-free childhoods. Born in 1977, she came of age with the impression that it wasn't important to wear makeup, nor was it OK to manipulate people with her feminine wiles. "I always felt there was something dishonest about dyeing your hair to make it more beautiful," Gyllenhaal says — although she's over that now.

See behind-the-scenes pics from Maggie's photo shoot here

Her mother accompanied her during the filming of The Dark Knight to help out with the baby. "She's been incredible," Gyllenhaal says. "She's been there whenever I needed her." Yet Gyllenhaal is newly aware of how her own worldview was shaped by having a feminist working mother. "I was not taught how to run a home, and I don't think Peter was either. My mother worked, and we had babysitters. She taught me that I can do anything—that I'm smart, I'm powerful—and I am so grateful, but I have a big gap in the homemaking area. My mom gave me great books, and taught me about politics. These were incredibly important things she gave me. But," she adds with an affectionate laugh, "she didn't moisturize."
Gyllenhaal is lucky to have real help in the child-rearing endeavor. "Peter has been absolutely equal in terms of parenting," she says. "He really understands what it means to work until 5 in the morning, which I did the other day, or if I say, 'I need you to sit down and help me learn these lines,' or 'I need you to take Ramona.'" And it goes both ways: This past March, she dropped out of the marital dramedy The Private Lives of Pippa Lee when a new shooting schedule meant she would be apart for too long from Sarsgaard, who was in London shooting the coming-of-age movie An Education. She and Ramona joined him instead. "I loved being 'the wife,'" she says, "but if I didn't have my own work, it would be rough on me."
The couple has agreed that since Sarsgaard recently made two movies, it's her turn next, but in truth their choices will depend on whose agent calls first with a great part. "If suddenly Peter was offered the lead in a Scorcese movie," she says, "I'm sure we'd try to find a way to make it work."
Her brother, Jake, 3000 miles away in Los Angeles, is unavailable for babysitting duty, although Gyllenhaal says he's up to the job. "We lived with him in Los Angeles when Peter and Jake were making Rendition," she recalls. "Jake has a beautiful house, much nicer than a hotel. He's great with kids—it comes naturally to him. He really has that touch."
Jake, of course, is partnered up with Reese Witherspoon, who is freshly divorced and the mother of two. When I mention having seen a photo of them in The New York Post recently, Gyllenhaal grimaces. "We're so protective of our privacy and our family," she says. "The level of invasion is out of control. Jake has gotten more used to it than I have—he rolls with it better."
While most young actresses would leap at the chance to be the female lead in a mega studio movie, Gyllenhaal was cautious, interrogating director Christopher Nolan about the role of district attorney Rachel Dawes, previously played by Katie Holmes. "Maggie came to me with very strong ideas about the character and the changes she wanted to make," Nolan says.
But once she committed, Gyllenhaal didn't look back. "I immediately recognized that she was someone I could play with," Eckhart says. "We'd have our little improvisations before the scene, and she was always trying to get the last word in, and so was I. But as sexy and smart as she is, she's earthy as well. She'd bring her baby to the set, and she doesn't have any problems with doing what she has to do as a mother"—meaning, change diapers and breast-feed.
As for the sharp detour into popcorn flicks, Gyllenhaal's motivation is strategic. "There are 10 names that can get a movie made," she says. "I have respect for women like Cate Blanchett and Nicole Kidman and Kate Winslet." So what would it take for her to join those ranks? "I think it would take me being in a movie that made tons and tons of money." Perhaps The Dark Knight

will be her Titanic—in the box-office sense, of course.
But there is no sense in which she was slumming in The Dark Knight. "It didn't in any way feel like a compromise," Gyllenhaal says. Citing the director and her roster of costars—Eckhart, Gary Oldman, Christian Bale, Michael Caine, Morgan Freeman—she adds, "it didn't feel like working on a comic-book movie."
The one name missing from that list is Heath Ledger, who plays the Joker in the movie and died of an accidental prescription-drug overdose in January, after the movie wrapped. "My heart really broke when he died," says Gyllenhaal, her winsome face darkening. "I think seeing the movie will be painful. I saw this new trailer, which I loved, but Heath was all over it, and it was very sad to see it. Hard to watch."
"What he does is extraordinarily intense," says Christopher Nolan, "and what works is seeing Maggie reacting to it, which heightens the drama." Is Maggie's character in danger from him? "Oh yeah," Nolan replies. "Everyone is in danger from him."
Gyllenhaal and Sarsgaard were Brooklyn neighbors of Ledger and his girlfriend Michelle Williams (the couple starred with Jake in Brokeback Mountain). "We live pretty close to them," says Gyllenhaal, recalling the media maelstrom in the wake of Ledger's death and how bad she felt for Williams. "It was disgusting. I had journalists call me on my cell phone. There were these two shy girls sent from some rag magazine to camp in front of my house. I came home with Ramona and I was so shocked and angry." But then she adds with a hint of sympathy, "These poor girls, it wasn't their fault. They were out of their element."
When Gyllenhaal turned 30 last November, she was surprised to discover she cared about that milestone. "I'm not the youngest person at the table anymore. I'm not the young precocious one," she says, a little wistfully. But, she adds, "I feel like I'm engaging with people in a different way now. I am a woman. I'm treated with respect, as an equal." She is already thinking about having more children ("People say two is so hard, but I think we probably will"), daydreaming about leaving New York City ("Peter and I have a hankering to move to the country"), and wondering what character she'll inhabit next—be it someone edgy and offbeat in a small-scale gem, or the smartest, freshest thing in a money-minting franchise.
"I've read scripts and thought, I could do this in my sleep," she says. "Then I've read things I don't understand, and I don't know how I'd do it. But I want to try."
Meryl Gordon wrote about Nicole Kidman for the December issue of MC. She is finishing a book, Mrs. Astor Regrets, about Brooke Astor's family.
Celebrity news, beauty, fashion advice, and fascinating features, delivered straight to your inbox!