Carrie Underwood Cried On Stage in Her First Performance Since Her Scary Fall
She poured her heart into a rendition of "Cry Pretty."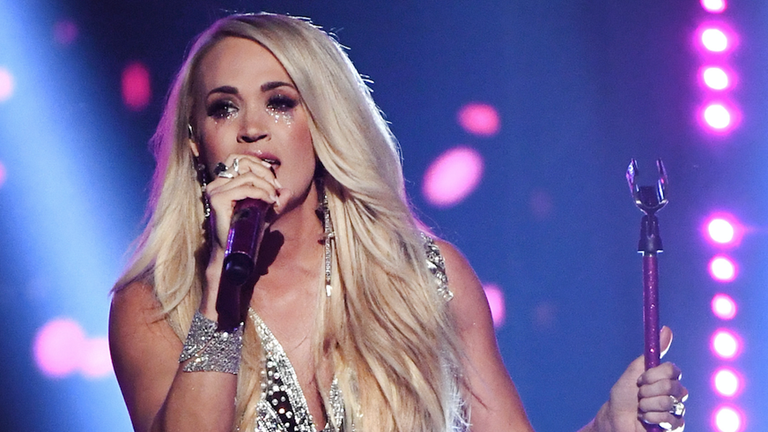 (Image credit: Getty Images)
All eyes were on Carrie Underwood tonight at the ACM Awards as she gave her first performance since falling outside her home and receiving around 50 stitches in her face last November.
Although Carrie, 35, originally warned fans that she "might look a bit different" after her fall, she looked absolutely stunning while singing an emotional rendition of her new single, "Cry Pretty."
Carrie was visibly emotional during the performance, tearing up as she neared the end of her song.
Though she has shared several pictures of herself on Instagram over the past week, she has not appeared publicly since her scary fall—and fans were thrilled to see her back on stage.
Standing Ovation! Well done @carrieunderwood #CryPretty #ACMawards @ACMawards 🔥🔥🔥 pic.twitter.com/RfD7t0AtfhApril 16, 2018
See more
My goodness. @carrieunderwood. Probably the best vocalist on the planet. #ACMAwardsApril 16, 2018
See more
God Bless Carrie Underwood. We missed you.#ACMawardsApril 16, 2018
See more
Carrie Underwood singing live is beyond beyond beyond impressive. #ACMAwardsApril 16, 2018
See more
After Carrie finished her performance, the crowd erupted in applause and got on their feet for a standing ovation—and the country songstress had tears streaming down her face (as well as some glitter, thanks to her stage makeup).
Just moments later, she took to the stage again to accept the award for vocal event of the year for her song with Keith Urban, "The Fighter."
And the winner for Vocal Event of the Year goes to... @KeithUrban and @CarrieUnderwood for "The Fighter" #ACMawards pic.twitter.com/crk61n2RYtApril 16, 2018
See more
"Thank you for having me," she told Urban while crying. "I'm still kind of like…shaking right now. Thank you."
Injured or not, one thing is for sure–Carrie's vocal chops are as strong as ever.