The 17 Most Memorable Super Bowl Halftime Shows
Left Shark forever.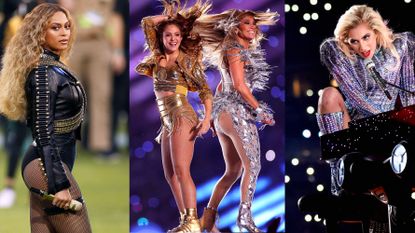 (Image credit: Getty Images)
Marie Claire Newsletter
Celebrity news, beauty, fashion advice, and fascinating features, delivered straight to your inbox!
Thank you for signing up to Marie Claire. You will receive a verification email shortly.
There was a problem. Please refresh the page and try again.
The Super Bowl, TV's biggest event of the year, is back this Sunday, and we can expect a tribute to the late Kobe Bryant as well as what is sure to be an iconic performance from J.Lo and Shakira. Let's all be honest, the best part of the Super Bowl is the food and the halftime show. This year, we can expect Beyoncé-level dancing as the San Francisco 49ers face the Kansas City Chiefs in Miami. Below are 16 of the most memorable Super Bowl halftime shows of all time.
New Kids on the Block, 1991
NKOTB plus some Disney characters, because why not?
Michael Jackson, 1993
Anyone who can stand for around 70 seconds completely silent and still have people cheering for them is only the stuff of legend. Jackson's performance is said to have been watched by 133.4 million viewers and had more people tune in to watch than the actual first quarter of the game. It's what people look to as the start of star-studded NFL halftime shows.
Diana Ross, 1996
I have yet to see a more dramatic exit than Ms. Ross exiting in a HELICOPTER to her song, "Take Me Higher." It's just so iconic. The show had four costume changes, dancers spelling out her name, and just everything you would want out of a Super Bowl performance from the 90s.
The Blues Brothers, 1997
Because the '90s were a magical time when fictional bands could play the biggest televised concert of the year.
Gloria Estefan, 1999
Gloria Estefan is a Cuban Queen who owns every single performance. Stevie Wonder joined her and made everybody want to party Miami style.
NSYNC, Aerosmith, and Britney Spears, 2001
Nothing has ever screamed more 2001 than this lineup of people, but it is also why it's one of the most iconic Super Bowl performances. To the leather pants of *NSYNC to Steven Tyler's highlighted bangs, I want what this performance has. Also, closing with Britney Spears in an outfit that would put all Instagram models to shame? Unforgettable.
Shania Twain, No Doubt, and Sting, 2003
This performance left us feeling hella good. Gwen Stefani also gave us some arm workout inspo for life. Also, Shania Twain made everyone really go wild.
Janet Jackson and Justin Timberlake, 2004
No list of halftime shows can exist without mentioning this performance. Timberlake made his words into actions when he sung, "I'm gonna have you naked by the end of this song" and then proceeded to pull off a part of her costume, exposing her right breast. Her nipple was covered, but it's definitely one of the most talked-about performances of all time.
Prince, 2007
I am SORRY, but the fact that it just started to pour down rain onto Prince as he sings "Purple Rain" should make you automatically sob. And if you don't, watch it again! It's said that when Prince was told it was probably going to rain during his performance, he replied, "Can you make it rain harder?"
Nicki Minaj, Madonna, M.I.A., 2012
This performance would go on to be the most viewed Super Bowl halftime show ever, a record previously held by Michael Jackson when he took the stage in 1993. As 114 million people watched Madonna get down in custom customs from Givenchy, you couldn't help but admire how she still had the moves years later.
Beyoncé and Destiny's Child, 2013
We got Destiny's Child for a couple of minutes from this performance, and it was pure bliss. I will never forget where I was when I heard Queen B utter the words, "Kelly, Michelle, you want to help me sing this one?" as the beginning chords of "Single Ladies (Put A Ring On It)" started to play.
Bruno Mars, 2014
Bruno Mars was made to perform at Super Bowls. His energy was so high, it made the game look like it was happening in slow motion.
Katy Perry, 2015
All right, so maybe all you think about when you recall Perry's performance is a dancing shark that stole the show during "Teenage Dream." I'll admit that comes to mind too, but I will never forget the fact that each outfit she wore (there were four of them), they each were accompanied by a matching microphone. Cute!
Left Shark, 2015
We all know who the real hero here is.
Beyoncé, 2016
Coldplay might have been the headliner this year, but when Beyoncé and her dancers rolled out in formation, it was obvious that was the only thing we'd be talking about the next day/week/month.
Lady Gaga, 2017
Lady Gaga shut it down at her 2017 Super Bowl—performing an epic halftime show when the Falcons and Patriots faced off last year. She made a bold political statement with a powerful mashup of her biggest songs—from "Born This Way" to "Bad Romance" to "Million Reasons." Justin Timberlake has a lot to live up to this year.
J.Lo and Shakira, 2020
In the midst of a turbulent election year, Shakira and J.Lo made a bold political statement during their Super Bowl performance. Their spectacular set contained allusions to family separation policies and Puerto Rico, as well as a remix of Bruce Springsteen's "Born In The USA." It was powerful, potent, and compelling.
...
For more stories like this, including celebrity news, beauty and fashion advice, savvy political commentary, and fascinating features, sign up for the Marie Claire newsletter (subscribe here).
Celebrity news, beauty, fashion advice, and fascinating features, delivered straight to your inbox!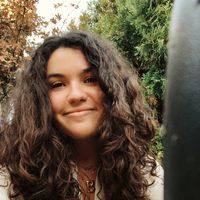 Bianca Rodriguez is the Fashion & Luxury Commerce Manager at Hearst Magazines, covering fashion, beauty, and more for Cosmopolitan, Elle, Esquire, Harper's BAZAAR, and Town & Country. She likes lounging about with a good book and thinks a closet without platform sneakers is a travesty.