30 Questions with Carol Burnett
The iconic actress, comedian, and singer is getting her own Netflix series.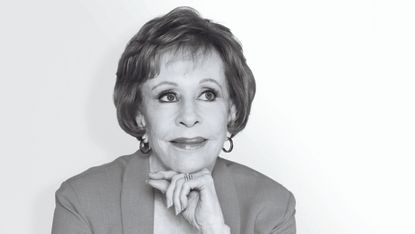 (Image credit: Romona Rosales )
The legendary comedian whose Netflix series, A Little Help With Carol Burnett, premieres this month loves good news and enchiladas. The paparazzi? Not so much.
1. IF I WEREN'T AN ENTERTAINER, I'D BE: A cartoonist with my own comic strip.
2. BEST CAREER ADVICE I'VE GOTTEN: Never make a career decision based on money.
3. EARLIEST CAREER SETBACK: Early on, I lost a role to another girl and I figured It wasn't my turn yet, it was hers.
4. THE THREE QUALITIES THAT GOT ME WHERE I AM TODAY: A love of performing. Believing that when one door closes, another one will open. Patience.
5. MOMENT I FELT I MADE IT: When I got the lead in Once Upon a Mattress (an off-Broadway show) and was hired to be a regular on The Garry Moore Show in the same year.
6. EASIEST CAREER DECISION I'VE EVER MADE: Turning down a six-week job in Las Vegas paying a lot of money to be in a six-week run of Once Upon a Mattress. Turned out that Mattress moved up to Broadway and ran for a year.
7. WORST PITFALL OF THE JOB: The paparazzi.
8. CHANGE I'D LIKE TO SEE IN MY INDUSTRY: More women in higher positions. It's getting better, but it's not there yet.
9. HOW I MADE MY FIRST DOLLAR: I was an "usherette" at a movie theater on Hollywood Boulevard when I was in college for 65 cents an hour.
10. LAST THING I BINGE-WATCHED: Stranger Things.
11. BOOK THAT LEFT A LASTING IMPRESSION ON ME: The Initiate: Some Impressions of a Great Soul, by Cyril Scott.
12. SONG THAT ALWAYS MAKES ME CRY: "Here's That Rainy Day," by Jimmy Van Heusen (composer) and Johnny Burke (lyricist).
13. MOVIE WITH THE GREATEST ENDING: Casablanca.
14. SONG I'D WANT PLAYED AT MY FUNERAL: "I'm So Glad We Had This Time Together" [the theme song from The Carol Burnett Show].
15. ON MY BUCKET LIST: To go to the moon and look at the earth.
16. FOOD I'M NOT ASHAMED TO ADMIT I LOVE: Enchiladas.
17. HOW MY PERFECT DAY WOULD BEGIN: Coffee and the New York Times crossword puzzle.
18. HOW MY PERFECT DAY WOULD END: Watching only good news on television.
19. ONE THING I'M EXCEPTIONALLY GOOD AT: Listening.
20. ONE THING I'M EPICALLY BAD AT: Math.
21. SUPERPOWER I'D WANT TO HAVE: It would be fun to fly.
22. HOW I CLEAR MY MIND AFTER A CRAPPY DAY: By thinking there's always a better day tomorrow.
23: SOMETHING NICE I DID FOR MYSELF RECENTLY: Ate pumpkin pie for dessert.
24. IF I COULD COMPETE IN AN OLYMPIC SPORT, I'D LIKE IT TO BE: Running.
25. MY FIRST KISS: Was from a dog.
26. ADVICE TO A WOMAN WITH A BROKEN HEART: It will pass.
27. THREE QUALITIES I THOUGHT I WANTED IN A PARTNER: Honesty, communication, and a great sense of humor.
28. THE THREE QUALITIES I KNOW NOW MATTER: See above.
29. MOMENT I KNOW I WAS IN LOVE: When he made me scream with laughter.
30. RELATIONSHIP ADVICE TO MY YOUNGER SELF: Hang in there, kid.
Follow her on Instagram @itscarolburnett.
A version of this article originally appeared in the May 2018 Issue of Marie Claire, on newsstands April 24.