Rachel Weisz and Daniel Craig Are Expecting Their First Child Together
Congratulations!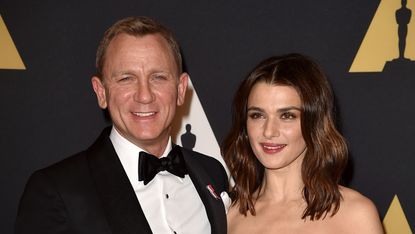 (Image credit: getty image)
Rachel Weisz is pregnant! The actress and her husband, Daniel Craig, are expecting their first child together. The couple, who have been married for seven years, are very happy, Weisz told The New York Times.
"I'll be showing soon," Weisz says. "Daniel and I are so happy. We're going to have a little human. We can't wait to meet him or her. It's all such a mystery."
Weisz, 48, has an 11-year-old son with her former partner, Darren Aronofsky, and Craig, 50, has a 25-year-old daughter with actress Fiona Loudon.
Weisz and Craig are one of Hollywood's most private couples—neither has social media and they rarely speak publicly about their relationship. But they like it that way, the actress explains. "I'm very happy being married, very, very happy," she confirms in the interview.
"I really take my hat off to them," the actress says of couples whose relationship is part of their "brand." "But Daniel and I are really similar. We just literally don't know how to do that. We're just really crap at talking about our private lives."
That being said, she loves being married to the Bond star. "I love being Mrs. Craig," the actress tells The Times. "I'm Mrs. Craig on my checkbooks and passports and things."
But one thing she confirms is not true about their relationship: The actress does not dress up as a Bond villainess for her husband in the bedroom.
"He would maybe enjoy that," she says. "I don't know. I would say, the thing about James Bond is, he doesn't get married, right? But I'm married to Daniel. So I never think of myself in any shape or form as a Bond girl because I'm married to him."