Alexis Bledel Says a Third 'Sisterhood of the Traveling Pants' Is in the Works
*Grabs blue jeans and starts scribbling on them*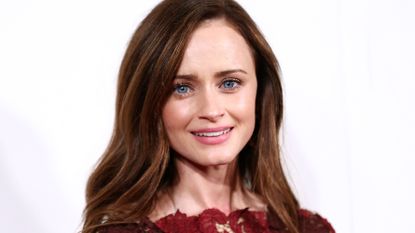 (Image credit: Getty Images)
Alexis Bledel is about to be your favorite person of the week, because she just dropped a major hint that a third Sisterhood of the Traveling Pants movie is already in the works. At least, we hope.
"We just pitched a third movie and I hope it comes together," the former Gilmore Girls star told Jimmy Fallon last night. Fallon, who revealed he's a huge fan of pretty much anything Bledel is in, immediately started freaking out.
"What? That's big news! You have to do that. Please do that," Fallon begged, along with the rest of the world.mAnd yes, it might actually be happening, because almost simultaneously, Blake Lively also made a comment about the possibility of another movie.
"I think that people who love the movie want to see it. Fans have gotten bigger movies made. Deadpool is all thanks to the fans. So I'm saying we'll do it," she told Entertainment Tonight at CinemaCon last night, also casually trolling her husband Ryan Reynolds, yet again.
RELATED STORIES
But it seems that Reynolds is rooting for a third installment too, as his trailer for the new Deadpool movie just came out and he name-dropped one of his wife's most famous roles toward the end: "Doing the right thing is messy, but if you wanna fight for what's right, sometimes you have to fight dirty. And that is why Sisterhood of the Traveling Pants is pure pornography."

This isn't an official confirmation, but in the words of Deadpool, we're hoping Lively, Bledel, and the rest of the girls are "fighting dirty" to get this project going.
I'm currently working at Dotdash Meredith as the Celeb & Entertainment E-Commerce Lead contributing affiliate content for People.com and InStyle.com. I'm basically like your personal shopper, from writing about that cozy loungewear set you didn't know you needed to keeping tabs on the best sales and deals on the internet. I'm also a pro at finding affordable dupes for celebrity looks and I love to dig into the data to strategize content opportunities.