Why Everyone Needs to Stop Talking About "Becky with the Good Hair"
It's about Beyoncé—not the other woman.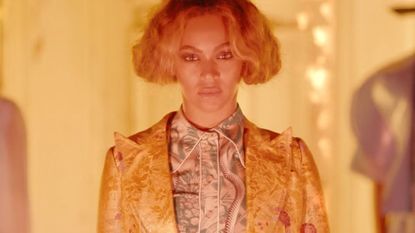 (Image credit: Tidal)
Marie Claire Newsletter
Celebrity news, beauty, fashion advice, and fascinating features, delivered straight to your inbox!
Thank you for signing up to Marie Claire. You will receive a verification email shortly.
There was a problem. Please refresh the page and try again.
Like most of the world, I was breathless as I watched Lemonade. The thoughtful intersection of music, art, and poetry was not only visually astounding—Beyoncé had effectively brought to life the plight and beauty of the Black woman. From the burden of childbearing to the soul-crushing stages of betrayal—all set in a dreamy, unapologetically Black world straight out of a Toni Morrison novel. But almost immediately, this brilliance was eclipsed by one question: Who is Becky?
And I'm not even innocent: As a card-carrying member of the Beyhive, I too spent a lot of time in my group chats trying to solve the mystery of who would dare cross our Queen. But still, the more we all talked and guessed about Becky, the more uncomfortable I felt. Beyoncé just erected a moving portrait of Black womanhood—and here I was, distracted by my search for The Other Woman in the story.
Problematic racial dynamics aside, BeckyGate underscores a much more common narrative surrounding heterosexual cheating: how we instantly vilify the The Other Woman over the man.
When my own significant other cheated on me after eight years together, the first questions people usually asked me were about her: Who was she? Did you know her? Did they work together? What does she look like?
To me, the "Becky" in my situation was irrelevant. "Becky" didn't betray me; he did. But the people in my life were consumed by wanting to know about her. I wanted to scream as loud as I could, This isn't Becky's story. It's mine.
Of course, we don't really know how much of Lemonade is *actually* about Beyoncé's marriage. After all, she had many co-writers, and could've taken inspiration from her own parents' scuffle with infidelity. Plus, the brilliant spoken word in the visual album is all by the Somali-British poet Warsan Shire—not Beyoncé herself.
For all we know, there is no literal Becky, or there could be many Beckys. But by obsessing over The Other Woman—real or metaphoric—we're perpetuating the sexist cycle of wronged women. Why are we so quick to flood Becky with threats of physical violence while Jay-Z just gets a few half-hearted tsk tsks and funny memes about being in Bey's doghouse?
What's most important about Lemonade is not who it's about, but what it's about. I mean, come on, y'all. The world's biggest living pop star, who has been notoriously private about her relationship and personal views for years, just released a movie where she jumps to her death to become an underwater angel; admits to the world that yes, even Beyoncé gets cheated on, and—for millions of predominately white viewers to see—proudly fills the film with the kinds of brown-skinned women who have been told for hundreds of years to hide and tame themselves.
This isn't Becky's story; it's Beyoncé's. An honest, raw gift to us all that reminds us that even the mighty can fall—and then pick themselves back up again.
For me, Lemonade felt as though Beyoncé had slipped her finger under my chin and forced me to look into the mirror and see myself. There you are, she told me. You are Black, you are broken, you are beautiful, you are vulnerable, you are scarred. You are all of those things, and that's okay. And if anyone has a problem with that, they better call Becky with the good hair.
Follow Marie Claire on Facebook for the latest celeb news, beauty tips, fascinating reads, livestream video, and more.
Celebrity news, beauty, fashion advice, and fascinating features, delivered straight to your inbox!
As Senior Director of Editorial & Strategy, I oversee all of Oprah Daily's digital content, from editorial to video to social media. I was previously the Digital Director of OprahMag.com, and before that, Senior Features Writer at Refinery29, where I also served as a video host and on-camera entertainment expert. Fun fact: I got my start in journalism as an intern at _O, The Oprah Magazine, so my role overseeing Oprah Daily's website is a major full-circle moment! On the weekends, I'm probably either having a margarita, adding new books I don't need to my TBR pile, or playing with my puppy, Leo.