Courteney Cox: Forever Young
She rose to fame as an icon of youth, but now the married mom finds herself besieged by plastic-surgery rumors while trying to age gracefully in Hollywood. Courteney Cox sets the record straight.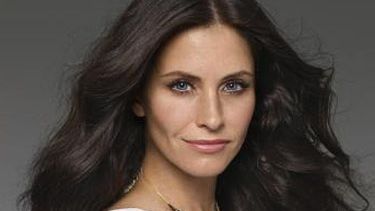 (Image credit: James White)
Courtney Cox and I are at the bar at the Sunset Tower Hotel in L.A., talking guys and geezerhood — specifically, ours. This conversation is helped along by a demure Cosmo on her part and about four on mine. We really should eat something.
"Like, that guy over there — isn't he gorgeous?" Courteney says, pointing to what appears to be an anorexic leprechaun preening at the bar. She sees my horrified look, and I confess my tastes are more Sydney Greenstreet than Sid Vicious. "Oh, for me, the scrawnier the better," she says with satisfaction, taking a final swig from her glass and asking Dmitri, her favorite mâitre d', for just one more. At which point I realize that when the apocalypse comes, the food supply has run out, and it's just me, Courteney Cox, and some guy who looks like a hip Dennis Kucinich, we won't have to mud-wrestle to see who gets to repopulate the Earth. He's all yours, CC! Kumbayah!
Still, I wish I could tell this fellow that were she not married — and make no mistake, Courteney Cox is very, very married — one of the most beautiful women in Hollywood could be his.
But get this: The Friends stunner with the Snow White coloring (black hair, alabaster skin, eyes almost purple), the woman who made every magazine editor feel just a little more glamorous with her vampy turn on Dirt and who this season can be seen as a hospital administrator with homicidal fantasies on the sitcom Scrubs — this woman has her doubts.

SEE BEHIND THE SCENES PHOTOS FROM HER COVER SHOOT HERE

The guy at the bar, she thinks, wouldn't want her.
The big A, you know. Aging. It gets to all of us. It really gets to Courteney.
"You know, my mother's beautiful, my dad was a really handsome man," she begins, "and there was a lot of talk about looks when I was growing up. So I'd probably have this [insecurity] no matter what. But then you move to Los Angeles, and that's a whole separate set of issues." Work insecurity? Personal insecurity? A little of both, Courteney, 44, says.
"I've never seen so many beautiful people walking around. Then as I get older, I find myself going, Wow, I can't believe I'm not the youngest one anymore! I can't believe that that guy over there" — she points at our friend, who has run his hands through his hair so many times I consider offering him a comb — "wouldn't be attracted. I'm married; it's a nonissue. But I'm kind of like, Whoa! If I were single, that person wouldn't want to hang out with me."
I give her what I hope is my best "Don't screw with me" look, but she's on a roll.
"Let me tell you, there's a lot of pressure," she continues. "Which is why I always think women should be totally open with other women about what they do to make themselves look better."
A self-professed "product whore," Courteney is involved with developing ideas for new products for Kinerase, the boutique skincare line she's been the face of for three years. "I'll call them up and say, 'You know what's missing in this line? We need a neck cream.' Or as I age, I realize, Wow, I'm getting dryer. I want a thicker under-eye cream. So, they made a thicker under-eye cream, which is one of my favorite products of theirs."
Without being terribly high-maintenance in her soul, Courteney's outer carapace is very well cared for. There are the weekly chiropractor appointments, the massage, the hair, the therapist, the facialist, the trainer. (Cardio five times a week, tennis on the weekends: "I'd feel better about myself if I did stomach crunches, but I don't.") Courteney is a generous creature, giving props to each and every person on Team Cox. (She's so generous, in fact, that when the bill comes, she wants to pay, and when I insist, she worries that I won't give the staff enough of a tip.)
But how about the Beauty Treatment That Dare Not Speak Its Name? I'm shy about asking, but I guess I'm squinting not so subtly at her forehead, trying to see if it moves. I don't even have to ask.
"Botox? I think it's fantastic and also horrible. I mean, they've come up with this stuff that can make you not look angry. But you have to use it sparingly. I went to this doctor once, and he was like, 'Oh, let me do it just here and here and here.' And I was miserable. I mean, I'm an actor, I've got to be able to move my face. When people start messing with their foreheads and can't lift their eyebrows, that's weird. It's not that I haven't tried Botox — but I hated it. You know you've messed up when people who are close to you say, 'Whoa, what are you doing?'"
People like Courteney's younger husband, David Arquette, who is adamantly opposed to her getting any kind of permanent plastic surgery. "It's really important to him," she says. "He loves the aging process. He thinks it's beautiful." Not only is Courteney under pressure from him to not do too much, "I'm under pressure to not do anything," she says. (Those rumors a few years back about breast implants, when she was filming The Longest Yard? I'm staring at her Libertine T-shirt with Steve McQueen on the front. My verdict? No way. "At the time I had these huge boobs, because I was breast-feeding," Courteney says.)
At the mere mention of David's name, Courteney's entire face softens. There are a lot of things you can fake. This isn't one of them.
"It's weird, because I'm so in love with David right now," she says. "I'm starting to really appreciate how 'there' he is for me. But in any relationship, there are times that you're disconnected. You can see how relationships end if you don't work through it."
David is seven years younger than Courteney, and they've been together nine years. Surely for a woman who's worried about aging, that's got to hit home. "There are a lot of beautiful people to look at," she says. "I learned that a long time ago. But you can't live your life being jealous, because there isn't a traffic light in L.A. where a guy won't see a girl they don't want to fuck. That's just the truth. But it's just a matter of, 'Will they or won't they?'"
Everyone is so phobic about aging in Hollywood that I imagine this is a hot topic of conversation among her friends. I'm particularly curious if Courteney has had this chat with her very close buddy Jennifer Aniston. Thanks to the narrative the paparazzi have created about her life — Poor Jen, she just wants to settle down and have a baby! — she is under the Aging Cutie scrutiny to an almost comical degree.
As I'm girding up to ask, the clouds part, the heavenly choir starts singing, and Jennifer actually walks through the door. There is much hugging and laughing and discussion about Jen's new hair, which looks very much like her old hair, though she insists the old 'do was "fried, dried, and petrified." Jennifer, who is, understandably, a little nervous when she sees a tape recorder running, introduces herself quickly, sits at an adjacent table, and then shouts various directives at Courteney about the rest of the evening — they may get together later at Courteney's house.
There is an ease and comfort between the two of them, and no indication that Courteney has any reason to feel mournful for her friend — despite the fact that the papers have just reported Jennifer's breakup with John Mayer. I watch Jennifer, beaming at Courteney from her table, and I think, Geez, maybe she should break up with dickish balladeers more often; she is light and bright and sparkly, the very stereotype of the L.A. golden girl. She and Courteney are a study in contrasts: Jennifer looks like she is lit by the sun, and Courteney by moonlight, all dark, romantic, and gothic.
We never do end up talking about how Jennifer handles aging — it seems a little churlish, not to mention comical, given that in person, Jennifer looks 10 years younger than she actually is (39). But we do muse about the profound public fascination over their friendship.
"Well, I'm not putting myself down, but I don't think it would matter if it were me or anyone else she hung out with," Courteney says. "Why are people fascinated with celebrity? I don't know. It's like the girl with the hat over there." I glance over at the androgynous woman in the porkpie hat, furiously texting — it's Samantha Ronson, the DJ currently known as Lindsay Lohan's "gal pal." "Do I wanna know about her? Well, yeah, a little bit! I do! What's the deal [with that fascination]? I haven't quite figured it out myself."
For more check out the November issue of Marie Claire — on newsstands now!
Judith Newman, a frequent contributor to Marie Claire, profiled Sandra Oh for a previous issue. She lives in New York.