Everything You Need To Know About Sofia Wellesley, James Blunt's Wife
She owns a pub where the royals hang out.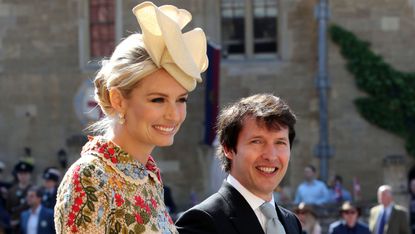 (Image credit: Getty Images)
Princess Eugenie's wedding is just around the corner, and it looks like it's going to be one star-studded affair. Rumors of Cara Delevingne, Kate Moss, and Ellie Goulding's attendance at the nuptials have royal fans abuzz—because the guest list is just as important as the dress, the food, and the photographs, right?
One guest you may not have heard of is Sofia Wellesley, who is quickly becoming a Royal Wedding Staple. More than just the wife of singer James Blunt (yes, the artist behind "You're Beautiful"), she's a high-powered attorney, who also attended the wedding of Prince Harry and Meghan Markle in May. The glamazon and her husband know the Prince from their years in the Army, and their continued friendship has the couple scoring golden tickets to the hottest events in Royal history. Here, everything you need to know about the savvy A-lister:
She has a royal pedigree.
Sofia was born July 23, 1983, the daughter of Lord John Henry Wellesley and Lady Corinne Vaes. She is also the granddaughter of the late Valerian Wellesley, 8th Duke of Wellington.
Her first name isn't really Sofia.
When she was appointed to the board of Omnia Strategy in 2016, documents filed at The Law Society list her as "Alexandrina Sofia Blount", according to the Daily Mail. Alexandrina is her birth name, though she chooses to go by Sofia, her middle name. "Blount," meanwhile, is the real and aristocratic spelling of husband James' last name. And no, he's not related to Emily Blunt, despite what you may have thought.
She's an intellectual.
He may have sold 20 millon records and have 1.77 million Twitter followers, but his wife is truly incredible: Sofia graduated from law school at the prestigious Edinburgh University, where former British Prime Minister Gordon Brown, and Pippa and James Middleton all attended.
She and James got married in secret.
On September 5, 2014, the pair wed in a private ceremony at a London registry office, and celebrated their nuptials with a huge bash held in Majorca at Sofia's parents' home tw0 weeks later. The lovebirds had been dating since 2012, and announced their engagement in December of 2013.
In an interview with the Daily Mail, James opened up about their private relationship:
"It takes a strong person to be able to deal with somebody working in music. It's hard when you're with somebody and you become embroiled in something just because you were seen standing next to someone else."
He continued on, "It takes a tough person to deal with that and I'm lucky to have her."
James and Sofia have never revealed the names of their two children, because their privacy is very important to them. In 2016, James revealed that their family had welcomed a son, but is keeping mum on all details related to baby #2.
They're well connected, but don't brag about it.
They're not ones to boast, but the Blunts are most certainly a family with notable friendships. Not only do they run in the same circles, and have been at the same events as Princess Eugenie and Jack, but James and Prince Harry have known each other since they served together in the British Army, and James and Sofia were spotted chatting with Sir Elton John and David Furnish before the wedding ceremony of Prince Harry and Meghan Markle. It seems they are quite close to a couple more of the world's biggest names: Ed Sheeran is godfather to the duo's son, and the late Carrie Fisher is the child's godmother.
Sheeran told The Sun in an interview: "James is like a brother to me, actually I'm not quite sure if I can say this, but I'm going to—he's just made me god­father to his son. To be honest, I think he's only done it because he knows I've got a good idea of what sort of person he'd want him to be when he grows up...an absolute lad. We're going to be brothers for life."
The pair owns a pub together.
We're sure their careers as musician and attorney keep them busy, but the couple has also found time to get into the restaurant industry. They own a pub around the corner from their Chelsea flat in London called The Fox & Pheasant. As they told Tatler, the pair spent 18 months renovating the pub, turning it into a place with the feel of a classic country pub with glamorous, upscale touches. While Blunt isn't one to name-drop, neighbors say they've seen Princess Eugenie and Ed Sheeran stop by.
RELATED STORY
Amanda Mitchell is a writer and podcaster with bylines at Marie Claire, OprahMag, Allure, Byrdie, Stylecaster, Bon Appetit, and more. Her work exists at the apex of beauty, pop culture, and absurdity. A human Funfetti cake, she watches too much television, and her favorite season is awards season. You can read more of her work at amandaelizabethmitchell.com or follow her on Instagram and Twitter @lochnessmanda.