Meghan Markle, Prince Harry and Now Prince Philip May All Miss Part of Princess Eugenie's Wedding
Nothing like some last-minute cancellations.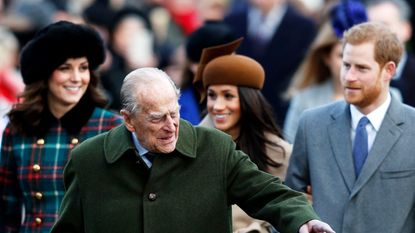 (Image credit: Getty Images)
It wouldn't be a wedding without a little bit of last-minute panic, would it? Surely it's just a really good test for the future of your relationship together. And just because you're a highly esteemed member of the royal family, doesn't mean you can get away with an easy ride through nuptials. With just two days to go before their big day, Princess Eugenie and husband-to-be Jack Brooksbank may be having a few last minute, logistical problems with their star-studded guest list.
While endless exciting details regarding the wedding are being released by the day, and the pre-wedding nerves must surely be starting to set in for the couple, Prince Philip, grandfather of the bride, may have made a last minute decision to not attend the wedding. Which sounds somewhat unreasonable, but then you remember the guy is 97 and recently underwent dramatic hip surgery, and it suddenly seems kind of okay.
"The Duke of Edinburgh may not go to the wedding, just as he and the Queen did not attend Prince Louis christening in July," a source told The Daily Telegraph. "There's not a three line whip on these family occasions. Not unreasonably, when you consider his age, the Duke of Edinburgh will decide on the morning of the wedding if he's going to be there. He now very much operates on a 'wake up and see how I feel' basis."
"Wake up and see how I feel"? I've never related to Prince Philip so much.
As well as the Duke of Edinburgh's potential no-show for the wedding, it's also been speculated that Prince Harry and Meghan Markle may not be able to attend a significant portion of Eugenie and Jack's two-day celebration. It's thought that the Duke and Duchess of Sussex will be present for the main ceremony itself, but will have to bow out of the evening's afterparty and the festival-inspired celebrations on the Saturday. It's all because they need to allow themselves sufficient time to catch their flight to Australia, for the couple's upcoming royal tour which begins next week.
Luckily, there's a rumored 850-plus other guests pencilled in to attend the wedding this Friday at Windsor Castle, so it's probably not worth worrying about any empty seats.
RELATED STORY
Lucy Wood spends most of her time writing about celebrity news, reading books, and waiting for the glorious day that she have enough millions for a pet sloth. She also has a YouTube channel on the go where she pretends to know things about fashion and life advice.