This Week in Timothée Chalamet, November 16 Edition
In which Timmy does it for love of the craft.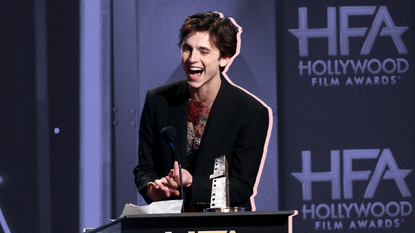 (Image credit: Getty Images)
Because being a person in the world is hard and you deserve something nice, this is MarieClaire.com's semiregular column on everything talented young man Timothée Chalamet did that week. You can catch up on last week's here.
Hello, black-capped chickadees, and welcome to another edition of This Week in Timothée Chalamet. With the Thanksgiving holiday approaching, it's a good time to take stock of what you're thankful for in the last year. Sometimes it can be hard, what with the news being all apocalyptic, but reflecting on what makes you feel grateful is scientifically proven to reduce the symptoms of depression. Consider Thanksgiving a time to eat pie and combat the demons that make you sad.
My Timothée–themed gratitude list for 2018 looks something like this:
The beautiful moment when I wept in the theater during Call Me By Your Name
The time after that when I googled, "Who is the guy in Call Me By Your Name?"
When I started working at MarieClaire.com largely as a result of my pitch for a weekly column about Timothée Chalamet
When my editors let me actually produce that weird column, even though Timothée Chalamet wasn't really doing anything of note
When I learned how éasy it is to type the shortcut for l'accent aigu (Option+E+E, friends!)
The introduction of the song "Mystery of Love" into my Songs to Cry To mix
The time Harry Styles interviewed Timothée Chalamet and they invented masculinity
His appearance on Colbert, which hasn't happened as of this writing (it's on Friday night) but which will obviously be very good.
There are a lot more but even just writing that list lowered my blood pressure, I'm pretty sure. I urge all of you to make a list like this—Timmy-themed or not—and think about it next week. It can enhance soul power by up to 65 percent.
Hére's what else is Timothée Chalamet-adjacent this week:
Timmy was a Forbes 30 Under 30!
I want to preface this by saying I find this list slightly problematic. Young people are going to be responsible for dragging our present Hell back to the light, and taking an arbitrary handful and saying "These Are The Superior Youths" feels counterproductive. I'm still under 30, but I'm spiritually, like, whatever age Cathy from the Cathy comics is? Point being, I can whine about silly age dynamics with the best of them.
For more on how I feel, see this tweet:
FORBES 30 UNDER 30 LIST:-Woman who created a dog walking app but for cats-College dropout who invented drinkable granola-12 year old Libertarian-Pair of twins that used the blockchain to cure athlete's foot-Timothée Chalamet-Guy with a podcastNovember 15, 2018
See more
But kudos to Forbes for recognizing Timmy as outstanding in his field. You can see read all about it here.
He's going to be on Actors on Actors!
Timmy is set to appear on PBS's upcoming new season of the should-be-boring-but-is-actually-riveting TV show Actors on Actors, where he'll sit down with Emma Stone.
Actors on Actors?! I hope not literally! (JK, I do hope literally. Emma Stone is definitely Top 5 Most Smoochable.)
So okay, it's actually going to be a lot of talking about the craft of acting (I get the sense Timmy is in a big "my craft" phase of his career right now, which is his RIGHT) but they're both such cool people that it should make for good television anyway.
I worry that this particular column is turning into a TVGuide article so I'm going to switch it up starting….
...Now. Look at this hilarious meme!
I fucking love an androgynous photoshoot. Also this segment means Ezra Miller is Timmy-adjacent now, which allows me to segue to:
Elle has a column about Ezra Miller and I'm not mad at it!
I lied, I am a little mad at it, but only because the column's author, R. Eric Thomas, is way funnier than me and Ezra Miller is some rich-ass territory. Look at this assortment of outfits from THE LAST MONTH ONLY:
Suddenly, Timmy's cute florals seem pedestrian. He shies away from the attention, whereas Ezra Miller's out there singing autobiographical songs about goat births—GOAT BIRTHS, PEOPLE!
I think I'm in a crisis. Did I pick the wrong column subject after all? Should I obsess over someone weirder? Like, I don't know, Cher? Would you guys read a weekly column about Cher?
I'm going to spend some time thinking about this. Fortunately, I'm off next week for the holiday. We'll all catch up the week after. Happy Thanksgiving, and have a beautiful weekénd.
For more celebrity news, beauty and fashion advice, savvy political commentary, and fascinating features, sign up for the Marie Claire newsletter.
RELATED STORY
Celebrity news, beauty, fashion advice, and fascinating features, delivered straight to your inbox!
Cady Drell is a writer, editor, researcher and pet enthusiast from Brooklyn.