Sarah Hyland Talks to 'Self' About Her Second Kidney Transplant and Suicidal Thoughts
Sarah Hyland opens up to Self Magazine about her second kidney transplant, struggling with chronic illness, and how she dealt with suicidal thoughts.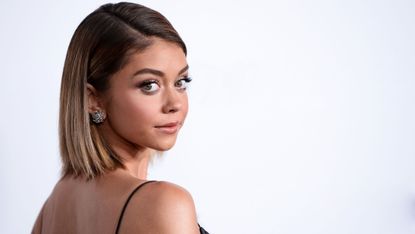 (Image credit: Getty Images)
Fans of beloved Modern Family actress Sarah Hyland know that she's been candid in the past about her lifelong struggle with chronic illness, but there's more to the story. In a new interview with Self published online Monday, Hyland bravely opened up about her second kidney transplant and subsequent failure, and how she handles chronic pain, mental health struggles, and chronic illness.
Back in 2012, Hyland revealed that she had undergone a kidney transplant from her father as a result from a life-long struggle with kidney dysplasia (a condition that occurs in the womb where kidneys do not develop correctly) that eventually turned into full-on kidney failure. She underwent a kidney transplant from her father at the age of 21.
But what we didn't know at the time was that in 2016, her body began to reject the organ, and she was told by a doctor the kidney was no longer properly functioning. She spent the rest of the year in and out of the hospital, making every attempt possible to save the kidney to no avail. On Valentine's Day 2017, Hyland had a port implanted into her chest to begin the dialysis process. With weekly dialysis treatments came a multitude of side effects: weight loss, sciatica, fluid retention and vision damage. Fans thought Hyland was anorexic. They had no idea.
The damaged kidney was still in her body, and Hyland needed to find another transplant donor. It came in the form of her brother, Ian, who was a match. While finding a match was a relief, the emotional toll of the first transplant and subsequent rejection left Hyland depressed and anxious.
"When a family member gives you a second chance at life, and it fails, it almost feels like it's your fault. It's not. But it does," Hyland shared with Self. "For a long time, I was contemplating suicide, because I didn't want to fail my little brother like I failed my dad."
She shared her suicidal thoughts with others, and found that to be helpful. She's not shy about encouraging those with emotional needs to ask for help: "For anybody that wants to reach out to somebody but doesn't really know how because they're too proud or they think that they'll be looked upon as weak, it's not a shameful thing to say. It's not a shameful thing to share."
Hyland ultimately underwent a second transplant in September 2017, three days after meeting boyfriend Wells Adams (of Bachelor Nation fame) for the first time, and that transplant appears to have been successful for both Sarah and Ian Hyland. "He's seen me at my worst," she shared with the magazine in regards to her relationship with Adams. "I think that's why I feel the most beautiful in his eyes, because he still finds me beautiful after seeing all that."
Last week, Hyland shared on social media that her cousin had died in a drunk-driving accident, and urged fans to donate to a GoFundMe set up in her cousin's honor. After a torrent of negative comments, she announced she was taking a break from social media: "You guys finally did it. Your horrible negative ignorant words have broken me. Happy? Staying offline for a while."
Her boyfriend, Adams, shared an Instagram post Monday referencing Hyland's difficult past few weeks.
In her Self interview, Hyland also revealed that she's been diagnosed with endometriosis and a hernia, both of which she underwent separate surgeries for this past spring. She's outspoken about doctors who don't listen to women when it comes to their pain, especially when it comes to endometriosis: "A lot of doctors think that when you're in pain, you're not really in pain, that you're just being dramatic, that it's all happening in your head. I've been through that. I've dealt with doctors like that. Those doctors can go to hell."
Get 'em, Sarah.
For more celebrity news, beauty and fashion advice, savvy political commentary, and fascinating features, sign up for the Marie Claire newsletter.
Celebrity news, beauty, fashion advice, and fascinating features, delivered straight to your inbox!
Amanda Mitchell is a writer and podcaster with bylines at Marie Claire, OprahMag, Allure, Byrdie, Stylecaster, Bon Appetit, and more. Her work exists at the apex of beauty, pop culture, and absurdity. A human Funfetti cake, she watches too much television, and her favorite season is awards season. You can read more of her work at amandaelizabethmitchell.com or follow her on Instagram and Twitter @lochnessmanda.