Mandy Moore Answers Our Burning Questions
The This is Us star talks about love (an ADORABLE first kiss), her career, and how she can never leave Target without buying something (same).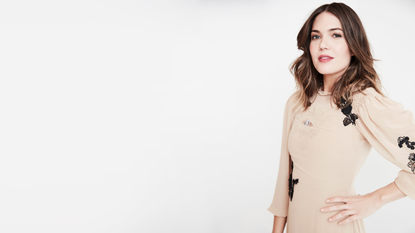 (Image credit: Getty Images)
The Pearson matriarch on hit drama This Is Us—returning to NBC on January 15—and face of Garnier prefers cleaning to cooking but is torn between Italy or Spain. Here, 30 more ways she proves she's actually super-relatable.
1. If I weren't an actress and singer, I'd be: In politics.
2. Best career advice I've gotten: Use rejection as fuel.
3. The three qualities that got me where I am today: Consideration, humility, drive.
4. Moment I felt I made it: When "Candy" was on TRL.
5. Easiest career decision I've ever made: To audition for This Is Us.
6. Kind of work I'd do for free: Cleaning (laundry, dishes, etc.).
7. Favorite perk of the job: That I can do what I love every day.
8. Worst pitfall of the job: Loss of anonymity.
9. Change I'd like to see in my industry: Equal pay.
10. How did you make your first dollar? On a local TV commercial.
11. Last thing I binge-watched: The Assassination of Gianni Versace [FX].
12. Book that left a lasting impression on me: Reading War on Peace: The End of Diplomacy and the Decline of American Influence, by Ronan Farrow, now.
13. Song I'd want played at my funeral: Probably something by Joni Mitchell.
14. First album I bought: Janet Jackson's Rhythm Nation.
15. On my bucket list: Patagonia!
16: Food I'm not ashamed to admit I love: French Fries of any kind.
17: Cocktail of choice: Wine.
18. My perfect day would begin: With the best coffee.
19. My perfect day would end: Next to my love and animals.
20. If I could live in a foreign country, it would be: Italy or Spain.
21. One thing I'm exceptionally good at: Running errands. (Ha!)
22. One thing I'm epically bad at: Cooking.
23. Superhero power I'd want to have: Bring peace to the world.
24. Store I can't leave without buying something: Target.
25. How I clear my mind after a crappy day: Bath, music, glass of wine.
26. The beauty essential you'd have to pry out of my cold, dead hands: A good hair mask. I love Garnier's Color Vibrancy Treat 1-Minute Hair Mask.
27. The three qualities I thought I wanted in a partner: Honesty, humor, kindness.
28. My first kiss: Jesse, during a game of Truth or Dare.
29. Advice to a woman with a broken heart: It's all for a reason; on to the next.
30. Moment I knew I was in love: Hour two of our first dinner.
31. What my high school boyfriend would say about me: That I was super quiet and shy.
32. The craziest thing I did for love: Fly across the country before we'd even had our first date.
A version of this article originally appeared in the February issue of Marie Claire.
RELATED STORY
Mandy Moore Used to Walk by Fossil Stores in the Mall, Now She's The Face of the Brand