Demi Lovato's National Anthem Performance Will Go Down In Super Bowl History
It was incredible.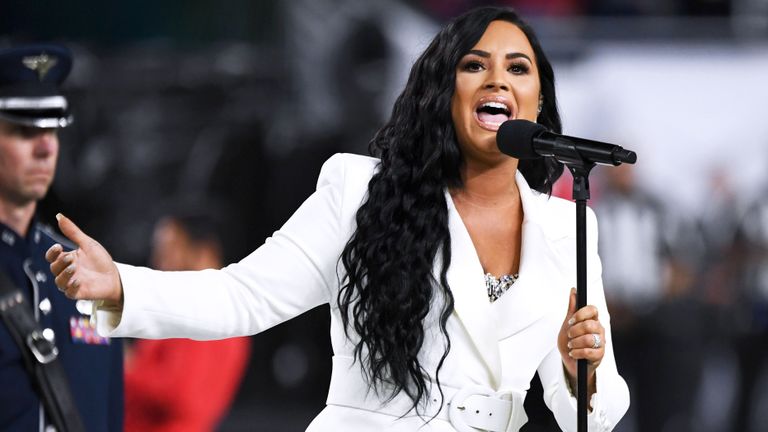 (Image credit: Kevin Mazur)
Demi Lovato performed the National Anthem during the 2020 Super Bowl.
Fans are living for Demi's spectacular vocals.
---
Wandering into the middle of a giant football field and belting out the National Anthem while millions of people watch you sounds like the most stressful experience ever. Honestly, only a few people would be able to handle it, and Demi Lovato is 100 percent one of those people.
Demi brought her incredible vocals to the 2020 Super Bowl, and completely nailed the National Anthem in one of her first live performances since she stepped back from the spotlight following an overdose in July 2018 (she also recently performed at the Grammys):
Demi Lovato with the National Anthem 🇺🇸 #SBLIV (via @NFL) pic.twitter.com/mR8wnKS0o0February 2, 2020
See more
And Demi's fans are completely losing it over how flawless her performance was. Take a moment to feel good about life with a roundup of supportive tweets:
PRAYER CIRCLE: 🕯 🕯 🕯 🕯 DEMI LOVATO 🕯 DOES INCREDIBLE🕯 🕯 SINGING THE 🕯 ANTHEM 🕯 🕯February 2, 2020
See more
DEMI LOVATO JUST SLAYED THAT NATIONAL ANTHEM WOWWWWWWWWWWWW!!!!!! SOOOO PROUD MAMA!!!! AHHHHHHHH pic.twitter.com/prA5oUJqzUFebruary 2, 2020
See more
#DemiLovato elevated me with that anthem! #SuperBowl pic.twitter.com/aTbvjW35iCFebruary 2, 2020
See more
YES. DEMI. YES. 😍 Queen shit right there. pic.twitter.com/Bl979wugqKFebruary 2, 2020
See more
Demi Lovato was the best part of the whole #SuperBowl. Yes, I'm aware the game hasn't started yet.February 2, 2020
See more
I don't know what football is but #DemiLovato just fucking killed that 👌👌👌❤️❤️❤️ #SuperBowl2020 #WhatIsFootballFebruary 2, 2020
See more
#DemiLovato killed it! Her voice was amazing! #SuperBowlFebruary 2, 2020
See more
Demi confirmed her performance via Instagram just a few weeks ago, and said she was super nervous—especially compared to singing at the Grammys: "The national anthem, if I mess up, everyone goes after you if you do. I'm not going to read the comments, so it won't matter. But it's just one of those things where it's like—there's so much pressure on the national anthem. When it's my song, if I mess up a lyric, nobody would've known because it wasn't out yet."
FYI, Demi is part of an insane lineup this year, thanks to Jennifer Lopez and Shakira headlining the Halftime Show.
---
For more stories like this, including celebrity news, beauty and fashion advice, savvy political commentary, and fascinating features, sign up for the Marie Claire newsletter.
Related story