Who Is Chloe of 'The Circle' Season 2 and 'Too Hot to Handle'?
There's a reason she looks familiar.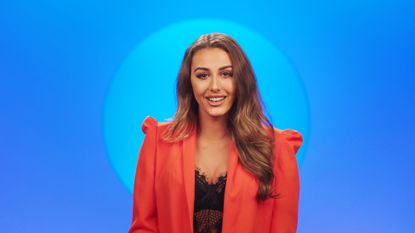 (Image credit: Netflix)
Chloe Veitch made waves when she descended upon season 2 of The Circle, but the bubbly Brit is no stranger to reality television. Before holing up in an apartment with only some AI tech and a pink unicorn stuffed animal as company, Veitch was a fan favorite on another Netflix reality show: 2020's Too Hot to Handle. Here's everything we know about Veitch, her previous stint on reality TV, and how her dating life has been during the pandemic.
Who is Chloe Veitch?
Veitch is a loud and proud 22-year-old from Clacton, Essex, who dabbles in social media influencing (follow her at @chloeveitchofficial, where she boasts 1.4M fans). She also launched a YouTube channel in 2020 where you can watch her travel vlogs, makeup routines, and her general unhinged on-camera personality.
Before her TV days, Chloe was an in-demand model, having won U.K. beauty pageants like Top Model and worked at London Fashion Week.
What happens to Chloe on The Circle?
Chloe burst onto season 2 of The Circle with a heaping amount of enthusiasm for her #GirlGang and a sweet naïveté that often left her gobsmacked at other contestants' behavior (or a general forgetfulness that people will lie and cheat to win money). You'll have to watch how the season plays out to see how she fares, but one thing we do know: Chloe doesn't use the catfishing strategy when entering the Circle. Instead, she's 100 percent herself, laying bare her flirty side and her reality television roots.
She explained her decision to Us Weekly, saying, "I wouldn't have gone on The Circle as anyone else but myself because I know that is my strength—being who I am, the personality I have." She continued, "Whether they trust me or believe it's me straight away, I don't know, but that was a chance I was prepared to take because I am such a strong character!"
Chloe also revealed her biggest challenge with the show's format: navigating American slang and trying to explain her British euphemisms. "I'm the only British one in the show and that in itself, without realizing, was the biggest Brit wall I've ever faced because I never knew what they were talking about," she said to Us Weekly.
What happened to Chloe Veitch on Too Hot to Handle?
Chloe first endeared herself to fans as a self-professed dating trainwreck on Netflix's questionably-premised dating show, Too Hot to Handle. Chloe wasn't the worst offender of the 13 contestants on the show (Francesca Farago and Harry Jowsey lost the group significantly more money by breaking the show's rules and hooking up) and despite her lovable, chatterbox energy she wasn't able to find love at the Mexico resort. (She had flings with Kori, Bryce, and David but, alas, nothing significant.)
Still, she walked away with her share of the $75,000 grand prize (a not-so-whopping $7,500) and a lasting friendship with fellow contestant Nicole O'Brien. The reality gig also reportedly gave Chloe a new perspective on her self-worth. She told Elite Daily in April 2020 that the show's "yoni puja workshop" changed her mentality on dating: "Doing the challenge, like, really empowered me into thinking, 'I'm not going to feel like that anymore. I need to respect my yoni, I need to respect myself,'" she said. Since then Chloe has been committed to standing up for "every single independent woman out there that has ever been messed over by a guy."
As of February 2021 (when she jokingly posted about celebrating Galentine's Day alone), she appears to be single.
Speaking to Refinery29, Chloe said, "Too Hot to Handle was such a life-changing experience for me, and I've had such amazing feedback from the show. When Netflix got in contact with me, I just thought, 'Oh my gosh, I want to go on The Circle!'"
How are viewers responding to Chloe on The Circle?
They love her. I mean, how can you not? Chloe's commitment to being unabashedly herself, even on a show where pretending to be someone else is oftentimes rewarded, earned her plenty of fans on Too Hot to Handle, and she's no doubt gaining more with The Circle. Chloe, wisely, is not on Twitter—"I think it's because I know the loads of hate that come from Twitter," she told Refinery29—but her fans were thrilled to see her jump from Too Hot to Handle to everyone's favorite virtual influencer show:
chloe from two hot to handle is on season 2 of the circle omg love herApril 14, 2021
See more
I didn't know how much The Circle and I needed Chloe until she exploded into the first episode pic.twitter.com/gVvE0z76gJApril 19, 2021
See more
The circle is back and so is Chloe 😍😍😍😍🤤 I'm too excited pic.twitter.com/aAl9oz6xA8April 15, 2021
See more
What's happened to Chloe since The Circle stopped filming?
Chloe has done several interviews since The Circle began airing, talking about her time on the show and her reactions. She has also posted a vlog on her YouTube channel showing her process of self-isolation and COVID testing before she entered the Circle building. She's very open about her nerves before the show in the vlog, so I'm excited for her post-Circle videos.
Spoilers for episodes of The Circle that are currently on Netflix. In an interview with The Things, Chloe said that she rewatched the show and reevaluated her "Cardashian" alliance from the game. Though she's still friendly with them, she said that she realized Courtney and River a.k.a. Lee were total game players. She even says that while she would have considered River the most genuine at first, she changed her most genuine to Trevor after seeing how River voted as an influencer. She also said, "The most disingenuous and the game player would be Courtney. He did a really good job and I love him. I still talk to him now but he would do anything. He would step on anyone."
Chloe also told Metro.co.uk that she's gotten close with fellow player Mitchell Easton since the show ended, and she even has plans to visit him in the US. She said she was nervous when she first met him in person because she "just wanted to eat him." Now they talk all the time and Chloe even has the approval of Mitchell's mom, Tammy from The Circle season 1.
As for whether Chloe walked away from The Circle with the $100,000, we'll have to wait and see in the May 5 finale.
The first twelve episodes of The Circle season 2 are available to stream on Netflix now.
Contributing Culture Editor
Quinci LeGardye is a Contributing Culture Editor who covers TV, movies, Korean entertainment, books, and pop culture. When she isn't writing or checking Twitter, she's probably watching the latest K-drama or giving a concert performance in her car.