Naturally Natalie
Newly single and working like mad, Natalie Portman opens up about surviving child stardom, escaping the "muse" trap, and emerging unscathed from her first tabloid scandal.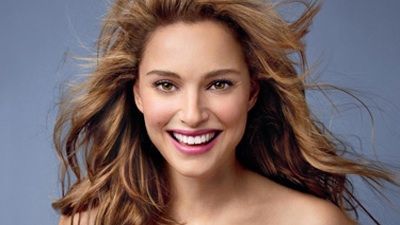 (Image credit: Peggy Sirota)
Amid the bustling weekend brunch crowd at Bubby's in lower Manhattan, Natalie Portman is having a nostalgic moment. "I came here after my high school prom," she smiles.
It's probably safe to say that none of the other kids from Long Island's Syosset High School came to Bubby's that night in a "little Armani strapless thing" they had recently worn to a Star Wars: Episode I premiere. "I've always been the lucky one with the Cinderella-ness of getting to borrow something awesome," she acknowledges. "Of course, I gave it back afterward."
The day we meet, Portman is wearing skinny black jeans and a North Face Windbreaker. She has no makeup on except black mascara, and her hair is pulled back into a knot, with a black cotton headband framing her small, pale face. She orders oatmeal — no milk. Portman has been a vegetarian since she was 9, but her veganhood comes and goes. Right now, she's dairy-free because she's just read her friend Jonathan Safran Foer's new book, Eating Animals, and has been inspired to be especially careful about sourcing her food. When she was shooting her latest movie, Brothers, a Jim Sheridan-directed drama about the effects of the war in Afghanistan on an American soldier's family, she ate vegan because her costar Tobey Maguire brought his own vegan chef to the set. "I was like, 'Um, could you make two of those?'" She grins. "And I'd make a cute face, and they'd roll their eyes and give me another falafel."
If the Star Wars prom dress seems a startling reminder of how long the 28-year-old actress has been in the business (she first played the young Queen Padmé Amidala, Princess Leia's mother, in 1999), let's be clear: She's been in it much, much longer than that. When shooting began on The Professional, her rivetingly sleek first movie, she was 11. One of the effects of having started so young is that on-screen, she has either been an adultlike child or, because of her petite physique, a childlike adult. It's a double edge that has to be played to wisely: Portman turned down an offer to play Lolita but took on a character described as "the little neighborhood Lolita" in Ted Demme's Beautiful Girls; in V for Vendetta, her apparent frailty was offset by her stunning shaved head. She has, on the whole, been fearless about how she looks, and comes across as both feisty and thoughtful.
A little-known fact about Portman is that for her very first acting job — as an off-Broadway understudy — she replaced Britney Spears. Needless to say, their paths have diverged wildly since then — though Portman did, exceptionally, make the tabloids last year for a rumored make-out session with Sean Penn behind a curtain at a Los Angeles hotel. When I raise the subject, she manages to look both amused and mortified. "He's obviously someone I'm friends with," she says. "I mean, not 'hey, wassup?' friends, but we were all on the [Cannes 2008] jury together — Alfonso [Cuarón] and Marjane [Satrapi] — and we had a really great time, and then...It was one of those things where you're like, 'Oh, my God! I'm that person who's caught in this shitty rumor brigade.' You can't win. You don't say anything and everyone's like, 'It's true.' You say something, and you're keeping the story alive. It's bad, bad news."
For the most part, Portman keeps her personal life very private. Until recently, she was with the musician Devendra Banhart, but now proclaims herself to be single. She doesn't spend her time with a posse of celebs; her closest circle of friends is still mostly made up of people from high school and college, plus a small core of women in L.A. One of these, Rashida Jones, says Portman "would fight beasts 10 times her size to protect the people she loves. She is the kind of friend who can sub in and love you through the times when you can't necessarily love yourself."
Portman's remarkable steadiness is by all accounts due in large part to her attentive parents, an Israeli fertility doctor (dad) and an American artist (mom), who have no other children. Mike Nichols, who directed her in Closer and in the 2001 Broadway production of The Seagull,, says that as a result, Portman "has a very solid, generous center, even though for a little while she was at sea in a world of narcissists."
Portman says she was "definitely working at a young age, but there's a whole growth in that." She got to spend three months in France when she was 11, shooting The Professional, and on her days off her mother would take her to Monet's house in Giverny and encourage her to come home and paint a version of what she'd seen. When she traveled to Japan for the premiere of The Professional, her parents insisted on a week off to explore the country. Portman shrugs: "OK, so I didn't really go to high school parties," she says, "and yeah, I didn't touch pot till I was in my 20s. I didn't get flat-out drunk until I went to college. But I think that's a good thing in many ways."
Read the rest in the January 2010 issue of Marie Claire, on newsstands now.
Celebrity news, beauty, fashion advice, and fascinating features, delivered straight to your inbox!