Karen Elson: Model Turned Musician
Among things too numerous to count: grains of sand on the beach and runways that model Karen Elson has walked. Taking stock of her life thus far, the muse faces the music.PLUS: OUR PHOTO SHOOT WITH KAREN ELSON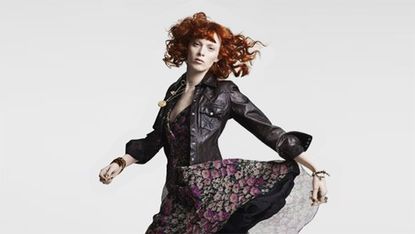 (Image credit: Simon Burstall)
Her fiery locks and porcelain-pale skin made her a supermodel, but Karen Elson was fated for a career in music. As a kid in Manchester, England, she spent her pocket money on magazines that would teach her to play piano. Later in life, she'd teach herself guitar, join NYC-based cabaret troupe The Citizens Band, collaborate with indie superstar Cat Power, provide vocals for the legendary Robert Plant, and, oh yeah, marry Jack White of The White Stripes, with whom she has two children. But after a decade of fronting world-famous fashion houses — among them, Versace, YSL, and Chanel (her recent coup: replacing Angelina Jolie as the face of St. John) — Elson, now 31, was reluctant to make a wholehearted leap into music. Her debut album, The Ghost Who Walks, titled after a childhood nickname, is a haunting triumph over self-doubt. Secretly written in her closet at home in Nashville, Tennessee ("I just needed some peace and quiet," she says — the refrain of mothers everywhere), the record almost didn't happen. Here, the self-described "anomaly of fashion" discusses her journey out of the closet and into the recording studio.
MC: How old were you when you were dubbed The Ghost Who Walks?
KE: I was 12 or 13. A boy was teasing me. He said, "You're like a ghost who walks." It wasn't a nickname that was always used, but it stuck in my mind — maybe because it's one that I actually liked, to be honest. It was far less brutal than some of the others.
MC: Oh, come on, people made fun of you? That's hard to believe.
KE: I was always the weirdo at school. When I became a model [at 16], I didn't tell anybody. I was terrified that the kids would rip me to pieces. When they found out, they absolutely did. One girl came up to me — I remember it so vividly — she said, "You're not fit to model socks." It crushed me. But at the same time, it made me unbelievably determined to prove everybody wrong and prove to myself that I could live an incredible life.
MC: Still, the nicknames followed you. What was it like having Karl Lagerfeld call you a beautiful freak?
KE: He meant it in the most endearing of terms. But I was 18 at the time, so it felt a little strange, like, What do you mean I'm a freak? I'm surrounded by freaks. Am I weirder than the rest of them? Ultimately I've learned to pride myself on being quirky. I very much adore people who are outcasts, and I've always loved to be around interesting, circus-type people.
MC: Kind of like the folks in The Citizens Band.
KE: Yeah. I'm madly in love with all of those people. Sarah Sophie Flicker, the head of Citizens Band, asked me to be a part of the very first cabaret about seven years ago. Being in that environment, among creative people who are so supportive of each other, was the bridge that enabled me to say, "OK, I can do this; I can make a record."
MC: Yet you were afraid to share your music with your husband. Why?
KE: So many reasons. Mainly I thought, What if I play him a song, and he says, "That's great. Anyway, I've got to do this and this — and yeah, just keep at it." I was afraid of being judged too harshly. But I'd let those fears overwhelm me for far too long. Ultimately, Jack overheard me singing in my little isolation tank and had nothing but praise. He said the next step was to go into the studio and record. I was terrified! But he put me on the line and said, "If you want to do this, you have to be willing to take the risk that people won't like it."
MC: On a scale of one to 10, how much pressure do you feel to prove yourself as a singer?
KE: Around a seven or an eight. Obviously there are going to be a lot of skeptics. I only hope I can prove them wrong and give the idea of model-slash-anything a genuine chance. For a while I was quite apologetic: "I'm sorry, I'm a model ..." Now I have the opposite attitude: "Yes, I am a model, and?" I don't have any less to offer than anyone else.
MC: Clearly. Let's see: model, singer, mom, and also boutique owner?
KE: Yeah, I have a vintage store, Venus and Mars, in Nashville with my friend Amy Patterson. It's really more of a hobby. I just love vintage. I have far too many vintage dresses.
MC: What's next on your big life to-do list?
KE: The next six months, I'm dedicating my time to going on tour and basically juggling music, modeling, and being a mother. Being a mother is obviously the most important.
MC: Will the kids go on tour with you?
KE: Yeah. I would miss them too much. My daughter's 4, and my son will be 3 in August, so I think it's a great time. It's more terrifying when they're learning to walk on a moving tour bus — now that is a recipe for disaster.
MC: Any chance of a White Family Band?
KE: Let's see how the kids feel about that when they're teenagers! It would be so much fun. But I like to keep boundaries. Jack is doing his thing, and I'm doing my thing. We ask each other's opinions, but there has to be a line that separates what I do from what he does and our family from all of that as well.
MC: Where do you see yourself in 20 years?
KE: I feel like somehow I'm living my life mentally in reverse. It's taken me to my 30s to feel relaxed and comfortable in my skin. I think I'm going to be dancing on tables when I'm 50. I really hope I am.
Marie Claire email subscribers get intel on fashion and beauty trends, hot-off-the-press celebrity news, and more. Sign up here.