What We're Reading: Another Jackie O Biography
Jacqueline Kennedy Onassis lovers are rejoicing this month: Another biography about her editing career arrives on shelves this week.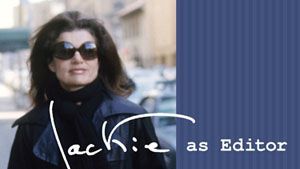 (Image credit: Courtesy of St. Martin's Press)
It's a great time for Jackie O-philes. Remember the biography we covered last month, Reading Jackie, that took a look at her life through the books she edited for Viking and Doubleday? Well, another author (one Jackie actually worked with) is taking a stab at documenting the literary life of the much-beloved former First Lady.
Jackie As Editor: The Literary Life of Jacqueline Kennedy Onassis

Author: Greg Lawrence, the author of several books, including three that were edited by Jackie Onassis (Dancing on My Grave, The Shape of Love, and The Little Ballerina and her Dancing Horse).

Genre: Literary celebrity memoir

What Happens: Lawrence uses interviews with Jackie O's collaborators and friends to examine her considerable skill — and prolific success — as an editor.

Why Read It: Like books? Like amazing figures in history? Didn't read the William Kuhn bio (or loved it so much you're begging for more)? Also, I find it kind of entertaining to imagine Kuhn and Lawrence kicking themselves when they found out there was another major Onassis bio coming out within a month of theirs, and rolling their eyes at the fact that every review mentions both of them. (Sorry, guys!)

Details: Thomas Dunne Books, Jan 4, $25.99