Get Your Gleek On!
With a vise grip on iTunes, a Midas touch in the ratings, and a world-conquering tour this summer, the hardworking, chart-topping, fearless girls of Glee pause to catch their breath. Plus, get the Glee girls' cover shoot looks and test your Glee-Q with our exclusive Gleek Trivia Quiz.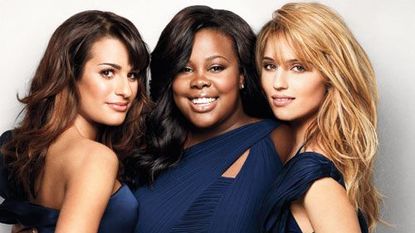 (Image credit: Mark Abrahams)
Marie Claire Newsletter
Celebrity news, beauty, fashion advice, and fascinating features, delivered straight to your inbox!
Thank you for signing up to Marie Claire. You will receive a verification email shortly.
There was a problem. Please refresh the page and try again.
Amber Riley, gifted with an incredible voice and an unshakably positive body-image, was a virtual unknown before belting out her first notes on the Glee set. Amber unveils the big plans she has for herself and her character, Mercedes — and she addresses those pesky tabloid reports about elitism among the cast.
As Quinn, Dianna Agron spends most of her screen time as a cool and calculating cheerleader, but at her first audition, producers didn't think she was sexy enough. What are the other differences between the actress and her character? And what of those rumors she's in a relationship with Lea?
No stranger to the spotlight, Lea Michele spent more than a decade on Broadway before joining the cast of Glee. She tells Marie Claire how playing Rachel Berry has changed her life and what it's really like having to pretend to pine for Cory Monteith in front of the cameras.
Tune in to Glee at 8/7C on FOX.
THE POWERHOUSE: AMBER RILEY
Age: 25
Hometown: La Mirada, CA
Character Name: Mercedes Jones
Was high school heaven or hell?

It was fine — just something I had to get through. I had such a life outside of class: I was involved in drama club, gospel choir, theater. I took dance classes, jazz, opera classes — anything that had to do with music. My friends called me "Hollywood" because they said I'd be famous.
My pre-Glee gig was …

I worked at Ikea as a customer service rep for two years and loved it.
Walking into the Glee audition …

I had no idea what Glee was about, but my friend had told me, "They're looking for someone who can belt." They asked me to sing "And I Am Telling You" from Dreamgirls, which I had never sung before. Two weeks later, I got the role.
Greatest personality divide between you and Mercedes?

Mercedes and I share confidence, but I would never dress that way! I love color, but all the sneakers and neon and jewelry that she wears? I also never had her insecurities about weight — I was skinny in high school — but I love that now I get to show girls how to be comfortable with their bodies.
You guys work a lot. What's the secret to keeping your sanity during 14- to 16-hour workdays?

First Wives Club. It's just the girls. It usually takes place on a long day when we need a break. All the girls go to Lea's trailer and talk. Off set, we go to Cory Monteith's house — he was the first one who got a bigger place — or last weekend a bunch of us got sushi. Tabloids don't want us to get along, but what they don't understand is music brings a different dynamic to our set; it brings people closer.
Your character's friendship with Kurt is so special. Who's your Kurt in real life?
Kurt! Chris Colfer really is my Kurt. That's my baby. Having his character at that other school — Dalton Academy — this season is driving me up the wall.
On-set nickname?

Mama A. I look out for everyone.
Your love prediction for Mercedes?

Being that she lives in Ohio and there are only six black kids in the whole school, it would be great for her to have a biracial relationship. Back in high school, I went on dates, but I was too focused on my career. My parents were like, "It's nice to have a boyfriend, but it's even nicer to own your house when you're 21."
Tabloid terror: What's been the most absurd rumor you've heard?

A magazine said Chris, Naya [Rivera], and I would only answer to "The Artists," and that Kevin [McHale], Jenna [Ushkowitz], Heather [Morris], and Harry [Shum] were upset because we wouldn't talk to them. It's so funny because everybody knows Kevin is the most arrogant, pompous jerk — just kidding! It's ridiculous.
How does Glee make you feel?
Unstoppable. In high school, I had to write a bucket list. Meeting the president, being on Oprah, and going to — not being nominated for — the Grammys were on my list. And I've done all of that through Glee. Standing on the White House balcony last year to sing the National Anthem next to Obama, I couldn't look at my castmates — those idiots on the lawn — because they were so excited for me, they were bawling. [laughs] I flew home the next day and swore the plane would crash. I was like, "That's it! What else is there left to do?"
Read the rest of Marie Claire's exclusive interview with the Glee star in our May 2011 issue, on newsstands April 19.
THE STARLET: DIANNA AGRON
Age: 24
Hometown: San Francisco, CA
Character Name: Quinn Fabray
Was high school heaven or hell?
I loved and hated it. I was in the dork classes, like honors English. I also did drama and was a yearbook photographer. But there were definitely embarrassing moments: My first week, my two best friends and I convinced our parents to let us go to a party for an hour. So people are drinking, and the three of us are standing in this terrified triangle. All of a sudden, this senior gets into an argument with a guy next to us, and as I'm turning to see what's going on, she goes to punch him and I get clocked in the nose instead. Blood is everywhere. Meanwhile, somebody caught it all on video, and the football team was like, "We've been watching it in the locker room. You should've seen your face!" I was Bloody-Nose Girl for a while. I have a deviated septum from that night — it's why my voice is so nasally.
My pre-Glee gig was ...
In high school, I taught dance classes for 3-year-olds up to 16-year-olds, so between that and some bat mitzvah money, I saved up a pretty good nest egg to move to L.A.
Walking into my Glee audition …
I'd gotten a callback that said, "Please come back, wear something sexy" — not my forte — "and have straight hair." I had an hour to get there from another audition, and I was wearing the same vintage dress — my go-to audition outfit that week — but I bought a straightener that I used in a Starbucks bathroom. For the next callback, I got to the studio early to warm up with vocal exercises in the parking lot. I went into the office, but no one was around. Later, I found out they saw that I checked in an hour before at the gate, so they're calling my agent: "Is she lost?" and my agent is calling me, but my phone was locked in the car. Finally, someone finds me, has me sign a form, and says, "You start in two days." I thought I was being punk'd.
Who have you learned the most from?
Lea taught me how to stand up for myself more, like realizing that I can't be in 10 places at the same time. She's also very protective. Once, we were flying from Sydney to Melbourne when a crazy guy grabbed my face and kissed me. Lea yelled and pushed him off of me. A mean stewardess who hadn't seen it turned around and said, "You two be quiet!" And Lea yelled, "No, that man just kissed my friend!"
How many tattoos are you sporting?
One. It says "Mary had a little lamb"; my mom's name is Mary. I don't know if I'd get more, even though around Jenna and Lea, I'm like, "Yeah, I want another!"
Tabloid terror: What's been the most absurd rumor you've heard?
Everybody is convinced that Lea and I are in a relationship. There are supposedly forums with photos of us hugging at work or events. It's funny, but flattering — Lea is beautiful. Since when can't you hug your friends?
You've been campaigning heavily for Christopher Walken to be a guest star — why him?

People always expect us to say Justin Timberlake. But I always go back to Walken's Fatboy Slim video. A rivalry between him and Jane Lynch would be fabulous.
Where do you want to be in five years?

I sold my first screenplay six months before Glee, but they had the option for a year and now it's back with me. So I'd like to get that made. I wrote it during the writers strike when there weren't any auditions — I now know every coffee shop in L.A.
Read the rest of Marie Claire's exclusive interview with the Glee star in our May 2011 issue, on newsstands April 19.
THE DIVA: LEA MICHELE
Age: 24
Hometown: Tenafly, NJ
Character Name: Rachel Berry
Was high school heaven or hell?
It was just about getting through unscathed. I wasn't the coolest kid, but I got by. I played volleyball, I was a varsity debater — I won a lot of trophies for that; I talk very fast! — and I only did one play and one musical because I wanted to give other people an opportunity. I also had a long-term high school boyfriend — there was some intense, emotional journaling from that — and a nice group of friends. It was really normal.
My pre-Glee gig was …
I worked consistently on Broadway from when I was 8 years old through Spring Awakening, which I left in 2008.
You famously got into a car accident on the way to your Glee audition, ditched the rental, and ran to the Fox lot anyway. Were you at all afraid they would think you were nuts?
I was more afraid that they'd think I was using that as an excuse for being late. Because at first they were like, "Oh, my God, are you OK?" But after a while they were joking, "So that 'car crash' you were in ..." I literally had chunks of glass that I pulled from my hair and put on the table. I look back on that day and think, I can't believe I did that. I left the car on the side of the road. But something came over me.
What's the story behind the First Wives Club?
It started a year and a half ago. The girls would get a bottle of red wine and stay a few hours after work to hang out and catch up in my trailer. Now we do it whenever we want. Occasionally, we'll let one of the boys in, and it's so funny to hear them talk about it. They're like, "Have you been to First Wives Club?" "I've been once." "Did they let you in?" "They let me in last week, but they wouldn't let me in this week." We also hang out a lot together off the set — I'm with Dianna, Amber, and Jenna nearly every day.
Favorite New Directions number?
"Don't Rain on My Parade" or anything Barbra Streisand. Every episode for Rachel is a Barbra-themed episode.
Your love prediction for Rachel?
I think people want her to be with Finn. And I love working with Cory so much. He's my buddy. The other day we did a scene, and my direction was to look longingly at him as he walked away. And I'm looking at him ... looking ... looking ... and he starts making fart noises off camera. And I'm like, "What the fuck? What are you doing? I'm supposed to be in love with you? Are you crazy?" So thanks, Cory, for that.
How many tattoos do you have?
I have 10, but they're tiny: a gold star for Rachel, one for Spring Awakening, the butterfly on my back is for my mom, another on my foot is for my cousins, and Kevin and Jenna and I have "Imagine." The day I got my newest one — it won't be my last — I texted Kevin, "At the tattoo parlor," and he replied, "We just got here. Where are you?" And I said, "I'm in New York. Where are you?" And he goes, "At the tattoo parlor in L.A." We'd randomly gone on the same night.
Tabloid terror: What's been the most absurd rumor you've heard?
We refer to Jenna and Kevin's houses as the "Love Nest" because we read that they were shacked up — they're not dating, they're best friends. And once someone said that Chris was hit by a fruit truck and died. Recently, I read that I was kicked off a plane: "Lea was using her BlackBerry ..." I don't even own one.
If everyone graduates by 2012, what's your fantasy future for Rachel?
I totally figured it out: Rachel Berry grown-up is Charlotte York from Sex and the City, if Charlotte were raised in Ohio by two gay men.
Read the rest of Marie Claire's exclusive interview with the Glee star in our May 2011 issue, on newsstands April 19.
Celebrity news, beauty, fashion advice, and fascinating features, delivered straight to your inbox!