The Haunting of Erin Andrews
Two years after that infamous video, the ESPN reporter still can't escape it — even though she put her stalker behind bars. As she gears up for college football season, she opens up about the public and private battles she's still waging.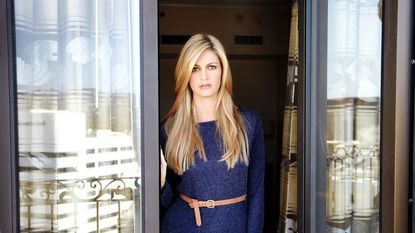 (Image credit: Tierney Gearon)

"Just saw your video.

Wow, you are on fire doing your hair naked!"
That's an incoming tweet to Erin Andrews. It hits her iPhone while she's on a trip to Tennessee, preparing to host a country-music benefit for tornado victims. She gets about a dozen such tweets a day — continual reminders of the video that went viral two years ago this summer, when a stalker removed the peephole of her hotel-room door, then stood in the hallway and filmed her for several minutes in the nude. Not that she's likely to forget. The video is one of the first things that pops up in a Google search of her name. At college football games, where she reports from the sidelines for ESPN, she hears fans scream from the stadium, "Hey, I've seen you naked!"
The video has become part of her everyday life, but that doesn't mean she plans to accept that fate. She has put her stalker in jail, she has lobbied for stronger laws against stalkers, and she has filed a civil suit against the hotel where the video was shot, hoping to spur all hotels to boost their security. Now Andrews is launching a new offensive — to vanquish the video from the Internet. To do so, she must first buy the copyright to the illicit video of her own body. We asked about her ongoing struggles, both legal and personal.
It must be galling to see the video every time you Google your name.
Yes, it's actually the second thing you see. I think it's pretty ironic because Google is promoting a campaign to fight bullying that literally makes you want to cry — it's called "It Gets Better." They show people going on Facebook and getting help; they show people going on YouTube and sharing their stories. They say, "Hang in there." Yet at the same time, Google is helping people get to my video. I consider that cyberbullying. I really think that's what these kids are thinking about when they consider taking their own lives, like that poor soul at Rutgers — they're worried about naked photos being passed around the Internet. I remember the day I read about that kid from Rutgers. I was on the road for college football; I sat in my hotel room and just bawled my face off.
How will it help you to own the copyright to your video?
I've had lawyers send out cease-and-desist letters to websites to take down the video, which they never do. The copyright helps us say, "We have this — get the video off, or we will sue."
How did you first hear about the video of you online?
I was in L.A., in July 2009. It was the day after the ESPY Awards, and I was meeting with the producers from Dancing With the Stars; they wanted to have me do the show. It had been a great day, and I was about to take a red-eye back home to Atlanta that night, when a friend who works as a blogger in the sports industry called. He said, "There's this video on the Internet, and they're saying it's you, and you're naked in a hotel room." I just laughed and said, "Well, that's not me. I don't do stuff like that." He said, "You need to look at it."
I could feel my heart just literally coming out of my chest. As I was opening my laptop, I felt like I was going to vomit and faint at the same time. I typed in the website address, and all of a sudden, it popped up on my screen. You know your body — you know what it looks like without clothes on — and I just said, "Oh, my God." My first call was to my parents. I was screaming and so upset that they thought I was physically injured in a car accident. They're like, "Where are you? What's wrong?" I said, "My career is over. I'm done."
How did you cope psychologically with the knowledge that strangers would be seeing you in the nude?
That was the hardest thing. Despite what I do for a living, I am very insecure about my body. I don't have a complex, but for every woman — I don't care who you are — there's a part of your body you have issues with. It was my body, and I didn't have a choice of how many people got to see it. What people don't understand is that while I wasn't physically touched, I was violated.
The day that I got the phone call that this was on the Internet, I didn't want to get undressed. I didn't change my clothes for two or three days. I was so screwed up. I was disgusted with myself; I was disgusted with my body, with being naked, and that everybody saw that it was me. I stopped going to my gym for six or seven months because I was afraid of people seeing me working out. I had this mind-set of, "Oh, my gosh, everybody's seen me naked and they're going to think to themselves, She should be so embarrassed."
The first site to run the video was in Europe. Then a sports blog linked to it — and rumors spread that you might have been behind the whole thing.
Yes, the perception right away was: She's doing this as a sex tape. She's doing this for publicity. News sites claimed they showed the video because it was "news." These news outlets were having so much fun with it. The New York Post put the images from the video up on the front page. The Early Show played clips on their show. Fox News showed stills. It was disgusting. My poor dad was watching this. He had to go on medication, he was so upset watching what was happening to his daughter.
You'd worked hard to prove yourself in the guy zone of sports reporting. How did men in your industry react?
When this happened, there was a lot of talk about whether I was going to come back, and I had a phone full of messages from some of the best coaches in the country, saying, "Please come back. Don't let this idiot win. You are what's right about our game." So for all those people who say I'm just a pretty face on the sidelines and I don't deserve to be there, I thought, This is validation.
So you kept working through it all?

The video went up in July, and I went back to work in August. Being a woman in a male-dominated industry, you are so afraid of people thinking you are weak. It's creepy that you're a crime victim and you don't want people to think you're weak. But anyway, I went back to work, in what I call my glazed-over period. I was so out of it. For the first few months, I didn't know if someone on my crew had done this to me; I didn't know if this person was still following me. I kept thinking he would jump out of the closet in the hotel. Honestly, I shouldn't have gone back so soon. I should have taken care of myself.
In October 2009, about three months after the video went online, police arrested your stalker ...
Yes, I had an incredible group of FBI agents helping me. But it was hard because during the investigation, the FBI couldn't say a word about the case. So the media kept saying, "She had to have been behind it because no one's saying that there's an FBI investigation." Even when I first met with the FBI, they looked me in the eye and said, "We cannot spend time on this unless you tell us that you did not do this to yourself." Then I had to sit there and watch the video with them — we were looking for some kind of clue to find out where I was. In the video, you could actually hear people walking past the guy filming me in the hallway.
In the end, Harvey Levin at TMZ is one of the biggest reasons we caught the stalker: The guy had contacted TMZ and said, "I have a naked video of Erin Andrews. Do you want it?" TMZ gave the e-mail to the FBI. The week of the arrest, I was on the road. I knew something was going on because the FBI had increased security around me. When they got the guy, I was so happy, but then I just started reliving it all, and had a giant meltdown before a game. I called my parents and just lost it. I was like, "I just can't go on camera. I don't even know who's playing — I'm so out of it." My parents kept saying, "Just get through this."
Your stalker turned out to be an Illinois-based insurance salesman named Michael David Barrett. Do you know why he fixated on you?
I don't remember ever meeting him before. I don't know why he chose me, but he did. He had done this to other women, too. And he's the father of a college-age daughter.
You found out that he had been following you for months, and had shot footage of you in hotel rooms in both Ohio and Tennessee. How did he know where you were staying?
He would call every hotel in the town where I was covering college football until he found me. Then he would get there a day before and remove the peephole — they're pretty easy to take out. I didn't notice. I mean, when I get into town, I'm in such a hurry — I throw my stuff down, we go to a football meeting, I work out, I go to dinner, then to bed. I'm using an alias now, but people can still call hotels and say, "Is ESPN there?" And hotels will say yes. Sometimes I'll call them myself as a test. I have no tolerance when I see things they do that aren't safe. What happened to me in the hotel is inexcusable: Information should not be given out as easily as it is.
[image id='dcfd98ea-cbea-482e-8fb6-6cee5978ae79' mediaId='4cb7404d-f617-4483-a058-6325f35b7d3c' loc='C'][/image]
You faced Barrett for the first time in court in December 2009, five months after the video went online. What was it like to see him face-to-face?

It was awful. He ended up walking in right in front of us, and I started to hyperventilate. I looked at my dad and was like, "I can't breathe." My dad was a rock. I had these notes, and he goes, "Look down and concentrate on your notes." I looked down, and you could just hear teardrops hitting my paper. And it was funny, for a guy who stood behind a door and took this video of me and stalked me, he didn't look at me once in court. He couldn't look at me.
At the sentencing in March, the judge let me speak to him. I got so nervous and geeked up that my heel got caught in the carpet on the way to the podium, and I almost fell on my face. Then I started telling him what he'd done to my life. I yelled, "You're going to go to jail for how many years, but I'll never get this off the Internet — I'll have to explain it to my future husband and my kids!"
That spring, you went on Dancing With the Stars, causing a new storm.
Yes, my whole reason for doing the show was to get away from my life. I did it to get my smile back. Then Elisabeth Hasselbeck said my stalker should have just waited and he could have seen me naked on Dancing With the Stars, referring to the costumes. That was basically throwing stalking in the face of every victim and laughing about it.
Your stalker is now in jail but gets out next fall. Does that worry you?

That's something I think about a lot. I'll need a restraining order. I'm not married; I'm not dating anyone. When I finally have a life and a family and someone who wants to be a part of all this, I'm going to have to explain, "So, my stalker's getting out of jail ..." It's going to be a different life with him out of jail.
How can women protect themselves, and their privacy, in hotels?

If the clerk says your room number out loud and there are people standing there, ask for a different room. If you get a room with an adjoining room, prop a card against the door so you can tell if it's been opened. Cover your peephole with a Band-Aid. Put up the "Do Not Disturb" sign — no one needs to be in your room. If you're there for a few days and need towels, call the front desk.
The athletes you report on need to protect their privacy as well, or they could be embroiled in a scandal ...

Oh, yeah, I'm seeing a lot of colleges educating their athletes, saying, "Look, you've got to be really careful about what pictures you put on Facebook or in social media because there may be people who try to take advantage of you."
Last summer, you lobbied for a bill that would strengthen laws against stalkers, but the bill didn't pass Congress. Now it has been reintroduced. Will you keep lobbying for it?

Yes. The laws are so outdated, and technology has just gotten better and crazier and faster. The laws need to be strengthened — they're a joke. Hopefully, we can get something done. I've brought attention to the crime. Now let's fix it.
Speaking out about your experience could arguably cause more problems for you. What motivates you?

When someone embarrasses me publicly the way this guy did, I feel I have no choice but to fight back. And at the time everything happened, I got a ton of letters from women who were stalking victims. People had set up video cameras in their homes, whether it was a neighbor or a handyman. The videos were on the Internet, and the women couldn't get them down or get these guys arrested. They said, "First, we want to welcome you to the sorority. But we also want to tell you to please fight this — you're our voice." I had to.
Celebrity news, beauty, fashion advice, and fascinating features, delivered straight to your inbox!
Abigail Pesta is an award-winning investigative journalist who writes for major publications around the world. She is the author of The Girls: An All-American Town, a Predatory Doctor, and the Untold Story of the Gymnasts Who Brought Him Down.