Interview: At a Tattoo Parlor with Eve
MC talks to the ink-loving, DUI-accused, N-word-defending rapper at a favorite haunt.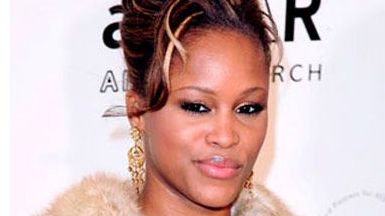 (Image credit: James Devaney)
When Eve breezes into New York Adorned, a tattoo parlor on Manhattan's Lower East Side, to consult with her tat artist, Kat, I'm nervous. Recently in the news for totaling her gold Maserati in an alleged DUI, Eve has a tough-girl reputation that suggests she wouldn't be out of place in a prison cell. In 1999, as the only woman in the hip-hop group the Ruff Ryders, she earned a reputation as a "pit bull in a skirt" (her words).
Today she's in a white wife-beater and gray jeans, and her granite jaw and serious eyes back up the pit bull part. Then her eyes land on someone in her entourage. A huge smile and a big hug later, Eve's shoulders relax as she takes a seat. "Girl, those shoes are dope," she says, pointing to her friend's pink-and-turquoise heels. "Where'd you get 'em?"
With seven tattoos (including two dog paws emblazoned on either side of her cleavage), Eve doesn't exactly strike me as a pink-and-turquoise-type girl. I tell her so after she and Kat decide how to touch up the fading peony on her right wrist. "I'm such a girly-girl!" she says in her hard Philly accent. "I don't know why people don't see that."
I stare at her. She laughs. "I'm still a tomboy at heart," she admits. "In high school, I was the girl in the baggy jeans and Timberlands, but I was also at the hairdresser's every week. So I guess I've always been both."
Maybe that's been her secret weapon in the male-dominated rap world. "When I first got into the business, I was a bitch," Eve, now 28, says. "I did not let people tell me what to do, and I never wanted to be a groupie. I didn't open my legs to get where I needed to go. I just hustled as hard as the guys did." She defends the rap industry, under fire for videos that demean women and lyrics that promote violence and racism, calling it a scapegoat for society's woes. "Let's look at the movie industry — it's way bigger than the music business," she says. "Quentin Tarantino? The N word is used so much in all of his movies. If we're going to address the issue, let's address it — but not just in hip-hop."
This month, Eve — who has sold more than 4.8 million records in her career and won a Grammy in 2002 — releases her first album in five years: Here I Am. "I feel like a new artist," she says. "I come from a crew of 50 guys [the aforementioned Ruff Ryders], but with this album, it was totally me. I was alone in the studio writing, and I had to trust myself through it. It's exciting, but I'm nervous."
The conversation turns to her personal life, and though she's been advised not to discuss the car accident, she will respond to tabloid rumors linking her with a New York bar owner. "I am very single," she says. "I am a relationship girl, but I want to wait until it's right."
Eve — domestic goddess. It hadn't occurred to me. "I can't wait to have kids," she says, giddily. "I want so many. I want to adopt and have my own." I picture her traipsing through Africa, Angelina-style, collecting a brood.
The girl with the great shoes comes over to remind Eve of another appointment, to which she responds, "I'm definitely coming back tonight for a tattoo or piercing." I breathe a sigh of relief. Still a badass.