Ashley Greene: Look At Me Now
Almost over-night, Twilight catapulted Ashley Greene from obscurity and made her one of Hollywood's hot young stars to watch. Now, as the final installment nears, she's determined to prove she's the girl to bet on. Don't forget to check out all of the photos from our November cover shoot with Ashley!PLUS: See exclusive behind-the-scenes photos of Ashley Greene baking at Marie Claire's Facebook page!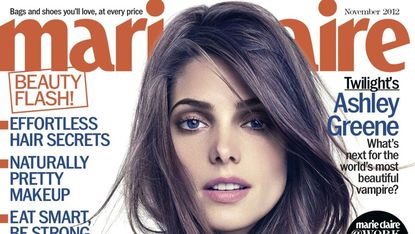 (Image credit: Marie Claire)
Starlets who say they like to bake are like models who claim they don't diet. (Cue eye roll.) But here's how I know Ashley Greene isn't a pretender: The day before we are to meet with James Beard Award-winning food writer Carolynn Carreño for a private lesson on how to bake world-class chocolate chip cookies, Greene, 25, politely informs Carreño that she's just whipped up a batch of sweet potato muffins with bourbon filling. This disclosure is her gentle way of saying, "I'm no beginner, so how about we step it up a notch?" Carreño quickly gets the hint, scratches the cookies, and suggests a more advanced French peach tart instead.
So there we are, in the airy kitchen of Carreño's Venice, California, bungalow, arms flecked with flour, complimenting each other on our rolling pin skills. Greene, a Jacksonville, Florida, native, is one of those type A chefs: Her side of the counter is freakishly clean, and she expertly works a shapeless mound of dough into disks so perfectly spherical they could have been measured with a protractor. She is entirely engaged in the task at hand. Everything about her is carefully considered, from the casual-cool, paparazzi-ready ensemble (Ella Moss tank, cutoff jean shorts, Isabel Marant booties) to the neatly folded apron she showed up with tucked under her arm. Focused is her natural state of being.
Basically the opposite of me. While Greene is the model student, I am distracted. In my defense, I'm mentally wrestling with a tricky bit of business: how to get Greene's take on the biggest celebrity split since Sandra Bullock dumped a wayward Jesse James. About a week earlier, a Hollywood bomb had gone off that shocked the nation — the planet! Greene's Twilight costar Kristen Stewart had cheated on her longtime beau, Robert Pattinson, devastating millions of "Twihards" who considered the real-life romance of Edward Cullen and Bella Swan a love story for the ages. Stewart's wrenching confession (and those photos!) are all anyone, anywhere can talk about. So after we are both settled in, I gently back into the subject of l'affair KStew. The easy grin quickly vanishes from Greene's face. "That is off-limits," she says sternly, adding with emphasis, "really." (The studio is rumored to have put a gag order on all the Twilight stars, though at last check the couple appear to be reconciling.)
Greene, of all the castmates, surely understands there's zero upside for her if she dishes. Not just because she understands that rules are rules — ever the perfectionist, she's good at following them — but because she owes everything to Twilight, her very first film. Her story is Hollywood's version of stepping up to the mound for the first time and pitching a no-hitter. It rarely happens, and when it does, everybody notices.
When she arrived in Los Angeles at 17, Greene was just another super-pretty model-actress who paid her dues waiting tables, booking bit parts in middling shows like Crossing Jordan and MADtv, and befriending other attractive up-and-comers, like Gossip Girl's Jessica Szohr. "It was definitely hard," Greene recalls, methodically pinching the edges of her tart crust. "But nothing positive comes out of being bitter. You just have to keep on working."
The truth is, Greene barely had time to grow bitter, as her big break came fast. In 2008, she landed the mother of all supporting roles, as Alice Cullen in Twilight. (She originally auditioned for Bella Swan, but lost out to Stewart.) It was an interesting casting choice, one that required downplaying Greene's arresting good looks. As Alice, she's barely recognizable with her short, shag wig and grayish skin. Even early on, it was clear Twilight would be major, though few could have predicted that the series would go on to become one of the most successful franchises in film history, banking $2.5 billion, with the final installment due to wallop theaters this month. Greene remembers sharing a laugh with Szohr when the Gossip Girl realized exactly what her friend had stepped into. "I said, 'Yeah, I can't get a drink tonight because I'm doing this thing — well... I'm playing a vampire,'" Greene says. When the movie was announced, Szohr said with a knowing smile, "A vampire, huh?"
Overnight stardom is rare in Hollywood. Most ambitious young stars chip away at their obscurity with relentless red-carpet appearances and countless interviews with no-name publications. Greene, steadfast and focused, whose goal since the beginning has been to become a big-name dramatic film actress, would have been well-suited for that fame game but had the good fortune to bypass it entirely. Not long after Twilight was announced by the trade papers, slavish fan sites popped up all over the Internet. "I was like, 'Whoa, what?' We hadn't even started filming yet," Greene recalls. And after the movie was released, Greene debuted on the Internet Movie Database's StarMeter — a gauge of how popular an actor is at a given time — at 11, besting more established actresses like Scarlett Johansson and Anne Hathaway.
For the full article, pick up the November issue of Marie Claire when it hits newsstands on October 23.