Mann on Fire
Hollywood's most reliable funny girl, Leslie Mann, finally takes the spotlight in This is 40, an uproarious send-up of marriage and motherhood. (Guess whose life it's based on?)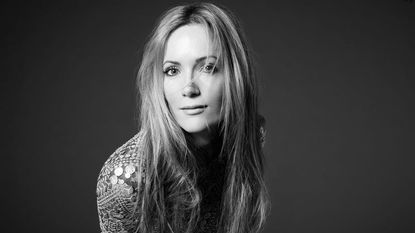 (Image credit: James White)
Marie Claire Newsletter
Celebrity news, beauty, fashion advice, and fascinating features, delivered straight to your inbox!
Thank you for signing up to Marie Claire. You will receive a verification email shortly.
There was a problem. Please refresh the page and try again.
As far as accessories go, Leslie Mann has everyone beat as she hobbles into Fig, the airy farm-to-table restaurant in Santa Monica's Fairmont Miramar Hotel: She's wearing a giant moon boot on her right foot. A day before, she broke her toe on the set of her Marie Claire photo shoot. The photographer was going for a "deconstructed gown kind of thing" and asked Mann to jump back and forth in an attempt to get her Gucci dress to billow. "I felt like such a dork," says Mann, dressed far more low-key today in a black-and-gray-striped shirt and black skinny jeans. "I'm leaping, and the fans were blowing, and the dress would fly up, and I was barefoot. That's the other thing — I have giant feet, and they are not attractive at all." Mann didn't say anything when her toe got caught under her foot and snapped; she didn't want to seem like a pain in the ass. Now it's swollen and blue, and she tells me she'll have to wear the boot for four weeks.
Mann is startlingly unself-conscious about the whole broken-toe affair. (She even tweeted a picture of it.) But that's hardly surprising — accessibility is her sweet spot. It's why her husband, writer-director Judd Apatow, loves to cast her in his films, including his latest, This Is 40: She comes off utterly at ease on-screen, so much so that even farting (like she did in The Change-Up) or vomiting all over Steve Carell (like she did in The 40-Year-Old Virgin) — or, in real life, tripping during a photo shoot and schlepping her foot around in an Aircast for a month — doesn't phase her one bit. "I actually had a whole different ending [for that scene in The 40-Year-Old Virgin]," says Apatow. "They get pulled over by the cops, and in the last second, she reveals that she has a gun under the seat. And Leslie said to me, 'No, I really think I need to throw up in his face.' and then she went off and made her own vomit out of strawberry yogurt and some sort of breakfast cereal. And it turned out to be one of the biggest laughs of the movie."
Mann, who herself turned 40 this year, is sitting across from me, wolfing down fish tacos with her fingers. She is warm and friendly, laughs easily, and lights up when she talks about her kids, Maude and Iris Apatow (whom her husband frequently casts as her kids in his movies). Providing a healthy, normal home life for their girls is clearly a priority — Mann herself was raised by a single mother in Southern California. "I am always jealous of people" who grew up with married parents in the suburbs, she says. "I feel like they have such an advantage over everyone — unless the [parents] are, like, raging alcoholics and beating [their kids]. But to have the parents stay together and have that stability, I just feel people like that are so much more solid. Is that a lie I tell myself?"
This sentiment echoes a familiar strain of family-values conservatism that belies the sex, weed, and psychedelic mushrooms that have figured prominently in Mann's husband's work: in The 40-Year-Old Virgin, Carell's character is holding out for love; in Knocked Up, Katherine Heigl's Alison never considers abortion and ultimately falls for her baby daddy; in Funny People, Mann's character decides to stick with her cheating husband. It's all about family for the Apatows, and sitting with Mann, it's clear she's influenced less by a Hollywood focus-group-tested conservative agenda than by the traditional Apatow worldview — in which Mann is at the family's emotional core. "These projects are homegrown," says Apatow, 44. "They come out of conversations we have about how we're doing."
When she started her career nearly 20 years ago, Mann didn't necessarily envision herself as a comic actress or muse. "I didn't think, I want to do dramas or I want to do comedies — I wasn't clear in that way," she says. "I remember going out on more dramatic auditions, and people were laughing at me. And over the course of a year and a bunch of auditions, I kind of wound up here." in her first significant role, Mann was cast as Matthew Broderick's girlfriend in the big-budget Jim Carrey vehicle The Cable Guy, produced by Apatow. The pair met on set — Apatow has described it as love at first sight — and married two years later. After The Cable Guy, Mann enrolled at The Groundlings, the L.A.-based comedy school and theater that has turned out the likes of Will Ferrell, Melissa McCarthy, and Maya Rudolph. It didn't go so well. "I did the first class and I passed. I did the second class and I was held back. I did the second class again. And I didn't like the teacher. She was a woman — and she was such a bitch. That is the perfect example of a woman not helping another woman," says Mann, who adds that for years she didn't really have any actress friends. "Maybe because you are just so busy working, and it is very competitive . . . I mean, now it seems that there is a new movement where girls are kind of willing to help one another."
She left The Groundlings but continued to rack up film credits, including George of the Jungle, Ed Burns' She's the One, and Adam Sandler's Big Daddy, but most of the scripts she was getting lacked strong female characters. "Back then the parts for younger women were just not good at all. As you get older, maybe they get a little bit better, but it's slim pickings out there, and Judd saw how awful the female parts were and how I struggled," Mann says. It wasn't until she took on the role of Debbie, the hilarious older sister in Knocked Up, that the critics started to take real notice. "It's so nice to be able to have a say in things and Judd being open to collaborating because I'm very helpful in that area. And that's why working with him is so great, because I get to have a say in things where normally I wouldn't."
In This Is 40, Mann reprises her role as Knocked Up's big sister Debbie, only now she finally gets her star turn — the film zooms in on Debbie's tense relationship with her man-child husband, Pete (played by Paul Rudd), as they freak out about hitting midlife. This time around, Apatow, famous for perennially casting his posse of comic actors (like Jonah Hill and Seth Rogen, for example), fills out the cast with a cadre of big-name funnywomen, including comic powerhouse McCarthy, Bridesmaids cowriter Annie Mumolo, Girls creator Lena Dunham, and Knocked Up's stoner chick Charlyne Yi. Veteran Saturday Night Live scribe Paula Pell executive produced.
Mann draws major laughs as she comes to terms with getting older, including in the opening scene when she declares, "I don't want to have a husband who takes Viagra!"; in another, she talks about that weird, uncomfortable moment when your breasts get smashed during a mammogram. In writing the script, Apatow drew inspiration from his own 15-year marriage to Mann, who doesn't help him write so much as play out the scenes that he eventually puts down on paper. "I wanted to make a movie about this turning point in people's lives," Apatow explains, "so we start kicking around ideas for scenes and it becomes a coded way for us to have a discussion with each other about sensitive issues: This is how Pete is feeling about something, but really I'm trying to tell [Leslie] about how I'm feeling about something. And she does the same with Debbie." It was Mann's idea, for instance, to include a scene where Debbie hits a club with a younger coworker (Megan Fox) and ends up picking up members of a Canadian hockey team. "Leslie said, 'You should do a sequence where I go out dancing' — and then she tells me about the time she and her friends went out and ended up hanging out with a minor league hockey team, and how good it felt to be hit on by them. When you've been married for a long time, it makes you feel good to know people are still attracted to you, so we started to figure out that sequence."
In another scene, Debbie catches Pete playing Scrabble while sitting on the toilet. Mann doesn't have any qualms revealing that versions of that scenario really happen in her own home. "If [Judd's] in the bathroom for longer than, like, two and a half minutes, I know that he is tweeting or doing whatever he does," she tells me, rolling her eyes benignly. It feels like she's just tossed out something deeply private between them, only it isn't because, come on, we've all been there, and so how could that story end with anything but laughter?
Celebrity news, beauty, fashion advice, and fascinating features, delivered straight to your inbox!