Carrie Underwood: Full Disclosure
From her rural roots to supernova status (thanks, American Idol!), Carrie Underwood has been a breath of fresh air to country music. But despite the Grammys, chart-toppers, multiplatinum-sellers, and latest hit tour, she's still grappling with all that comes with fame. Don't miss all of the photos from our June cover shoot with Carrie, and check out the star's red carpet evolution!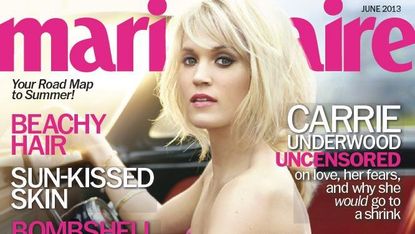 (Image credit: Marie Claire)
Carrie Underwood did not see Les Misérables. She says she will eventually, but this is likely a lie. The 30-year-old country megastar is not much for girly, heart-tugging movies. While all her girlfriends went en masse to watch Anne Hathaway weep amid the ruins, Underwood bought a ticket for Texas Chainsaw 3D.
"I'm not a mushy person at all," she confesses, sitting on her tour bus in the Grand Ole Opry parking lot, her rat terrier, Ace, asleep in her lap. In a few hours, the American Idol-winning (2005), Grammy-collecting (six), best-selling (more than 15 million albums) singer will take the stage, redefining what country music is and can be — most recently with her dramatic album Blown Away — but for now she is relaxing, well, as much as one can in full makeup and stage dress. Underwood perches on the edge of her seat wearing a canary-yellow shift and glittery heels, her hair a matching Nashville blonde. From her ears dangle daisy drop earrings, a gift from Hoda Kotb after Underwood admired hers during an appearance on the Today show. All taken, she resembles a Hitchcock heroine: trim and angular, nothing extraneous save a coating of dog fur. "We were never a huggy family," she continues. "Or a 'let's talk it out' family. Technically I have siblings, but they are quite a bit older than me — I was the accident — so I have the only-child syndrome going on. I'm a little more selfish, a little more independent, a little closed." Underwood shrugs. "I do wish I were softer," she says plainly. "I wish I were able to form relationships better. But hey, I mean . . ." she says, laughing, "I'm not a sociopath."
Underwood acknowledges that at times, her reserve has been misinterpreted as chilliness, even by her hockey-player husband, Mike Fisher, a Canadian center for the Nashville Predators. "He is Mr. Nicest Guy on the Planet. I skew the other way." For example, she isn't crazy about being touched by strangers. She's not big on love songs. Refreshingly, unlike many in her profession, Underwood never comes off as cutesy or cloying, eschewing adorable in favor of admirable. While her peers whine about never, ever getting back together with their beaus, Underwood sings about dumping bodies in the ground and getting the hell on with life. "I don't want to listen to everybody's problems all the time," she says. "And I doubt anybody wants to listen to mine."
"She could have been a general," jokes Brad Paisley, Underwood's onetime tour partner and recurring cohost for the Country Music Association Awards. He recalls their first emceeing gig. "She was just this kid from Oklahoma, waiting to walk out in front of the world, to greet this audience that has got to be thinking we have no business being there. Me? I'm scared to death. And instead of panicking, she taps me on the shoulder and says, 'Let's do this! Let's take it to them!'"
Much has been made of the transformation of a rural pretty girl who had never set foot on an airplane prior to her Idol audition into the faultless country diva who harkens back to greats like Tammy Wynette and Loretta Lynn while at the same time pushing country into a brave new future of relevance. But those who best know Underwood insist she hasn't transformed at all.
"She was never really a people person," says Underwood's retired teacher mother, Carole, who raised Underwood and her two older sisters in Checotah, Oklahoma (population 3,350), alongside husband Steve, a paper-mill operator. "She liked being outside with animals."
"Carrie didn't let fame change her," adds best friend Ivey Childers, who baked the cupcakes for Underwood and Fisher's 2010 wedding. "She was never super-outgoing. And she doesn't feel the need to overcompensate now."
Explains Fisher, "My wife is brutally honest sometimes. She doesn't know how to hide her feelings." Which is what he loves about her. As do her fans. "She is real people singing real songs about real life," says Pete Fisher (no relation to Mike), general manager of the Grand Ole Opry and arbiter of Who's Who in country music. Pete ranks Underwood as among the best. Of 66 current Opry members, only 20 are women. Tellingly, it is Underwood's fresh face that opens every Opry performance as the host of the "Welcome to the Opry" preshow video. "What she has achieved is nothing short of historic," Pete says of Underwood's galvanizing influence on country music.
Paisley is even more direct. "She's the best female singer we've had in our format maybe ever. She was a nobody in Oklahoma. On the first tour, she told me, 'I feel like I am a celebrity for no reason, like people are resentful I didn't have to play bars for 10 years to get a record deal.' And I told her she was one of the greatest gifts we have been given in Nashville."
The Music City agrees, putting her face in advertisements alongside Dolly Parton, Chet Atkins, and Elvis Presley — comparisons Underwood feels are premature. "I don't belong there," she says with chagrin. She reveals that her family keeps a storage unit for the collateral detritus that comes with renown. "Maybe my kids will have fun playing dress up in the clothes," she surmises. "But I can't see saving the stuff for a museum, some giant monument to my awesomeness. That's Dolly. That's Loretta. Not me."
Underwood's was not an impoverished upbringing, but it was insular, extravagance a four-letter word. "My mom would sew my outfits for talent shows," Underwood recalls. "She would get material from Walmart. It was a little Coal Miner's Daughter up in there." Her parents still live in the modest house where she was raised. (They won't let her buy them a new one.) Her sisters, 10 and 13 years older than she, are both elementary school teachers. When Underwood tried to buy her father a $400 generator one Christmas, she got in trouble. "My parents are really great people who want nothing to do with any of this," she says. The last time she played in Oklahoma, her dad didn't even attend — it was hunting season. "I'm the black sheep of the family," Underwood says, smiling. "The black-crystal sheep. Swarovski."
For the full article, pick up the June issue of Marie Claire when it hits newsstands on May 21.