What's On: Amanda Seyfried
The actress and Clé de Peau Beauté face on her barefoot fantasy, documentary-film habit, and magical dinner parties.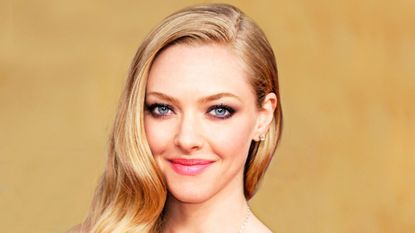 (Image credit: Getty Images)
What's on your...
MUST-SEE-TV LIST: The Wire, Scandal, and Homeland.
BUCKET LIST: I want to learn French.
NIGHTSTAND: Incense, which I burn a couple of nights a week. I also have Hemingway, Capote, and Faulkner books because I'm trying to read some classic college curriculum literature.
FANTASY TRVVEL ITINERARY: A week in upstate New York, lakeside. No shoes allowed.
VANITY: Clé de Peau Beauté's La Crème and its new Extra Rich Lipstick in 310; Kevin Murphy dry shampoo; Givenchy Very Irrésistible Eau de Toilette; and coconut oil.
LAST CREDIT CARD STATEMENT: Dog food, charcoal, water purifiers, and iTunes charges for music.
COFFEE TABLE: Malerie Marder and Life photo books.
LIST OF CHARITIES YOU SUPPORT: JDRF [Juvenile Diabetes Research Foundation], Pancreatic Cancer Fund, The Eric Trump Foundation, and Best Friends Animal Society.
WEEKLY GROCERY LIST: Trader Joe's dried fruit, almond milk, dark chocolate, and fruits and veggies.
BED: Matteo sheets, down pillows, and usually a dog toy.
FEET: Dirty Laundry faux-leather boots and Topshop suede black flats.
NETFLIX QUEUE: I'll watch any documentary. The best I've seen lately is about the beginning of the AIDS epidemic. I also loved Sarah Polley's new film, Stories We Tell.
COMPUTER SCREENSAVER: A black-and-white shot that I took of my dog, Finn, on a beach on the Oregon coast.
WALLS OF YOUR FAVORITE ROOM IN YOUR HOUSE: I have Joan Nelson paintings and Sarah Baley photographs in my bedroom.
GO-TO TAKEOUT MENU: I love spicy lemongrass coconut mushroom soup and veggie pad thai.
IPHONE APPS: Picfx, Words With Friends, and Sudoku.
SPEED DIAL: My mother and Sunset Foot Spa, in L.A., for reflexology.
MIND: Too much.
IDEAL DINNER-PARTY GUEST LIST: Neil Patrick Harris, Patty Griffin, the Clintons, and some magicians.
WISH LIST: An extra month in a year, and immortality for my dog.
ITUNES PLAYLIST: Phosphorescent, JBM, and The Milk Carton Kids.
BOOKMARKS MENU: Amazon for things like Tom's of Maine soap, paint, books, and Glutino Bagel Chips, and Etsy for antique wooden boxes and antique enamelware.
WORKOUT PLAN: Hot yoga, hiking, running, jump rope, ballet, and weights. I mix it up for enjoyment.
QUOTES-TO-LIVE-BY LIST: "You will find that it is necessary to let things go; simply for the reason that they are heavy." —C. JoyBell C.
Celebrity news, beauty, fashion advice, and fascinating features, delivered straight to your inbox!