Natural Wonder: Julia Roberts
Julia Roberts has been stealing scenes for more than two decades, and this month is no different with an Oscar-worthy performance in the dark comedy August: Osage County. Here, she talks to friend, director, and collaborator Ryan Murphy about holding her own against Meryl Streep, the pleasures of being a grown-up, and the perils of social media. Behind the Cover: Fashion | Behind the Cover: Beauty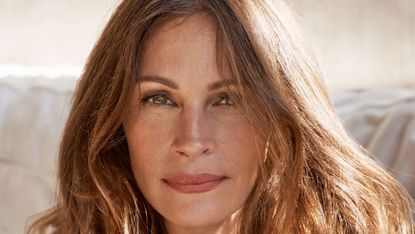 (Image credit: Courtesy)
About halfway through August: Osage County where Julia Roberts knocks Meryl Streep flat on her ass. It's an iconic moment in a soon-to-be-famous scene. The characters are gathered around the family table for a post-memorial meal and Barbara Weston, portrayed by Roberts, has had enough of her mother, Violet Weston, played with vicious, manic intensity by Streep. Finally, Barbara snaps, bounds out of her chair, and knocks Violet to the ground in an attempt to retrieve her addictive pills.
"I tell you, Meryl's strong!" recalls Roberts. "And I could not get the pills out of her hand. I'm just thankful I didn't hurt her." (The two later sent a photo of the scene to their mutual friend, director Mike Nichols, "for his birthday, with me choking her, like fighting over him. And of course," Roberts hoots with laughter, "Meryl found her light.")
The film, opening on Christmas Day, is director John Wells' adaptation of Tracy Letts' Pulitzer Prize–winning play by the same name, a dark comedy about a dysfunctional family that reunites in Pawhuska, Oklahoma, for its patriarch's funeral. Besides the two powerhouse leads, the cast includes a constellation of acting talent: Sam Shepard, Chris Cooper, Margo Martindale, Benedict Cumberbatch, Ewan McGregor, Juliette Lewis, Dermot Mulroney, Julianne Nicholson, and Abigail Breslin—not to mention George Clooney as a producer.
The brawling scene, which took three days to film (Roberts describes doing it as "no way out but through"), may have covered her in bruises from repeated bangings against the table, but it was nothing compared with The Fish Scene. "I think that was the hardest scene for me," she says softly. As someone who has known and adored Roberts for five years, since we set off around the world to make Eat Pray Love, I will tell you why that scene was the worst for her. Roberts, a mother of three, rarely swears. That's probably why my nickname for her is Lady. Make no mistake, she knows a good dirty joke, but she is very feminine, she raises her children with pleases and thank-yous, and it's rare to ever hear her talk about anything too vulgar or untoward. But in this scene, Roberts says—no joke—around 50 different instances of the word fuck. "Eat your fish … eat your fucking fish, bitch … eat your fucking fish, you fucking bitch." You get it. Roberts wasn't exactly comfortable, but she threw herself into it full force. "Meryl and I and Julianne went over it and over it. The dialogue was very challenging." So challenging—and literary—that the cast, who all lived in a row of condos on an Oklahoma cul-de-sac for nine weeks of filming, would meet at Streep's night after night for dinner to practice. And what does one bring to dinner at Meryl Streep's? "Soup or salad! We'd have potlucks." Roberts pauses. Regarding The Fish Scene, "There was just this obligation to get it exactly right."
That's a constant refrain in her work, whether it's gripping drama or lighter comedic fare. "One thing that's consistent is that Julia is a really hard worker," says Mulroney, her costar in 1997's My Best Friend's Wedding and a close friend. "On Wedding, she threw herself against the glass door of a building, so she's still bashing herself against plate-glass windows to get the part right. In August, she goes all the way out. Except for casting! I have to be frank with you, I'd already auditioned for the part. I had not once in the intervening years found myself in a position where I was up for a role in a movie that Julia was doing, so I thought, I'm just going to go for it, tell her to put in a good word for me. And you know what she said? 'No!'" Here he lets out a mock incredulous laugh. "There's integrity in her friendship as well."
Although Streep might have the showier role, Roberts is the film's grounding presence, the soil in which it grows, and it's no wonder that those who have seen it pretty much agree it's the stuff Oscars are made of. (Chatter has speculated both will receive nominations.) Mulroney agrees that the film works because of Roberts: "So much of the movie's integrity you can trace back to Julia," he says, "largely because of her performance and her dedication to"—again those words—getting it "exactly right."
"I had many imaginary conversations with Meryl about working together," says Roberts, 46, as she arrives for lunch at a favorite Malibu café near where her children with cinematographer husband Danny Moder (9-year-old twins Hazel and Phinnaeus and 6-year-old Henry) go to school. "One night we did a play together at Lincoln Center for Paul Newman's Hole in the Wall Gang Camp fundraiser. When a person goes from being on a pedestal in your mind to even cooler, better, and more fabulous up close, you get to understand them a little more intimately." But how did the two end up doing a film together? "We have the same agent, Kevin Huvane, and it was his dream. As my career is slowing down, he thought, I've got to figure this out before she brings it all to a screeching halt in favor of car pools."
The intensity Roberts shows in August: Osage County and, truth be told, in our upcoming HBO collaboration, The Normal Heart, in which she plays wheelchair-bound Dr. Emma Brookner at the beginning of the AIDS crisis, is something that absolutely thrills me. I had bought the play from playwright Larry Kramer in 2010, and Brookner is one of the most ferocious advocate parts ever written in the history of theater. Roberts, the only one I really considered, spent months researching, and when she showed up, she knew everybody's lines. She had practiced in the wheelchair. She had even researched breathing patterns of people with polio. But I have told her over and over and over that my favorite thing about her considerable gift is when she channels her badass Erin Brockovichanger (the 2000 film for which she won the Best Actress Oscar). No one—and I mean no one—is better at conveying moral outrage and advocacy than Roberts. Her temples throb, the veins pop, she is entirely and stunningly alive.
She laughs when I tell her that, and also when I tell her repeatedly, "You need to work more, you're too good not to work," and then she'll say something charming about needing to be with her children, which is entirely understandable.
"The thing that struck me most about her," says Nicholson, who plays sister Ivy Weston in August, "is she's very grateful and proud of her career, but the thing she's most proud of now is really and truly her family. I would go into her trailer, and she would be sewing sleeping bags for Hazel's dolls. It's all about her family in such a beautiful way."
Maybe, just maybe, with the one-two punch of August and Normal (due out next spring) and with the kids getting older, Roberts is planning on working more. Tell her that, and what does she do? Laugh, of course. But then, this, about the Great Roles that are now coming her way: "I think the reason why I've been able to enjoy my career is that I always knew, for some reason—even when it was about getting a job to pay your bills and stuff—I always knew that it will surface, it will come. The things that are correct for me will come to me at the time that I am interested in them and have the capacity, the understanding, to do them. When I miss out on a part, I can be bummed I didn't get it, but then I see who got it, and I think, Oh, well."
ROBERTS' career has been storied and blessed. Based on box-office receipts alone ($2.6 billion for 40 films), she is one of the most popular, if not the most popular, female movie stars of all time. And one forgets how much is still ahead for her. She is a legend, like Katharine Hepburn and Streep, one who has already influenced a new generation the way Streep influenced her. I ask her what her advice is to the new crop of women coming up. She pauses. "Good luck, darling." And she laughs again.
Then she gets serious when asked if an actress can have a career like hers anymore. "It's not the same business," she replies. "It's really different. And the Internet has so much to do with that." No surprise she's not on social media—"It's kind of like cotton candy: It looks so appealing and you just can't resist getting in there, and then you just end up with sticky fingers and it lasted an instant"—or that she never Googles herself: "I have too much potential for collapse." She elaborates: "There's an anonymity that makes people feel safe to participate in hatefulness. I like a good old-fashioned fistfight if people are pissed off at each other. I just feel like if you're really mad and want to have a fight, then put your dukes up."
She's far more interested in philanthropy—she's on the advisory board of Gucci's Chime for Change women's initiative and is a curator for crowdfunding site Catapult. She's also a global ambassador for the U.N. Foundation's Global Alliance for Clean Cookstoves. "I had interviewed Hillary Clinton [for OWN], who has become a personal hero to me—who she is and her convictions as a woman and mother and a humanitarian," Roberts explains. "She let me sit in on a meeting as a fly on the wall, but I'm a person who can't not say anything for too long. It's about women taking care of their families and what an incredible challenge it is for a myriad of reasons, and how fixable it can be. I saw a picture of a woman with a baby on her back, just like I would be with one of my babes on my hip, cooking at the stove. Her hut is full of toxic smoke, and that child is in tremendous peril. It's my privilege and honor to cook three meals a day for my family, and it's a luxury on a level that I didn't even realize, because it can be relentless for me on some days. You have pride in how you take care of your family."
And she does, as she rises to pick up her children from school. When I tell her she looks beautiful, she says, "I feel super kind of happy, which I think translates to pretty, because my husband is home."
CHOICE WORDS
On her Oscar chances:
"Listen, every actor wants to win an Oscar, full stop. It doesn't mean you try to design things around how to accomplish that because that's impossible. Now that I'm a grown-up person and have things of such greater value to pin my idea of joy and fullness on, if something like that were to happen again, my feeling of thrill would be defined in a completely different way."
On her skill in delivering dialogue:
"I used to be better at it. I have to work twice as hard to remember half as much."
On giving show-business advice to Tess Porter, her goddaughter:
"I said, 'It would be like you pulling out your math homework and me pulling out my abacus to tell you how to do it'—or getting out a sextant to guide her on her way in the night."
What she does with her friends:
"We do what girlfriends do—we eat. We go to lunch, we go to dinner, we go shopping for bras … She's the whole package. If I didn't love her, I would have to hate her."—Julianne Nicholson
Celebrity news, beauty, fashion advice, and fascinating features, delivered straight to your inbox!