T-Time with Lindsey Gort of The Carrie Diaries
Just 18 hours before filming was set to start on The Carrie Diaries, actress Lindsey Gort learned she landed the role playing a young Samantha Jones. Lindsey happily (and quickly) picked up and moved to Manhattan. Between days of shooting and press, Lindsey's makeup artist, Tina Turnbow, had the chance to ask Lindsey her thoughts on playing the iconic character, how she stays in body-baring shape, and why she'd like to take a time machine back to the '60s.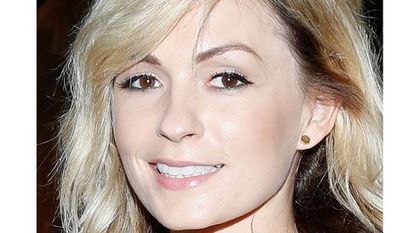 (Image credit: Courtesy of Getty)
Tina Turnbow: You've caused quite a positive stir playing a young Samantha Jones. You have managed to fit into her high heels perfectly and to the great satisfaction of her adoring fans. How does that make you feel?
Lindsey Gort: I am so pleased that people are responding to my Samantha. It's strange to play such an iconic character—you fear that it will be an impersonation or people won't have an open mind. But I am having the time of my life and I'm so grateful to have gotten this opportunity.
TT: Samantha was very independent, strong, and sexually open. Do you feel she gave women the green light to break some boundaries and be more fearless?
LG: Absolutely! Before she came on the screen (pun intended), women had never really been given the green light for such open, unabashed sexuality and freedom. She was sexy, confident, successful, and respected.
TT: What qualities do you think make a woman most attractive and sexy?
LG: Confidence, for sure. It took a while for me to figure out that everyone has imperfections and nothing is worse than someone that constantly points out what they hate about themselves. Loving yourself overshadows any lumps and bumps you think you have.
TT: Being confident with your body is a big confidence booster. You're in awesome shape. Can you share your fitness secrets?
LG: It hasn't been easy let me tell ya! I like to run or use the elliptical machine. I usually read a book or play on my iPad for some distraction. I also love workout videos. I alternate between the Insanity DVD series and my all time favorite Tracy Anderson one. I take her with me wherever I go!
TT: What are the main staples of your diet and what splurge foods do you sneak in every now and then?
LG: My boyfriend is a restaurateur in Los Angeles. We eat out a lot, which can be hard on the diet! I don't obsess and I try to eat in moderation. I haven't eaten meat for about 8 years, but I eat tons of fish. I eat really clean most of the time. I love Japanese food, oysters, and veggies. I always get dessert and I can't say no to sea salt anything! I love crème brulee, pie, and a glass of red wine.
TT: Los Angeles was home before you swiftly moved to NYC to start filming The Carrie Diaries. How has the move and the bi-coastal life been for you?
LG: It's been the greatest challenge I have had to face. It's been tough leaving my boyfriend, dog, and family behind. But at the same time, it's a dream to work as an actor in NYC. I love shooting on the streets here. And the fans have been so wonderful watching, taking photos, and showing support.
TT: In your real life, how would you describe your personal style?
LG: I dress for comfort, but also I like to be stylish. I love skinny jeans, and soft vintage-like tees—Madewell has some awesome ones. My staples are leather booties, a cool coat, and a nice bag (Michael Kors has some great affordable ones).
TT: Besides being a great actress, you are also a singer! You mentioned your great admiration for Bob Dylan. Do you derive inspiration from his style and music?
LG: I dream of singing with Bob! I've been inspired by him for years. I started wearing Ray Ban Wayfarers about 10 years ago, writing different music, and even started painting. I wish I could go back to the '60s and join his caravan.
TT: And lastly, I am always curious…what's in your bag!?
LG: MAC concealer, Tarte black eyeliner, Smashbox-O Gloss, a book, Malin and Goetz hand lotion, gum, a big ugly wallet and my iPhone.
Celebrity news, beauty, fashion advice, and fascinating features, delivered straight to your inbox!
I have been a makeup artist for many years. I began interviewing and photographing some of my celebrity clients for T Magazine and the New York Times online. Interviewing such awesome talent, doing their makeup, and taking photos has become a huge passion of mine since then. I'm interested in grabbing a moment, a photo, that will paint a spontaneous honest portrait of the person I am featuring.