Julian Ovenden: Downton Abbey's New Leading Man
A sexy, somewhat modern guy joins the hit show.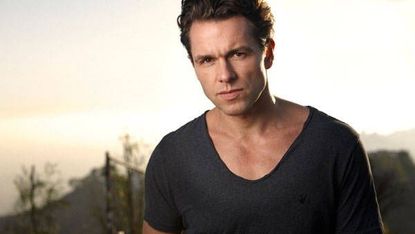 (Image credit: Magnus Hastings)
Marie Claire Newsletter
Celebrity news, beauty, fashion advice, and fascinating features, delivered straight to your inbox!
Thank you for signing up to Marie Claire. You will receive a verification email shortly.
There was a problem. Please refresh the page and try again.
In last season's epic finale of Downton Abbey, when our beloved Matthew Crawley was tragically killed off, we were left waiting with baited breath to find out who, if anyone, would capture Lady Mary's heart. Well—it was worth the wait. Cue actor Julian Ovenden as governmental estate assessor Charles Blake, whose title may not be as flashy as say a Lord or Duke but who's counting when you look that fine in a tux?
Marie Claire caught up with the Oxford alum who truly has done it all—performed for the Queen of England (oh yeah, he's also a renown tenor), played J.M. Barre in the stage production of Finding Neverland (Johnny Depp's character in the 2004 film), and most recently captured our attention as the new male intrigue on Downton.
Marie Claire: Downtown. OH so huge. Had you watched the show before joining it?

Julian Ovenden: Obviously I was aware of it like most other people of the human race. But I hadn't seen much of it. I auditioned for it a long, long time ago, probably the first season. And I remember saying to my agent, "Well, this is never going to be a success." I was proved slightly wrong.
MC: Uh, yeah. So were you intimidated at all? What was it like walking onto that set?

JO: Quite daunting in a way because there's this sort of pressure to make your mark and keep things alive and keep things interesting. But very exciting on the other hand. The first day I was there Hugh Bonneville and Michelle Dockery had just got back that morning from having dinner with President Obama at the White House. And that doesn't happen every time I start a job I can tell you.
MC: Wow, you're now one degree removed from the president! Nice. So speaking of Michelle, it seems your two characters have this polar opposite attraction thing brewing.

JO: I don't think it's so much of opposites attract, as they discover the rest of the season, they do have quite a lot in common. They're both quite strong characters, they're both alpha, single-minded, strong-willed. I think the main difference between the two of them is that my character is a modernist. He feels that the time is right for the aristocracy in England to pull-up their shoes strings and change their ways and become modern thinking people. And Michelle's character, Lady Mary, is a defender of the upper-class and the class system. And so that's the real sticking point. But through the rest of the season it does sort of thaw a little bit. Without giving too much away.
MC: Interesting. So did you feel any pressure about measuring up to Matthew Crawley?

JO: I tend to kind of avoid any kind of social media or any kind of press that is like: "The show can't go on without Dan Stevens," or "How dare they bring another character in," or whatever people have written. What can I do? I've got to pay my mortgage you know?
MC: Fans can be a bit brutal. I guess we just feel a connection to our favorite characters.

JO: Every time I'm in America and talking about Downton I think they're slightly disappointed that I don't turn up with a retinue of butlers and footmen and cooks.
MC: Haha exactly! Although you are anything but typecast—singing, stage, screen. You're this awesome chameleon. So what would your dream role look like? JO: Well Scorsese calls me up about 10 minutes after this phone call and he says, "Listen Julian, we've got this script about Frank Sinatra and I've been waiting for the right person to come along and play it." And I say, "Listen Marty, I'm a little busy at the moment. You're just going to have to get in line." [Laughing]. So there you go. That's how the next half an hour is going to play out.
Celebrity news, beauty, fashion advice, and fascinating features, delivered straight to your inbox!