Penelope Cruz Has a Kitchen Full of Cats and Loves Pharrell
The Oscar-winning actress and Lancôme ambassador says you should try scuba diving—and ask your mom for advice more often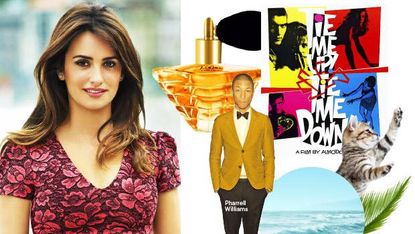 (Image credit: Archives)
Marie Claire Newsletter
Celebrity news, beauty, fashion advice, and fascinating features, delivered straight to your inbox!
Thank you for signing up to Marie Claire. You will receive a verification email shortly.
There was a problem. Please refresh the page and try again.
1. How did you make your first dollar? It was a peseta, not a dollar. I was 13 and played a ballerina in a commercial. I was a dancer, so they hired me and showed only my feet dancing.
2. What is the best gift you've ever received? A ring my grandmother gave me. I had it for years, but it was stolen. I did many movies in which it was part of my character's costume.
3. What splurge is well worth it? Maybe not in money, but in calories it would be tortilla española, the Spanish omelet with fried potato and egg. Delicious.
4. What is your go-to shower song? I'll sing the same song so many times I burn out on it. It happened last year with "Blurred Lines."
5. What is on your nightstand? Water.
6. What is your fantasy itinerary? I would love to visit Patagonia, and then I would go to the Amazon, because I've never been.
7. What is your beauty secret? Sleep. I don't get a lot right now because of the kids [Leo, 3, and Luna, 11 months], so the real secret is Lancôme's Nude Miracle foundation.
8. What is on your feet right now? I'm in stockings—no shoes.
9. What is on your kitchen counter? Cats. I only have one cat, Capucina, but we keep the window open, and then others come to hang out with her, so we're always throwing cats out of the kitchen.
10. What should every woman try at least once in her life? Scuba diving—with sharks. I've done it in the Caribbean and Brazil. I think they were lemon sharks or reef sharks. If I ever do it with a great white shark, it will be in a cage. I'm not crazy.
11. What makes you laugh? Children. The things they say are always so clever and funny.
12. What are your vices? I used to smoke … but not anymore.
13. What charities do you support? ONE and RED. They were created by Bono and Bobby Shriver to increase access to treatment for those with HIV and AIDS.
14. What was your favorite vacation? I like anytime I'm on the beach, in the sun, lying on the sand.
15. What do you never leave home without? Trésor perfume—ever since I was 13 and my parents gave it to me for my birthday. Now I always take the small one with me when I travel.
16. What makes you mad? Whenever I open the newspaper, I find reasons to feel frustrated and mad.
17. What makes you cry? The same thing—news from around the world.
18. What song instantly puts you in a good mood? Everything that Pharrell Williams does. I think he's a great producer and songwriter.
19. What movie had the greatest ending? Tie Me Up! Tie Me Down!
20. What is the best advice you've been given? I'm not sure, but it definitely came from my mother. Maybe that's the advice: Have a good relationship with your mother. If you can have that, you're very lucky.
Celebrity news, beauty, fashion advice, and fascinating features, delivered straight to your inbox!