When the Dancer Becomes the Designer
Spoiler alert: great things happen.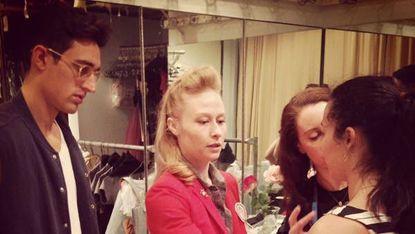 (Image credit: Courtesy of NYCB)
Marie Claire Newsletter
Celebrity news, beauty, fashion advice, and fascinating features, delivered straight to your inbox!
Thank you for signing up to Marie Claire. You will receive a verification email shortly.
There was a problem. Please refresh the page and try again.
When a colleague approached New York City Ballet's Janie Taylor asking her to design costumes for a ballet he was choreographing, the principal dancer needed little convincing. Taylor had been designing and making her own clothes for years, and had become known within the company for wearing her own leotards to class.
Ballet dancers, as one might imagine, are quite particular about their rehearsal clothes and costumes. Some women find tutus restrictive and stiff, while others crave dancing ballets with the classic tulle form. Regardless—fit, fabric, cut, and style are paramount, so much so that Taylor's approach to her class leotard was somewhat game changing. "Many leotards you can buy are small and your body stretches them out," she said. "I feel more comfortable when the leotard is fit to my actual length. I don't like to feel so tight in my dance clothes."
The results led to Taylor's first job since announcing her retirement from City Ballet earlier this year. On Thursday night, Taylor's costumes, inspired from her leotards, will debut during the world premiere of Justin Peck's new ballet Everywhere We Go at the company's spring gala. The production is the City Ballet soloist and choreographer's second collaboration with musician Sufjan Stevens.
The designs echo a principle of City Ballet's founder, George Balanchine, whose "leotard ballets" were once considered revolutionary for presenting the dance form without scenery or elaborate costume. "One thing Balanchine liked about leotards was that there was nothing extra and you could see the choreography," Taylor said. "I had only heard the music when I started making the design. That's what I had to go on and whatever Justin explained to me about how he wanted the costumes to look. I didn't even see the choreography until the designs had been finished."
Taylor's experience as a ballerina and her ability to get inside Peck's choreographing mind gave her a perspective unlike any other costume designer. "I'm having the girls in white tights and white pointe shoes, which a lot of girls don't prefer...but I know [the dancers] will look stunning from the audience," she said.
Why might dancers opt for their pale pink shoes instead of those dyed white? "It's a funny thing. All of our white pointe shoes feel different than our pink ones for some reason—mine always felt harder—even though they're made the exact same way except they're made with white satin instead of pink satin," she said.
We asked Taylor to document the final hours she spent fitting dancers in New York City Ballet's costume shop ahead of the production's Thursday premiere. Take a look at her process in the photographs she captured below.
Janie Taylor's sketches.
Women's belts in the NYCB Costume Shop.
Janie Taylor in the NYCB costume shop with choreographer Justin Peck.
Fitting a belt for the women's costumes.
Women's costumes hang on a rack in the costume shop.
A close-up shot of the men's costumes.
Principal Dancer Sterling Hyltin during a fitting.
All photographs courtesy of Janie Taylor and New York City Ballet.
Celebrity news, beauty, fashion advice, and fascinating features, delivered straight to your inbox!