40 Famous Actors You Probably Forgot Were in Scary Movies
Yes, that's baby Chloë Grace Moretz looking absolutely terrified.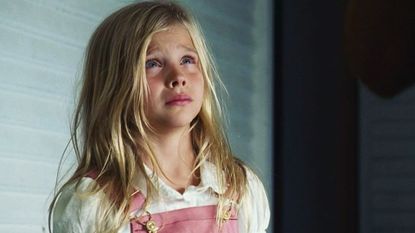 (Image credit: MGM)
Horror movies need not be scary. If you're an up-and-coming actor or actress, horror movies are your best friend. Just ask these now mega-famous celebs, who had no problem making audiences jump in their seats. Behold: the famous faces you probably forgot (or didn't know!) starred in scary movies.
1/39
Jennifer Aniston: 'Leprechaun' (1993)
Just before Friends, Jennifer starred in a horror movie about an angry leprechaun who just wanted to get his pot of gold back. Did you know that only a four-leaf clover can kill the title character, and did you know that this was Aniston's film debut?
2/39
Scarlett Johansson: 'Eight Legged Freaks' (2002)
This is technically a comedy horror film, but giant spiders are pretty scary. You know what's not scary? Scarlett's hair parting down the middle and Matt Czuchry's (Logan from Gilmore Girls) sweet, sweet face.
3/39
Renée Zellweger: 'Texas Chainsaw Massacre: The Next Generation' (1997)
Two years before Jerry Maguire, Renée had small roles in Reality Bites and Empire Records, and a starring role in Texas Chainsaw, playing a teenager on the run from Matthew McConaughey (see next slide). Like Renée at the time, the film remained mostly unknown.
4/39
Matthew McConaughey: 'Texas Chainsaw Massacre: The Next Generation' (1997)
If you've ever wanted to see the opposite of what Matthew is like in those Lincoln car commercials, watch this.
5/39
Katherine Heigl: 'Bride of Chucky' (1998)
Have any of the Chucky films made sense? This fourth one certainly didn't. But it stars Chucky, his bride doll Tiffany (the soul of Jennifer Tilly's human character), and Tiffany's neighbor Jade, played by Katherine Heigl. All you need to know is Jade is nothing like a bridesmaid or doctor.
6/39
Johnny Depp: 'A Nightmare on Elm Street' (1984)
Johnny made his feature film debut in the first-ever Freddy Krueger movie, playing Glen, a high school student whose friends are killed by Freddy in their dreams. You can guess how things ended for Glen.
7/39
George Clooney: 'Return to Horror High' (1987)
Chances are, you've never seen this film. That, or you completely forgot that George was in it as Oliver, an actor playing a cop on the set of a scary movie, and that he was the first to die on screen. Side note: Doesn't young George look scrumptious?
8/39
Brad Pitt: 'Cutting Class' (1989)
In the hall of fame of Brad's on screen names, his moniker in Cutting Class reigns supreme. Meet Dwight Ingalls, budding basketball star with looks to kill. (Sorry not sorry.)
9/39
Leonardo DiCaprio: 'Critters 3' (1991)
Leo and his floppy hair made their film debut in the third installment of the sci-fi horror comedy franchise about furry little aliens (sorry, critters) who like to eat humans.
10/39
Chloë Grace Moretz: 'The Amityville Horror' (2005)
This 2005 remake starred Ryan Reynolds, his abs, and a baby Chloe, who was around 8 when the film was released. She played one of the Lutz children.
11/39
Mila Kunis: 'American Psycho II: All American Girl' (2002)
In between seasons of That '70s Show, Mila unfortunately starred in some forgettable movies, including the direct-to-video sequel to American Psycho. (She steals someone else's identity and embarks on the serial killer life.)
12/39
Taylor Kitsch: 'The Covenant' (2006)
2006 was a big year for Taylor, who immediately stole hearts as Tim Riggins on Friday Night Lights. He also took his shirt off for The Covenant, playing Pogue Parry, a descendent of a powerful colonial witch family.
13/39
Hilary Swank: 'Buffy the Vampire Slayer' (1992)
What's more problematic, these outfit, the lines, or the fact that Kimberly (Hilary) dared to betray Buffy?
14/39
Paul Rudd: 'Halloween: The Curse of Michael Myers' (1995)
Credited as Paul Stephen Rudd, the man who never ages played Tommy Doyle, whose baby sitter was Michael Myers' sister Laurie (Jamie Lee Curtis) in the original films.
15/39
Julia Roberts: 'Flatliners' (1990)
Julia plays a medical student who conducts near-death experiments to see what the afterlife's all about. The film also starred Kevin Bacon and Kiefer Sutherland (also medical students).
16/39
Jack Black: 'I Still Know What You Did Last Summer' (1998)
Though uncredited in the film's OG release, that's really Jack Black playing a stoner named Titus Telesco, who meets his fate either probably because of his name or those unfortunate dreads.
17/39
Jada Pinkett Smith: 'Demon Knight' (1995)
Officially called Tales From the Crypt Presents: Demon Knight, this comedy horror motion picture also starred Billy Zane, Thomas Haden Church, and the infamous Crypt Keeper, who just wanted to make it in Hollywood.
18/39
Kelly Rowland: 'Freddy vs. Jason' (2003)
No Destiny's Child song could have saved Kelly's character Kia from Freddy and Jason, who battled it out at the expense of the teens of Springwood, Ohio.
19/39
Joseph Gordon-Levitt: 'Halloween H20: 20 Years Later' (1998)
Who's a good neighborhood boy? JGL, who plays Jimmy Howell, the first to die in the film after a skate gets the best of his young face.
20/39
Tyra Banks: 'Halloween: Resurrection' (2002)
Released four years after H20, Resurrection finds Tyra Banks, Busta Rhymes, and others hanging out in Michael Myers's childhood home to film a live internet horror show. Why do horror movies always start with good people and bad ideas?
21/39
Idris Elba: 'Prom Night' (2008)
A former teacher is hunting his student on prom night after being jailed for killing her family. Enter Detective Winn, a hot man better known as Idris Elba IRL.
22/39
Eva Mendes: 'Children of the Corn V: Fields of Terror' (1998)
In Eva's own words, this role was her most embarrassing ever: "The scene when I find out my boyfriend killed himself? I beg you to remember that it was my first time on camera ever, and everybody's got to get their start somewhere."
23/39
Demi Moore: 'Parasite' (1982)
In one of her first movie roles, Demi played a lemon farmer who helps a doctor find and kill a flesh-eating parasite in an apocalyptic America.
24/39
Michelle Williams: 'Species' (1995)
15-year-old Michelle played the young version of Sil (Natasha Henstridge), the alien-human monster.
25/39
Adam Scott: 'Hellraiser IV: Bloodline' (1996)
Remember all the Hellraiser movies? Long before Parks and Rec and Big Little Lies, Adam Scott was in the fourth Hellraiser, playing a man named Jacques, who doesn't mind having a demon or two around.
26/39
Mischa Barton: 'The Sixth Sense' (1999)
It's been 20 years. You haven't forgotten about Mischa's scene under the blanket, have you?
27/39
Keira Knightley: 'The Hole' (2001)
In one of her first big screen roles, Keira plays Frankie, a popular boarding school student who joins three other classmates in skipping a field trip. Instead, the group checks out an abandoned nuclear fallout shelter and soon find themselves locked in.
28/39
Seth Rogen: 'Donnie Darko' (2001)
In his first-ever film, Seth played Ricky Danforth, a sidekick bully who mumbles the line, "I like your boobs."
29/39
Amy Adams: 'Psycho Beach Party' (2000)
In this slasher parody set in the 1960s, Amy Adams is Marvel Ann, a bikini-wearing beachgoer on the run from a serial killer.
30/39
Angela Bassett: 'Critters 4' (1992)
Those damn critters got to the great Angela Bassett, too. She and Leo should start a club.
31/39
Jessica Alba: 'Idle Hands' (1999)
'90s heartthrob Devon Sawa plays a stoner teenager whose hand becomes possessed and starts killing people. Jessica Alba plays his girlfriend.
32/39
Charlize Theron: 'Children of the Corn III: Urban Harvest' (1995)
In a small and uncredited role, Charlize played a follower of Eli, one of the brothers who have the power to bring He Who Walks Behind the Rows.
33/39
Kevin Bacon: 'Friday the 13th' (1980)
This is what Kevin Bacon looked like at the age of 22. This is also what he looked like moments before his character, Jack, died after being pierced in the throat by Jason's mother Pamela.
34/39
Paris Hilton: 'House of Wax' (2005)
The socialite starred as Paige in this horror flick about a group of teenagers who end up stranded at an abandoned wax museum and have to fight to prevent themselves from being turned into part of the exhibit.
35/39
Beyoncé Knowles: 'Obsessed' (2009)
Beyoncé showed off her acting chops in this pyscho thriller, in which she plays the targeted wife of Idris Elba's character, who's being stalked by his office temp.
36/39
Ted Danson: 'Creepshow' (1982)
Even though he's known for his comedy work in Cheers, Ted's third movie was Creepshow, a film that told the story of five different E.C. comics horror tales.
37/39
Drew Barrymore: 'Firestarter' (1984)
Post-ET: Extra Terrestrial, a young Drew Barrymore starred in the horror/sci-fi film, Firestarter, about a pyrokinetic child—yes, that means she has the power to set people on fire. Yikes.
38/39
Tom Hanks: 'He Knows You're Alone' (1980)
This 1980 horror movie, about a young bride who's stalked and terrorized by a serial killer, was Tom Hank's very first feature film. This is probably the only Tom Hanks movie you haven't seen.
39/39
Julia Louis-Dreyfus: 'Troll' (1986)
She may be the queen of comedy today, but back in 1986 Julia Louis-Dreyfus landed her first movie and played Jeanette Cooper, a resident in an apartment complex that an evil wizard troll is trying to turn into a mystical realm.
Celebrity news, beauty, fashion advice, and fascinating features, delivered straight to your inbox!
Peggy is Cosmopolitan.com's entertainment writer, specializing in Leonardo DiCaprio, This Is Us, and the royals. She's also a proud Canadian and pug lover. When Peggy's not obsessing over Leo's latest lover or gut size, she can be found watching old episodes of Friends or Gilmore Girls. Her dream is to one day live on a pug farm and write children's books, with illustrations by her very talented husband Greg.