40 of Hollywood's Most Lovestruck Celebrity Husbands
Total fanboys.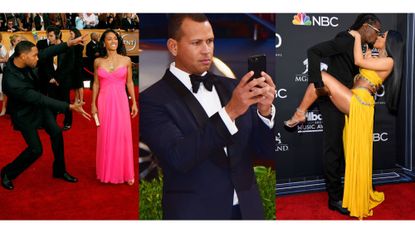 (Image credit: Getty)
What's your idea of a perfect guy? Tall, dark, and handsome? Extremely rich and talented? Super famous? Always down to fix the train of your designer gown? Knows when it's time for you to shine? If any of those characteristics are on your checklist, you're in good company. A-listers like Jennifer Lopez, Ciara, and Kristen Bell have found their perfect match in men that are all of those things and then some.
The combination of ridiculously good-looking people, an insane amount of wealth, top-notch outfits, and the combination of fairy-tale romance has us hooked. Sure, not all of Tinseltown's greatest romances end in happily ever after (opens in new tab), but these couples, ahead, are proof good things happen to good people! Click through to see which celebrity husbands make the top of our list of the ultimate red carpet husbands. They're charming, extremely helpful with a wardrobe malfunction (opens in new tab), aren't shy of PDA, know when it's time to release their inner Instagram boyfriend, and most importantly of all? They love their wives.