Royal Family Portraits Through the Years
From Queen Victoria to Princess Charlotte.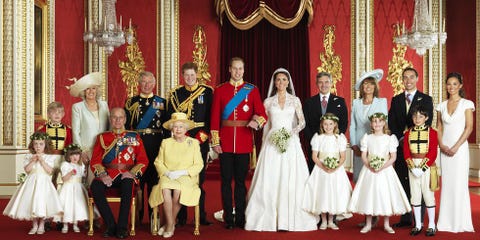 Royal portraiture is a longstanding tradition that's survived for centuries, but the medium has changed almost as much as the British monarchy has. Here, we highlight some standout images over eight generations of the British royal family, spanning from Queen Victoria's reign (when photography was first introduced) to baby Archie's birth. From rigidly-posed portraits to sweet candids, take a look at these official royal snaps.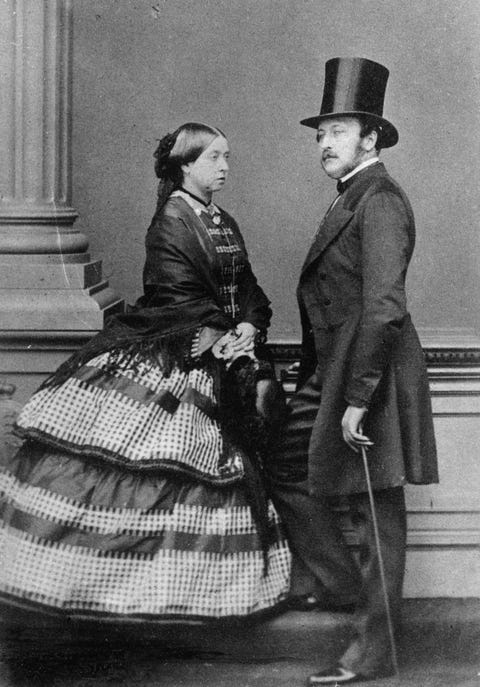 1861
Queen Victoria, who reigned from 1837-1901, was Queen Elizabeth II's great-great-grandmother. She was the first British sovereign to embrace photography as a means of making the royal brand accessible to the public, since the medium was introduced shortly after she ascended the throne. She and her husband, Prince Albert (pictured), became champions of the new art form.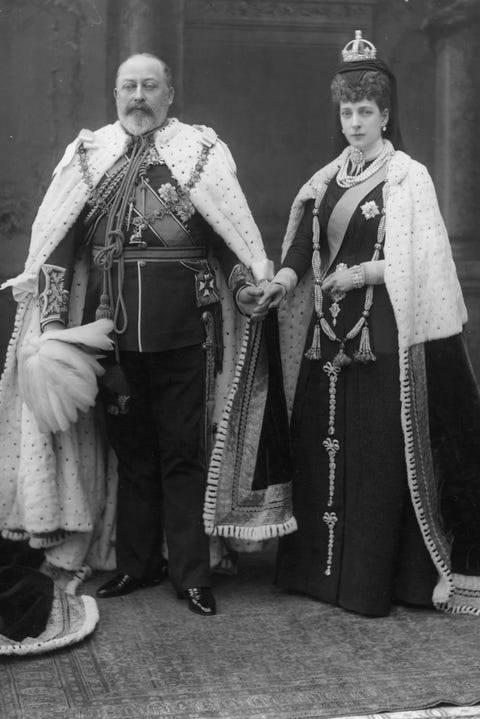 1910
King Edward VII, who ruled from 1901 to 1910, and Queen Alexandra are Queen Elizabeth II's great grandparents. Here, the couple poses at the State Opening of Parliament in London in regalia. Like her in-laws, Queen Alexandra was also an avid fan of photography.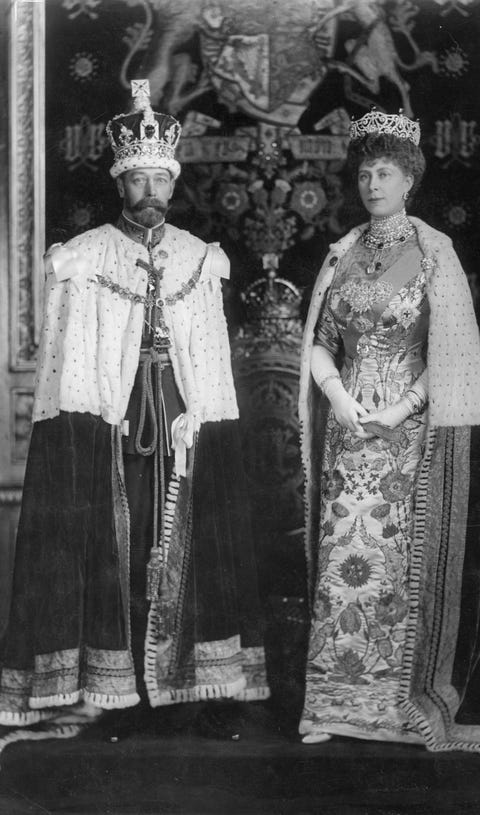 1913
King George V, Elizabeth II's grandfather, ruled Britain from 1910 (following the death of his father, Edward VII) until his passing in 1936. Here, he's pictured with his wife, Queen Mary, formerly Princess Mary of Teck, at the Robing room of the House of Lords.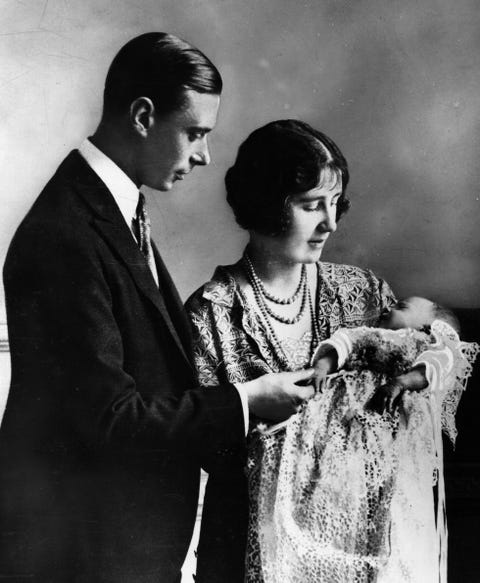 1926
King George V and Queen Mary's son, George, Duke of York (the future King George VI) and his wife Elizabeth, Duchess of York, welcomed their first child and future Queen, Princess Elizabeth on April 21, 1926. In this photo, the royal couple looks dotingly at their daughter at her christening a month after she was born.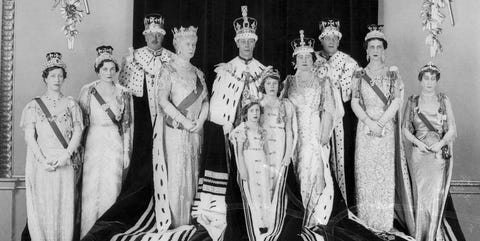 1937
The immediate royal family poses for an official portrait celebrating the coronation of King George VI, Elizabeth II's father. The picture was taken by Hay Wrightson at Buckingham Palace.
Back row, from left to right: Mary, the Princess Royal, the Duchess of Gloucester, the Duke of Gloucester, Queen Mary, King George VI, Queen Elizabeth, the Duke of Kent, the Duchess of Kent, and the Queen of Norway.
Front row: Princess Margaret and Princess Elizabeth (who would later become Queen Elizabeth II).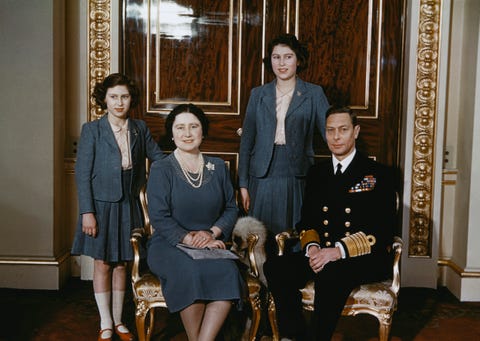 1942
Princess Margaret, Queen Elizabeth the Queen Mother, Princess Elizabeth, and King George VI pose for a family portrait at Buckingham Palace. The royal daughters match in gray blazers, pleated skirts, and peach button-down shirts.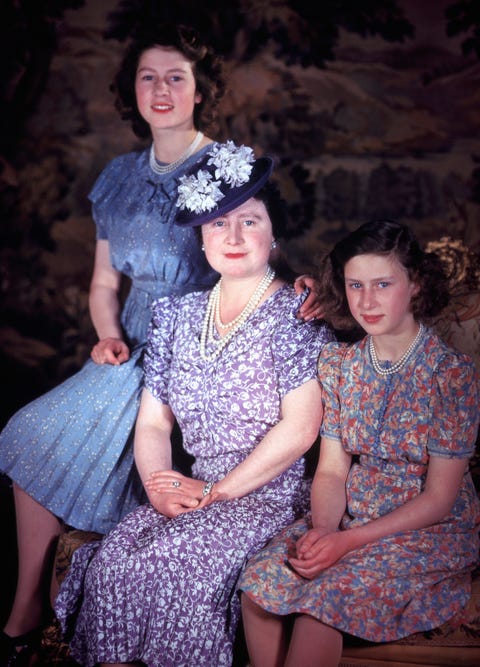 1944
A young Queen Elizabeth II and Princess Margaret pose with Queen Elizabeth the Queen Mother. The mother-daughter trio sport floral '40s-style dresses and matching pearls for the portrait.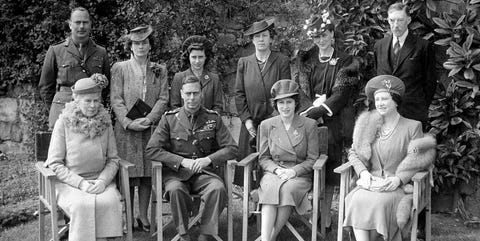 1945
The royals pose for a family portrait outdoors. Queen Mary, King George VI, Princess Elizabeth, and Elizabeth the Queen Mother are seated in the front row, while the Duke and Duchess of Gloucester, Princess Margaret, Princess Mary the Countess of Harewood, the Duchess of Kent, and Henry Lascelles, 6th Earl of Harewood stand behind them.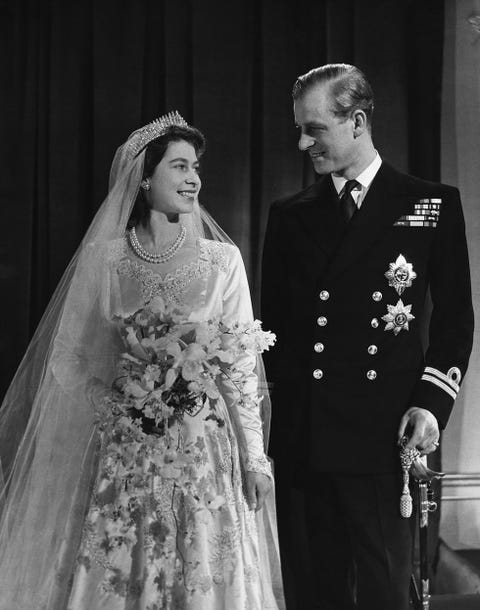 1947
Elizabeth and Philip share a sweet moment on their wedding day. The couple tied the knot at Westminster Abbey on November 20, 1947. The future Queen's wedding gown included 10,000 seed pearls and a 15-foot train.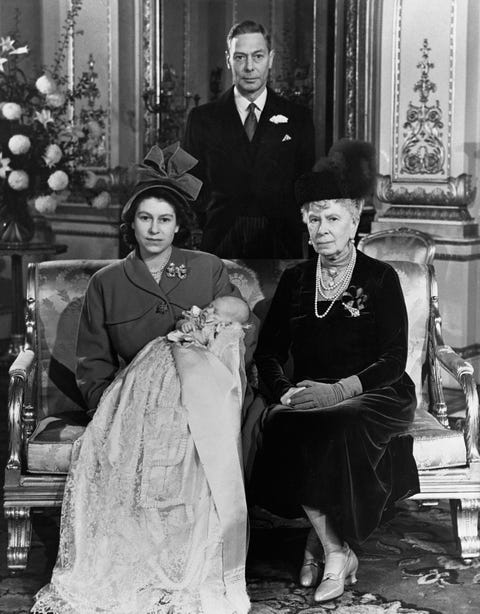 Hulton Deutsch
Getty Images
1948
Elizabeth poses with her Grandmother, Queen Mary, and her father, King George VI and her first child, Prince Charles, on his christening day.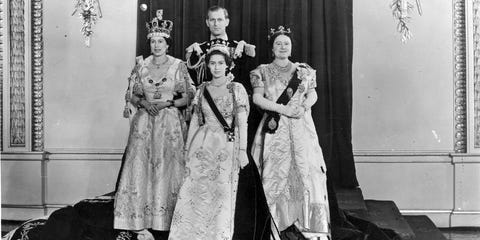 1953
Queen Elizabeth II ascended the throne the year after her father, King George VI, passed away. Here, she's pictured on her coronation day with Prince Philip, Princess Margaret, and Elizabeth the Queen Mother, dressed in full regalia, at Buckingham Palace after the ceremony.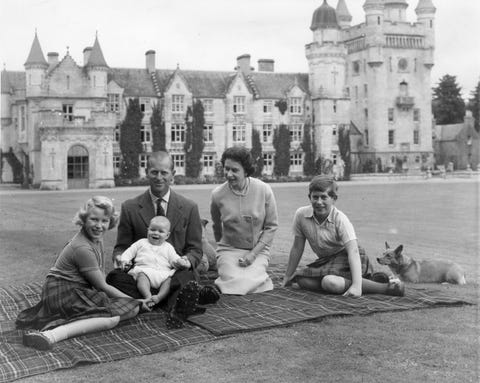 1960
Prince Philip and Queen Elizabeth have a picnic with their children, Prince Charles, Princess Anne, and Prince Andrew, at Balmoral Castle, the royal family's Scottish holiday home. The estate is believed to be Her Majesty's favorite residence. It's where she and the family take their annual summer holidays.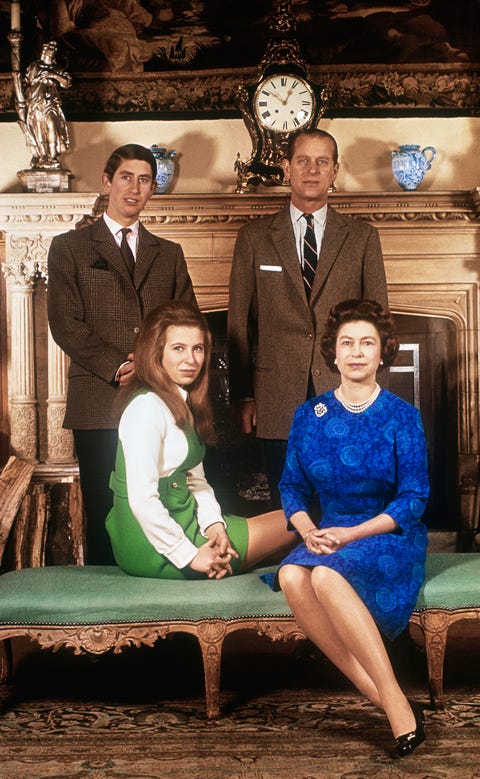 1970
Prince Charles, Prince Philip, Princess Anne, and Queen Elizabeth II pose for a family portrait at Sandringham House, Her Majesty's country home near Norfolk, England. The photo was taken ahead of their royal tour to Australia and New Zealand.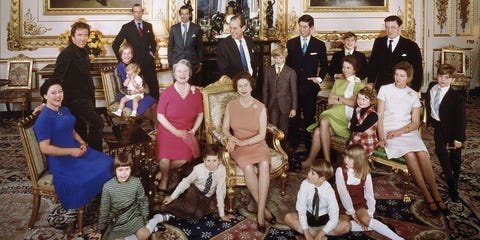 1971
The royals take great candids, too, like this photo taken the day after Christmas in 1971 at Windsor Castle.
Back row, left to right: the Earl of Snowdon, the Duchess of Kent and Lord Nicholas Windsor, the Duke of Kent, Prince Michael of Kent, Prince Philip, Prince Charles, Prince Andrew, and Angus Ogilvy.
Middle row, left to right: Princess Margaret, the Queen Mother, The Queen, the Earl of St. Andrews, Princess Anne, Marina Ogilvy, Princess Alexandra, and James Ogilvy.
Front row (left to right) Lady Sarah Armstrong-Jones, Viscount Linley, Prince Edward, and Lady Helen Windsor.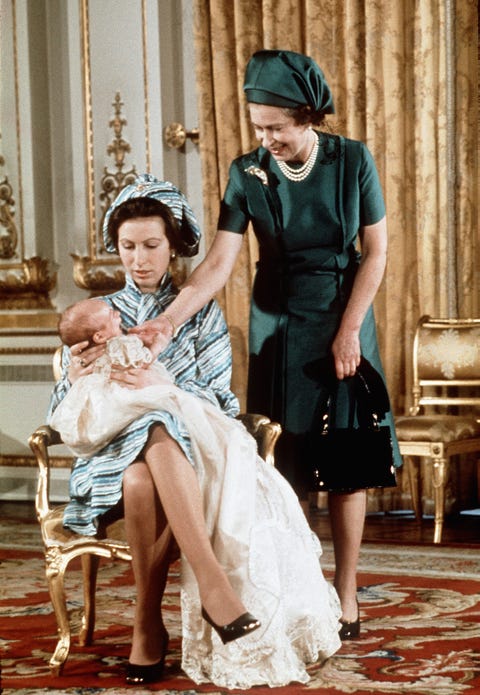 Anwar Hussein
Getty Images
1977
The Queen gives an adoring smile as she poses with Princess Anne and her first grandchild, Peter Phillips, on the day of his christening at Balmoral.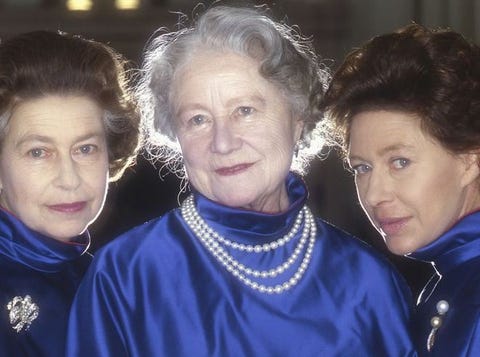 1980
Queen Elizabeth II, her mother, and Princess Margaret pose for an official portrait in matching cobalt satin jackets. Nearly two decades later, in 2002, Margaret and the Queen Mother passed away less than a month apart from each other.
Elizabeth II and her sister had a close-knit relationship and "a love, friendship, and conspiracy that were impressive to behold," according to Vanity Fair. Margaret reportedly had a direct phone line at Kensington Palace to her older sister, which she'd often use to chat and gossip with her sibling.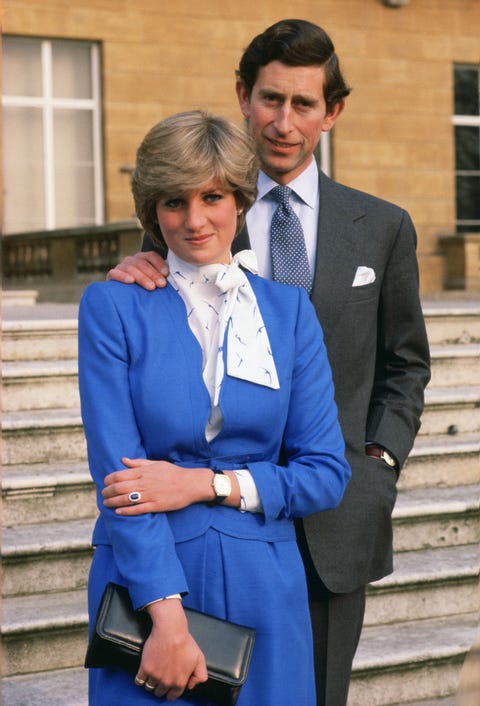 1981
Lady Diana Spencer—later known as Diana, Princess of Wales—and Prince Charles pose outside Buckingham Palace to celebrate their engagement. The bride-to-be flaunts her ring, featuring an oval sapphire surrounded by blue diamonds.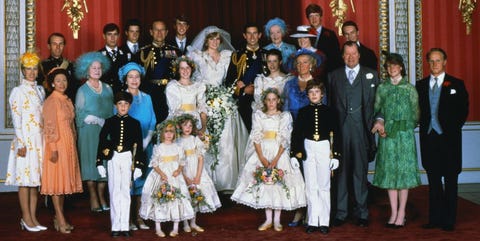 1981
Charles and Diana wed on July 29, 1981, at St. Paul's Cathedral in London. After the ceremony, the newlyweds posed for photos with their family members, including the Queen, Prince Philip, Princess Margaret, Elizabeth the Queen Mother, Princess Anne, Prince Edward, Prince Andrew, Diana's mother Frances Shand Kydd, and her father John Spencer.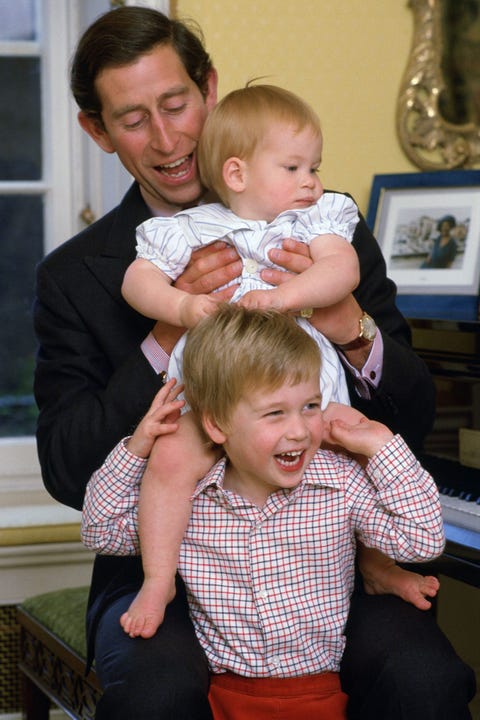 1985
The royal couple welcomed Prince William in 1982 and Prince Harry in 1984. Here, Charles, the Prince of Wales, has a silly moment with his two sons at home in Kensington Palace.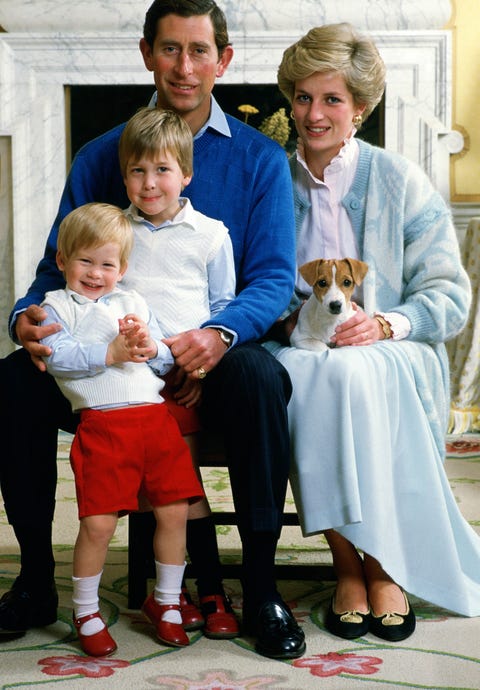 1986
Prince Charles, Princess Diana, Prince William, and Prince Harry pose for a portrait at home in Kensington Palace with their dog. Harry's mischievous smile is too cute—and so are his and William's matching shoes.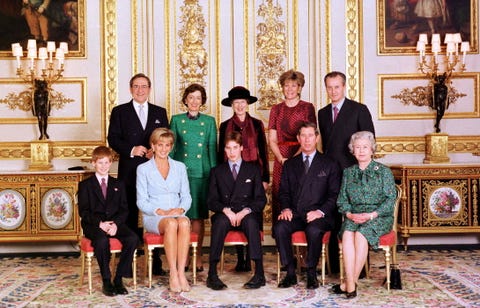 Pool/Tim Graham Picture Library
Getty Images
1997
The royal family poses for 14-year-old Prince William's confirmation. Prince Harry, Princess Diana, Prince Charles, the Queen, King Constantine, Lady Susan Hussey, Princess Alexandra, the Duchess of Westminster, and Lord Romsey join William for the portrait, taken at Windsor Palace.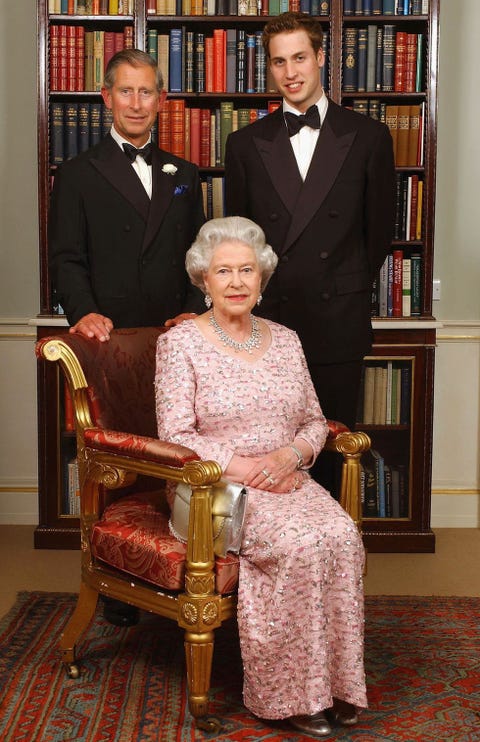 2003
Queen Elizabeth II sits in front of her son Prince Charles (second in line for the throne) and Prince William (third in line for the throne) at the 50th anniversary of her coronation. The photo was taken at Clarence House, Charles' official residence.

2005
Nine years after divorcing Diana, Prince Charles remarried Camilla Parker Bowles. The couple wed in a civil ceremony on April 8, 2005. The Queen didn't attend the nuptials, but was present at the reception afterwards.
This photo, taken at the White Drawing Room at Windsor Castle, features the married couple with Prince Harry, Prince William (the best man), Prince Philip, the Queen, Tom and Laura Parker Bowles, and Camilla's father, Bruce Shand.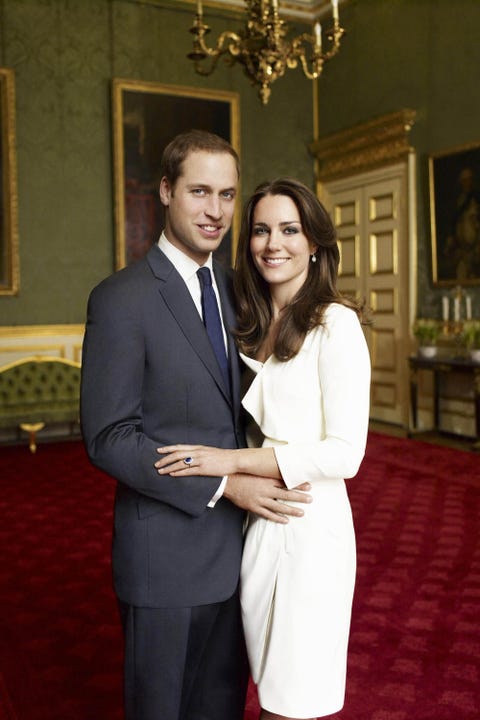 2010
A month after announcing their engagement in November 2010, Prince William and Kate Middleton released their official engagement portraits, shot by Mario Testino in the historic chamber of Clarence House. The couple wed four months later.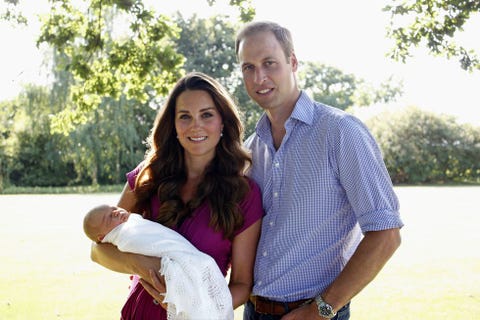 2013
The Duke and Duchess of Cambridge welcome their first child, Prince George, on July 22, 2013. The new parents pose with their firstborn at the Middletons' family home in Bucklebury, Berkshire.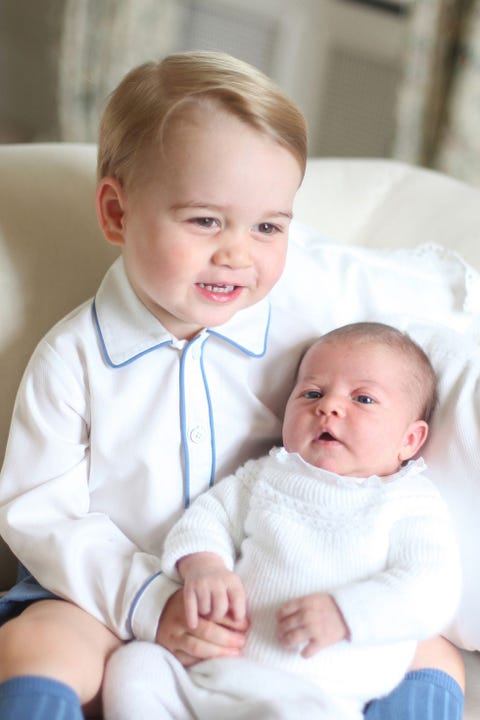 2015
Prince George smiles while holding his newborn sister, Princess Charlotte, who was born on May 2, 2015. Kate Middleton captured the photo when her daughter was less than a month old, at the Duke and Duchess' country home, Anmer Hall, in Norfolk, England.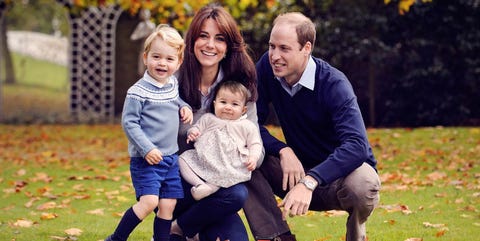 2015
The Duke and Duchess of Cambridge are all smiles with their two children in late October 2015 at home at Kensington Palace. The family chose this portrait for their Christmas card later that holiday season.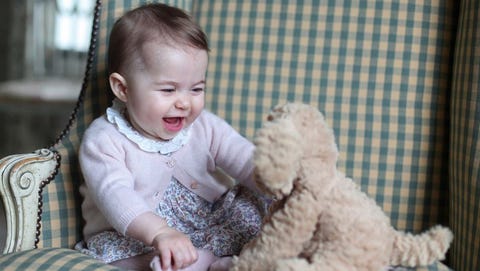 2015
Princess Charlotte plays with a stuffed toy at Anmer Hall in November 2015. The adorable candid was taken by Kate Middleton in Sandringham, England.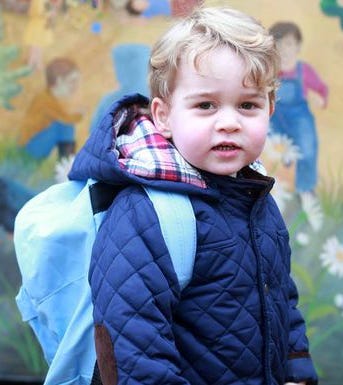 2016
Prince George is ready for his first day of nursery school in this portrait taken by proud mom Kate Middleton. The royal tot attended Westacre Montessori School in Norfolk, England.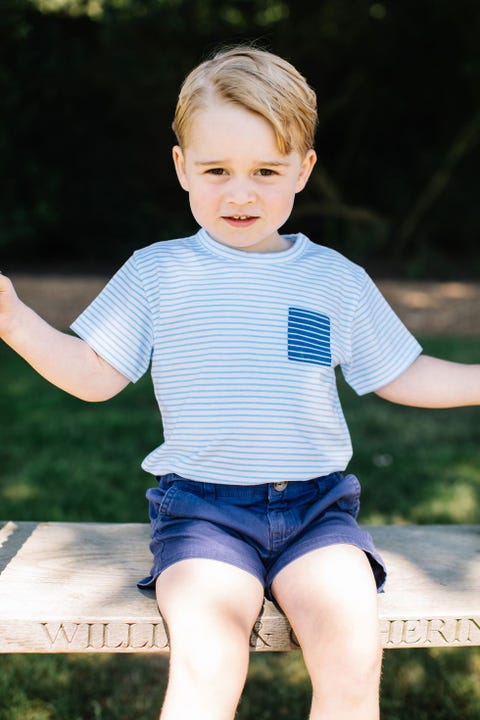 2016
Prince George rocks stripes and shorts at this sweet summer shoot at his family's Norfolk home in July 2016. The swing he sits on is engraved with his parents' names, "William & Catherine."
This content is created and maintained by a third party, and imported onto this page to help users provide their email addresses. You may be able to find more information about this and similar content at piano.io