40 Photos of Celebrities With Their Lookalike Sisters
The resemblance is uncanny.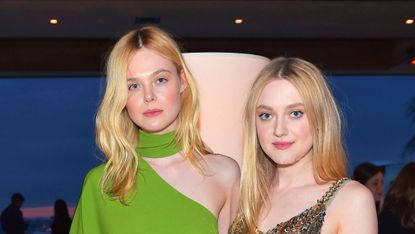 (Image credit: Donato Sardella)
1/40
Jessica and Ashlee Simpson
The physical similarities between the Simpson's really stand out when they're both blonde. It's the reason why when Ashlee entered the music industry in 2004, she was set on separating herself from her famous sister with dark brown hair and bangs.
2/40
Elle and Dakota Fanning
From their fair skin and blonde hair to their notable red carpet fashion and impressive acting chops, the Fanning's are Hollywood's ultimate power duo. After Dakota made a name for herself as a child star in the early aughts, her little sister Elle followed in her footsteps.
3/40
Rooney and Kate Mara
The Mara sisters have their own unique looks and distinctly different acting careers, but it's hard not to notice their similarities, from their oval faces to their petite frames.
4/40
Brandi and Miley Cyrus
Brandi and Miley Cyrus grew up as celebrity off-spring—their dad is country singer, Billy Ray Cyrus—and they both followed him into the music industry. Not to mention, they have the same round faces and wide smiles.
5/40
Hennessy Carolina and Cardi B
Rapper Cardi B has always spoken about her little sister, Hennessy Carolina, and the sisters are basically twins side-by-side. From their eyes to their smiles, they clearly share the same genes.
6/40
Britney and Jamie-Lynn Spears
Jamie-Lynn Spears rose to fame as a child actress, starring on Nickelodeon's Zoey 101. By that time, her older sister Britney was one of the biggest pop stars in the world—and there was no debate over their uncanny resemblance.
7/40
Pippa and Kate Middleton
Pippa Middleton was thrown into the spotlight after serving as her sister's maid of honor in the 2011 royal wedding. Although the Middleton sisters have always closely resembled one another, Pippa has picked up on some royal style cues from her big sister in recent years.
8/40
Amy Schumer and Kim Caramele
Amy Schumer's sister isn't famous, although she does come up a lot in the comedian's stand-up sets. The two look undeniably similar with their eyes and oval faces.
9/40
Kathy Hilton and Kim Richards
Kathy Hilton is the oldest of the Richards sisters (their third sister is Real Housewives of Beverly Hills star Kyle Richards) and we see the most similarities between her and former child actress, Kim. From their nose to their skin color, the two are nearly identical despite being six years apart.
10/40
Tamera and Tia Mowry
The Sister Sister(s) became famous playing twins who were separated at birth on the '90s Disney show. Today, they're both married with children (opens in new tab), while continuing to work in television.
11/40
Margaret and Rainey Qualley
Between their slim frames and thick brown hair, it's difficult to tell Margaret and Rainey Qualley apart. The daughters of Andie MacDowell and Paul Qualley are on different paths in the entertainment world, with Margaret pursuing acting and Rainey making her mark in the country music world.
12/40
Paris Hilton and Nicky Hilton Rothschild
While they may look nearly identical now, Nicky dyed her hair brown in the early 2000s—the peak of her older sister's fame. However, they live very different lifestyles: Paris is a socialite, reality star, and DJ, while Nicky works in fashion and is married with two children.
13/40
Mamie and Grace Gummer
Not only are Mamie and Grace Gummer practically identical, they also look like their very famous mom, Meryl Streep. Both followed their mother into show business, carving out their own niches with roles in TV and theater.
14/40
Nikki and Brie Bella
Identical twins Nikki and Brie Bella decided to cash in on their alikeness in the ring. They joined WWE in 2008 (opens in new tab) as partners and went on to become Diva champions. In 2020, they were inducted into the WWE Hall of Fame, and gave birth to baby boys (opens in new tab) one day apart.
15/40
Zooey and Emily Deschanel
Many people don't realize that these two stars are related, even though they share the same surname and piercing blue eyes. New Girl's Zooey Deschanel is the younger sister of Bones star Emily Deschanel.
16/40
Serena and Venus Williams
The world champion tennis pros have kept the world entertained with their sibling rivalry on the court for decades.
17/40
Erin and Sara Foster
The Foster sisters built their brand with their off-the-cuff remarks and self-deprecating humor on their show Barely Famous. While they would never compare themselves to one another, between their blonde hair and identical smiles, it's hard not to see their sisterly resemblance.
18/40
Alana and Bella Hadid
We all know Bella and Gigi Hadid are sisters, but the young model looks more like her oldest sister, Alana, who's 12 years her senior. They have different mothers, but still have the same bone structure and almond-shaped eyes.
19/40
Mary-Kate and Ashley Olsen
Mary-Kate and Ashley Olsen rose to fame playing the same person on Full House, so it's only natural they would make the list. The twins are still in business together, but retired from acting in 2012. Now, they run two fashion brands: The Row and Elizabeth and James.
20/40
Kim Kardashian and Kylie Jenner
The Kardashian clan is tight-knit, and all of the sisters share similarities, but none more than Kim and Kylie. Despite a 16-year age difference, in many photos they could be mistaken for twins. In 2015, Kylie followed in Kim's entrepreneurial footsteps by launching Kylie Cosmetics.
21/40
Katherine and Christina Schwarzenegger
The only daughters of Arnold Schwarzenegger and Maria Shriver, Katherine and Christina not only closely resemble one other, but are dead ringers for their mother.
22/40
Solange and Beyoncé Knowles
Solange Knowles followed in her older sister, Beyoncé's, footsteps as a singer-songwriter, as well as snagging a few acting roles. Talent aside, their resemblance has turned this duo into one of Hollywood's favorite pairs.
23/40
Rumer and Scout Willis
Demi Moore and Bruce Willis share three daughters from their 13-year marriage, but their two oldest children have the most physical similarities. Both stars inherited their father's oval-shaped face and their mother's striking eyes.
24/40
Monica and Penelope Cruz
If you didn't know Penelope Cruz had a sister, you might confuse Monica for her if you passed her on the street. Monica is an actress in their native country, Spain, and walked the red carpet with Penelope when she was nominated for an Oscar.
25/40
Madelyn and Zoey Deutch
Madelyn Deutch and her younger sister, Zoey, look extremely alike, despite having different hair colors. Seriously, swap their eyes and we bet you wouldn't be able to tell the difference. They also costarred in The Year of Spectacular Men together.
26/40
Sienna and Savannah Miller
While Sienna Miller is known for her red carpet style, her older sister Savannah is a fashion insider in her own right, having worked for some of Britain's top design houses. An eye for fashion isn't their only common trait: They both share a similar profile and blue eyes.
27/40
Jade and Georgia May Jagger
Despite a 20-year age difference and different mothers, Jade and Georgia May Jagger both share some of their father, Mick Jagger's, unique looks, including his lips and square chin.
28/40
The Haim Sisters
The Haim sisters have a lot more in common then just music. All three have similar features. Although they're often referred to as one unit, their ages range from 28 to 34.
29/40
Hilary and Haylie Duff
While Haylie Duff is older, Hilary first started acting as a child in Casper Meets Wendy. Haylie later joined her in the field, and the sisters even co-starred on-screen a few times. While the Duffs aren't identical, their hazel almond-shaped eyes will make you do a double take.
30/40
Rafaela, Gisele, and Patricia Bündchen
Not only does Gisele Bündchen have a twin sister, Patricia (right), but their younger sister, Rafaela (left), looks like she could be their triplet. The siblings attended an event together in 2007, and their matching beach waves and tans made it more than clear that they were related.
31/40
Mackinley and Taylor Hill
Victoria's Secret model Taylor Hill is the second oldest in her family (her sister Logan Rae is two years older), and she has forged a way for her siblings (opens in new tab) in the fashion industry. Case in point: Her younger sister, Mackinley, also became a model.
32/40
Charlotte and Samantha Ronson
Twins Charlotte and Samantha Ronson have very different interests: Charlotte's a fashion designer and Samantha's a DJ. But their slight smiles and deep set brown eyes make it undeniable that they're related.
33/40
Kay and Danielle Panabaker
Both Danielle and Kay Panabaker found fame on Disney in the mid-2000s. The two look so much alike that Danielle played the role of Kay's alter ego in Read It and Weep. While Danielle is still acting, Kay has retired and is currently working as a zoologist (opens in new tab).
34/40
Lucy and Jenny Liu
Lucy Liu grew up in Queens, New York, with her sister, Jenny. The actress was joined by her older sister during her Hollywood Walk of Fame tribute, and the family resemblance is visible.
35/40
Lindsay and Ali Lohan
Lindsay Lohan's famous red hair wasn't passed down to her sister, Ali, who has always been a dark brunette. But there's no denying their resemblance, despite Ali being 10 years younger.
36/40
Sistine and Sophia Stallone
Of course, Sylvester Stallone would wind up with three daughters—and, yes, they are all gorgeous. While Sistine and Sophia have a younger sister, Scarlett, the two oldest girls look the most alike.
37/40
Poppy, Cara, and Chloe Delevingne
Cara and Poppy Delevingne are both in the spotlight, and the oldest of the siblings, Chloe, is a well-known socialite in London. She also just joined her sisters as a business partner for their vegan prosecco, Della Vite (opens in new tab).
38/40
Sasha and Malia Obama
Americans quite literally saw Malia and Sasha Obama grow up before their eyes, since Sasha was seven and Malia was 10 when their dad became president. Throughout President Obama's eight years in the White House, the girls' style matured as time passed.
39/40
Madison De La Garza and Demi Lovato
Demi Lovato's little sister, Madison De La Garza, caught the acting bug shortly after Demi and debuted on Desperate Housewives in 2004. Although Lovato is 10 years older than her half-sister, the two have many similar features.
40/40
Jennifer and Lynda Lopez
Jennifer Lopez's younger sister may look a lot like her, but the two have taken very different career paths in life. Lynda was a journalist and later co-founded a production company. And J.Lo, well, you know what she does.