Iconic Hollywood Party Photos From the Past
From swanky soirees to posh premieres.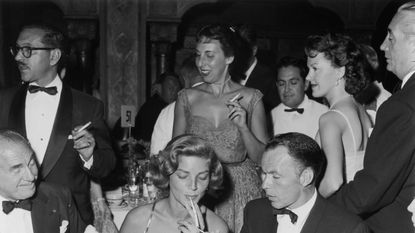 (Image credit: M. Garrett)
Marie Claire Newsletter
Celebrity news, beauty, fashion advice, and fascinating features, delivered straight to your inbox!
Thank you for signing up to Marie Claire. You will receive a verification email shortly.
There was a problem. Please refresh the page and try again.
The stars of old Hollywood knew how to party. From the glamorous fashion to the iconic nightclubs, take a look back at candid photos from some of the most memorable parties of all time hosted by Truman Capote, Halston, and Diana Vreeland, with star attendees like Marilyn Monroe and Elizabeth Taylor. We wish we could have been on these guest lists.
1/38
1950: Frank Sinatra and Nat King Cole
Singers Frank Sinatra and Nat King Cole attend a New York Friars Club party in 1950 at Sardi's Restaraunt. The Friars Club is a New York-based members club for comedians and celebrities known for its raucous parties.
2/38
1950: Desi Arnaz and Lucille Ball
A Las Vegas nightclub imported a whole host of Hollywood stars for a banquet in 1950. Among the guests were Desi Arnaz, Lucille Ball, Marlene Dietrich, Montgomery Clift, and Rosemary Clooney.
3/38
1951: Joan Crawford
Joan Crawford gets help lighting a cigarette from Sherman Billingsley, the owner of the Stork Club in New York, while attending a party thrown in her honor.
4/38
1954: Lauren Bacall and Frank Sinatra
Frank Sinatra lights a cigarette for actress Lauren Bacall at a premiere party for A Star is Born in 1954. The couple had a brief romance after the death of Bacall's husband, Humphrey Bogart.
5/38
1956: Mike Todd and Elizabeth Taylor
Elizabeth Taylor dressed to the nines in a strapless gown with a beaded bustier for the premiere of director Vincente Minnelli's Lust for Life. Here, she dances with Mike Todd, who soon after become Taylor's third husband.
6/38
1957: Sophia Loren and Jayne Mansfield
At a Los Angeles party hosted by Paramount in Sophia Loren's honor, Jayne Mansfield mingles with the guest of honor.
7/38
1957: Marilyn Monroe and Arthur Miller
Marilyn Monroe and her third husband, Arthur Miller, were spotted at the infamous April in Paris Ball in New York City. The event was a sophisticated social calendar staple, held at the Waldorf Astoria, and was attended by socialites such as Lee Radziwill.
8/38
1959: Diana Sands
Diana Sands celebrates the Broadway play, A Raisin in the Sun, at Sardi's Restaurant in New York City. Sands became well-known for her role in the show, costarring with Oscar-winner Sidney Poitier.
9/38
1962: Shelley Winters
Shelley Winters clearly had fun at the Academy Awards after party in 1962. The actress let loose in her black bateau neck gown and bare feet, as she danced alongside the party's singer, Bernie Richards.
10/38
1962: Marilyn Monroe and JFK
Marilyn Monroe wears a fitted sequin gown as she speaks with the President and his brother, Robert F. Kennedy, at a New York party in 1962. The fête was an after-party for a political fundraiser held at Madison Square Garden in honor of JFK's birthday, where Monroe famously sang "Happy Birthday" to the POTUS.
11/38
1964: Rex Harrison and Audrey Hepburn
Dressed in a brocade sleeveless gown with her hair pulled into an elaborate chignon, Audrey Hepburn arrived at the premiere of My Fair Lady in 1964, alongside her costar, Rex Harrison. The film was one of the actress's most popular movies of all time.
12/38
1966: Lee Radziwill and Truman Capote
Jackie Kennedy's little sister, Lee Radziwill, who was married to Prince Stanislaw Radziwill at the time, dances with Truman Capote at his Black and White Ball at the Plaza Hotel in 1966.
13/38
1966: Sargent Shriver and Eunice Kennedy Shriver
Eunice Kennedy Shriver was also in attendance at the Black and White Ball, which she attended with her husband of 13 years, Sargent Shriver. The party was one of New York's biggest social events, with Capote setting out to create "the party of the century."
14/38
1966: Mia Farrow and Frank Sinatra
Mia Farrow stuns partygoers by playing the violin at the bar of the Sands hotel in Las Vegas. Her husband, Frank Sinatra, looks on. The couple was attending festivities held for actress Rosalind Russell.
15/38
1970: Jack Nicholson and Dennis Hopper
Jack Nicholson pals around with fellow Academy Award nominee, Dennis Hopper, as the two attend the 1970 Oscar Ball, an after-party for the Academy Awards. The actors were both nominated for their film, Easy Rider, which served as Nicholson's breakout role.
16/38
1970: Ali MacGraw and Robert Evans
At a much tamer Academy Awards after-party, actress Ali MacGraw and her film producer husband, Robert Evans, find a quiet moment to themselves. The party was a year before the actress's nomination for Love Story.
17/38
1975: Margaux Hemingway
Model Margaux Hemingway arrives at the New York City home of fashion designer Halston, escorted by her husband Errol Wetson. The couple was attending a party held in honor of Andy Warhol.
18/38
1976: Barbra Streisand and Kris Kristofferson
Barbra Streisand and her costar, Kris Kristofferson, arrive at the premiere party for their film A Star is Born in matching tuxedos. The duo were joined by the film's producer Jon Peters at New York's Tavern on the Green.
19/38
1976: Andy Warhol
Andy Warhol attends the premiere for A Star is Born in 1976. The famed artist and photographer brought his camera along for the fashionable event.
20/38
1977: Liza Minnelli and Dick Cavett
Liza Minnelli greets television host Dick Cavett with a kiss on the cheek at the opening night party for The Act. The Broadway musical would go on to become a hit, cementing Minnelli's talents as a singer, dancer, and actress.
21/38
1977: Tina Turner and Francesco Scavullo
Tina Turner sits next to fashion photographer Francesco Scavullo at New York's famous Studio 54 nightclub in 1977. The Queen of Rock and Roll was dressed in typical '70s style, wearing a loose strapless dress and statement necklace.
22/38
1978: Diana Ross
Diana Ross rings in 1979 at a New Year's Eve party at Studio 54. The singer was joined by her friend, and the owner of the nightclub, Steve Rubell.
23/38
1978: Cher and Halston
Cher is joined by fashion designer, Halston, at an after-party for the launch of Yves Saint Laurent's Opium perfume collection. The event was considered one of the most extravagant and iconic parties of the decade, and was highly controversial as the brand was accused of glamorizing opioid addiction.
24/38
1978: Cheryl Tiegs
Supermodel Cheryl Tiegs arrives in a stylish sheer black dress and violet fur coat at Olympic Towers in New York City. The model was attending a party at the residence of fashion designer Halston, who was known for his epic soirées.
25/38
1979: Debbie Harry
Blondie singer Debbie Harry wears a sleeveless dress along with her signature messy hair, as she attends the Metropolitan Museum of Art's Costume Institute Gala in 1979. The evening centered around that year's exhibit, "Fashions of The Hapsburg Era."
26/38
1980: Andy Warhol
Andy Warhol looked sharp in a tuxedo as he arrived at a party for Diana Vreeland's book, Allure, in 1980. The renowned photography book features images from the work of Cecil Beaton and was re-printed in 2010.
27/38
1980: Jackie Kennedy
Jackie Kennedy arrives at Diana Vreeland's book party, wearing an elegant black fur-trimmed overcoat and escorted by Charles Ryskamp. The former First Lady served as an editor on the photography book.
28/38
1980: Bianca Jagger and Halston
Bianca Jagger celebrates her 35th birthday at the New York nightclub, Bond's. Here, the model feeds cake to her dear friend, Halston, as she celebrates the milestone. One person notably absent is her ex-husband, Mick Jagger, who she divorced in 1978.
29/38
1980: Paloma Picasso
Paloma Picasso wears an elaborate design to the Metropolitan Museum's Costume Institute Gala, which she arrives at with fellow fashion designer, Carolina Herrera. The Spanish-French designer is the daughter of renowned painter, Pablo Picasso.
30/38
1980: The Rolling Stones
The Rolling Stones hit up one of New York's hottest new nightclubs, Danceteria, in 1980. The hot spot was one of many emerging venues that took over New York nightlife after Studio 54 shuttered its doors in 1980.
31/38
1981: Calvin Klein and Iman
Fashion designer Calvin Klein arrives at the Costume Institute Gala with supermodel Iman on his arm in 1981. The model, who emerged on the scene in the mid-'70s, was a muse for the designer.
32/38
1982: Diana Vreeland and Yves Saint Laurent
Diana Vreeland embraces French designer, Yves Saint Laurent, as the two attend a party celebrating the 20th anniversary of Yves Saint Laurent's first fashion collection.
33/38
1984: Richard Gere and Diana Ross
Actor Richard Gere greets legendary singer, Diana Ross, after attending one of her concerts in 1984. The pair are seen onboard New York's Intrepid for her concert after-party.
34/38
1984: Cindy Hall, Jerry Hall, and Rosie Hall
The fashion set were in full force at a party in 1984, held in Uptown Manhattan at the chic Mortimer's Restaurant. In attendance was Jerry Hall and her two sisters, Cindy and Rosie.
35/38
1987: Oscar de la Renta and Pat Buckley
Fashion designer Oscar de la Renta is given a warm embrace by New York socialite Pat Buckley in 1987. The two were at Sotheby's for the preview of Diana Vreeland's jewelry collection.
36/38
1993: Eddie Murphy
Eddie Murphy emerges from a limousine, dressed in an all-black outfit, for a Saturday Night Live after-party. The comedian was a cast member on the sketch comedy show from 1980 until 1984, and his career skyrocketed afterward.
37/38
1996: Princess Diana
After her divorce from Prince Charles, Princess Diana was free from royal protocol. It was a huge moment when she attended the 1996 Costume Institute Gala, wearing a navy silk slip gown designed by Dior.
38/38
1997: John F. Kennedy Jr. and Carolyn Bessette
John F. Kennedy Jr. and his wife, Carolyn Bessette, arrive at George magazine's second anniversary party in 1997. The late President's son founded the political-lifestyle publication in 1995.
Celebrity news, beauty, fashion advice, and fascinating features, delivered straight to your inbox!
Jennifer Algoo is the Visuals Director at Harper's BAZAAR. She is a graduate of the School of Visual Arts and has previously worked at Patrick McMullan Co. as well as completing internships at Martha Stewart Weddings, Vogue and CosmoGirl! Magazine. Jennifer covers royal, celeb and art content as well as overseeing all visual assets on BAZAAR.com. When she's not obsessing over the royals you can find her attempting to solve cold cases as an armchair detective, traveling and experimenting with new recipes.