31 Stunning Engagement Rings From The 'Bachelor' And 'Bachelorette'
JoJo Fletcher even got *two* rings from her fiancé Jordan Rodgers.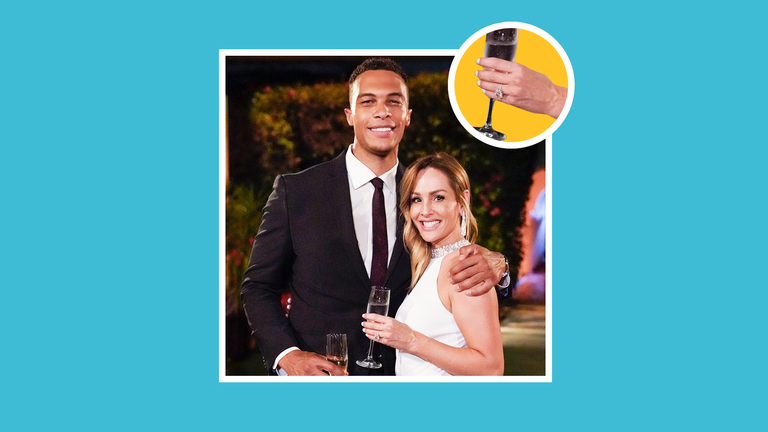 (Image credit: Getty )
For all the stars of Bachelor Nation, there is one man every potential fiancé is happy to see (and, no, it's not Chris Harrison!): Neil Lane. The engagement ring designer started doling out engagement rings on the 13th season of The Bachelor and the first season of The Bachelorette. But before Lane took over, there wasn't one sole designer helping with proposal jewels, although that didn't take away the excitement of seeing the leads pick out a ~symbol of love~.
Take a trip down memory lane to see every engagement ring from The Bachelor and The Bachelorette. Trust me, each one is a sight for sore eyes.
1. Clare Crawley and Dale Moss
The gorgeous model got down on one knee at the beginning of the current plot-twist of a season of the Bachelorette with a 4.5-carat Neil Lane sparkler. The ring, according to People, the middle stone is a massive radiant-cut diamond with two shield-shaped diamonds on either side. Oh, did I mention that there are also 145 smaller round diamonds on the ring and band?
This latest Bach proposal even had Neil scrambling. "It was a miracle we got it done!" he told People. "Nothing was regular this season but I think it all worked—it was an exciting hullabaloo but really everyone was just rooting for Clare and her love story."
2. Andrew Firestone and Jen Schefft
Andrew Firestone proposed to Jen Schefft with a gorgeous, oval-shaped Harry Winston ring on season three of The Bachelor. Jen went on to be the third Bachelorette, so you all know how that ended.
3. Bob Guiney and Estella Gardinier
Season four with Bob Guiney in the lead role didn't ~technically~ end with an engagement, but the ring giving still occurred. Bob gave his final woman Estella Gardinier a Harry Winston promise ring worth a whopping $45,000. That seems like more than a promise to me, but what do I know? It was moot anyway because the couple broke up shortly after the show aired.
4. Kaitlyn Bristowe and Shawn Booth
Kaitlyn Bristowe's dramatic season came to a close when she chose Shawn Booth. He proposed with a 3.5-carat, brilliant-cut diamond that sits on an intertwining band. The pair was together for three years before calling it quits. Kaitlyn has found love again with Bachelorette alum and fan-favorite Jason Tartick.
5. Jason Mesnick and Molly Malaney
Jason proposed to Molly on a totally casual weekend trip to New Zealand in October 2009. Even though they didn't get engaged on the show, Jason still gave her a huge Neil Lane, oval-shaped sparkler that looks damn good on her finger. Jason's son, Ty, became a big brother in March 2013.
6. Chris Soules and Whitney Bischoff
Prince "Farming" Chris Soules popped the question to Whitney Bischoff, sending Becca Tilley home. He proposed with a stunning ring visible from miles away. They called off their engagement two months later, though.
7. Josh Murray and Andi Dorfman
Josh Murray gave Bachelorette Andi Dorfman a ring fit for the queen she is. The stunning oval-shaped, halo-set ring was gor-geous. But the relationship didn't last. Their tumultuous engagement ended eight months later.
8. Joelle Fletcher and Jordan Rodgers
It was obvious from the beginning that JoJo Fletcher was going to pick Jordan Rodgers. Their chemistry and connection was palpable. Jordan picked a simple ring with an oval-shaped center stone positioned on a band full of diamonds.
9. JoJo Fletcher and Jordan Rodgers (Take Two!)
Three years after their engagement, Jordan re-proposed with a new ring that is not from the Neil Lane family. This one is from Ring Concierge (Nicole Wegman) and is an oval on a thin band.
10. Rachel Lindsay and Bryan Abasolo
Rachel Lindsay's final man, Bryan Abasolo, chose a trendy pear-shaped sparkler when he proposed on her season of The Bachelorette. Their love story continues as they married in August 2019.
11. Sean Lowe and Catherine Giudici
Sean Lowe found an ever-lasting love on his season of The Bachelor. He proposed to fan-favorite Catherine Giudici with a 3.15-carat, cushion-cut ring positioned on a split band. The couple tied the knot on live TV in 2014.
12. Nick Viall and Vanessa Grimaldi
Vanessa Grimaldi exuded elegance on Nick Viall's season of The Bachelor. When Nick proposed to Vanessa, he chose a ring that fit her style. The captivating 3.75-carat ring is a head-turner. As for the relationship, the pair called it off six months later.
13. Arie Luyendyk and Lauren Burnham
Arie started seeing his runner up, Lauren Burnham, after proposing and then dumping Becca Kufrin. He even proposed on the After the Final Rose with an antique-style engagement ring. The couple is now married and have a daughter.
14. Becca Kufrin and Garrett Yrigoyen
The same night Becca's ex Arie got engaged, she started her own journey to find love on The Bachelorette. Her final man was fly fisher Garrett Yrigoyen. The classy, three-stone ring set in yellow-gold fits Becca's glamourous, yet down-to-earth personality. The couple is still together, and Garrett even went on the Bachelor: Live On Stage tour with his fiancé.
15. Desiree Hartsock and Chris Siegfried
Desiree Hartsock gave her final rose to Chris Siegfried, which proved to be the right fit for her. Chris gave her a symbolic 3.5-carat ring with a rose gold and platinum intertwining band that represents their life together. Desiree and Chris wed nearly two years later in a ceremony that was surprisingly not filmed for TV.
16. Hannah Brown and Jed Wyatt
I think we all can agree that Jed Wyatt was not there for the right reasons, and Hannah Brown deserved better. But the man knows how to pick a ring. He selected a beautiful oval-shaped stone with a halo of diamonds surrounding it, which weighed three carats. Hannah broke up with Jed on her season finale after she found out he had a girlfriend while on the show.
17. Brad Womack and Emily Maynard
On his second season as The Bachelor, Brad Womack proposed to Emily Maynard with a shimmering cushion-cut diamond set on a split band. The ring featured 263 stones, but no amount could keep the couple together. Emily went on to become The Bachelorette.
18. Emily Maynard and Jef Holm
Jef "With One F" Holm proposed to Bachelorette Emily Maynard on the season eight finale. He selected an amazing emerald-shaped ring that sits on a thin band of diamonds. Their relationship didn't last, though. They broke up later that year.
19. Jake Pavelka and Vienna Girardi
Jake Pavelka, the OG pilot Bachelor, gave his final rose to Vienna Girardi. He proposed with a 2.72-carat platinum diamond ring that was eventually returned to producers. In one of the most dramatic breakups of all time, ABC took time out of The Bachelorette to air all of the couple's dirty laundry on national TV. The pair addressed infidelity rumors, and their vicious breakup is hard to watch.
20. Ben Higgins and Lauren Bushnell
The bling is real. Bachelor Ben Higgins gave Lauren Bushnell a 4.6-carat engagement ring valued at $95,000. A year and half (and another reality TV show) later, the couple broke off their engagement. That's okay, though. Lauren is happily married to country singer Chris Lane, and Ben just got engaged to Jessica Clarke, who was not part of the franchise.
21. Ashley Hebert and JP Rosenbaum
Ashley Hebert provided Neil with plenty of inspiration when he designed her potential engagement rings. Her suitor, JP Rosenbaum, selected a breath-taking cushion-cut ring with a halo setting, which came out to 3.5 carats. The couple got married in an ABC special that aired in 2012. Ashley and JP have two children and continue to open up about their relationship.
22. Ali Fedotowsky and Roberto Martinez
Ali Fedotowsky and Roberto Martinez got engaged on the season six finale of The Bachelorette. Roberto proposed with a classy Asscher-cut ring valued at $50,000. After 18 months and many wedding postponements, the couple broke off their engagement and ended their relationship.
23. Wells Adams and Sarah Hyland
Okay, fine. Sarah Hyland is an actor, and not from the Bachelor franchise, but Wells was the best bartender ever on Paradise. Come on. They met via social media and are set to wed. (Scroll for ring pics!)
24. Ben Flajnik and Courtney Robertson
Ben Flajnik picked a gorgeous ring for his final rose recipient, Courtney Robertson, who was also dubbed the villain of his season. The 3-carat ring valued at $60,000 was returned when the couple (unsurprisingly) broke up nine months later.
25. Trista Rehn and Ryan Sutter
Trista Rehn is the OG Bachelorette and is still married to the man who got her final rose, Ryan Sutter. Trista lost the ring Ryan originally proposed with, so Neil upgraded it to a four-carat, emerald-cut sparkler with a halo setting on their 10th anniversary.
26. Meredith Phillips and Ian McKee
Meredith Phillips' season of The Bachelorette ended with Ian McKee getting down on one knee. Ian selected a mesmerizing 3.25-carat Tacori ring featuring a square center diamond and band full of emerald-cut diamonds. The pair lasted a year before calling it quits, which is pretty impressive by the franchise's standards.
27. Aaron Buerge and Helene Eksterowicz
The first season of The Bachelor didn't end with a proposal, so Aaron Buerge became the first lead to get on one knee. He gave Helene Eksterowicz a three-stone, 3.75-carat Harry Winston ring. The couple broke off their engagement five weeks after the finale aired.
28. DeAnna Pappas and Jesse Csincsak
DeAnna Pappas didn't give her final rose to lovable dad Jason Mesnick to many people's dismay. Instead, she chose Jesse Csincsak, who gave her a 2.3-carat, square-cut Tacori diamond. The couple broke up that same year by posting a video to their website, which was taken down.
29. Byron Velvick and Mary Delgado
Season six lead Byron Velvick proposed to Mary Delgado with a 3.5-carat, three-stone stunner from Tacori. The couple never tied the knot, but they were together for five years until a domestic dispute caused strain on their relationship.
30. Matt Grant and Shayne Lamas
Matt "British Bachelor" Grant proposed to his final woman Shane Lamas on the season 12 finale of The Bachelor. He gave her a 2.85-carat Tacori eternity ring, which she supposedly kept when the couple broke up about a month after the finale aired. Now that's a power move.
31. Prince Lorenzo Borghese and Jennifer Wilson
Italian Prince Lorenzo Borghese—FWIW, he had never been to Italy before going on the show—didn't propose to his final woman, Jennifer Wilson. In fact, the ring he gave her wasn't even a promise ring. He called it a "family ring." Lorenzo's mother designed the tasteful, multi-diamond sparkler with a beautiful round center stone. The couple broke up a year later, and it was rumored Lorenzo started dating his runner up, Sadie Murray.