How Celebrities Are Celebrating Mother's Day 2021
Here are some of the best Instagram posts and tributes celebrities have shared for Mother's Day 2021.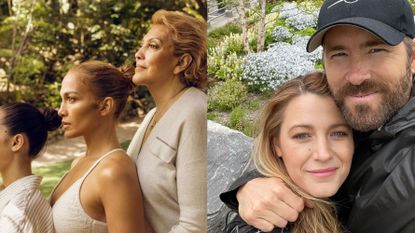 (Image credit: instagram)
People all around the United States are celebrating Mother's Day today. And holidays like this one prove that celebrities are just like us—in that they take to Instagram to pay tribute to the women who made them and/or helped raise and shape them (or are currently helping make/raise/shape other little humans). Former president Barack Obama perfectly summarized the wide range of people who deserve recognition today, writing, "take a moment to thank the women in your life who love you in that special way that mothers do: biological moms, adoptive moms, and foster moms; single moms, grandmoms and godmothers; aunts and mentors—all the people who come to mind when you think about Mother's Day."
Here are some of the best celebrity Mother's Day posts of 2021, from light-hearted and funny messages to aww-inducing throwback pictures to genuinely touching tributes that will tug at your heartstrings.
1. Gigi Hadid
"The rumors are true: my best friend, purpose, muse, greatest pride & joy! I feel so lucky and inspired bein your mama, my Khai !! An old soul full of sunshine, you light up everyone's days! Thank you 🧡 thank you 💛 thank you 💕"
2. Jennifer Lopez
"#MothersDay with my mommy and coconuts! 💕🥥🥥"
3. Gabrielle Union
"My journey to motherhood was long, arduous and at many times extremely painful. Mother's Day will always be a challenging day to celebrate for me. I know I'm not alone in this feeling. For many reasons, so many of us have a rough time today and to these good people, I send all my love, light and compassion. To all the Moms, Stepmoms, Bonus Mom's, Folks who Mother those that need it, Grandma's, House Mothers, I celebrate you today and everyday. Be good to yourselves. 🖤🖤🖤"
4. Travis Scott
"Of all the special things in lifeThe big ones and smallA mamas love and rage and tendernessIs the most special of them all"
5. Ryan Dorsey
"🖤❤️🖤We can't say the word happy but we'll say thank you for being a mother & giving me this sweet amazing boy.🖤❤️🖤#mothersday"
6. Dwayne Johnson
"A Mother's Day medley of three images of @laurenhashianofficial who is undoubtedly the KINDEST, WARMEST & HAPPIEST (and toughest;) SOUL (as all of you who know her will agree) in the world.1) Us soaking in the mana of our beloved Hawaii 🌊2) Her sending me subtle hints on the road to marriage 💍3) A beautiful, quiet moment with my wife on our back porch ❤️😂You are the shining example to our daughters who's love and adoration for you is boundless - that it's nice to be important, but it's more important to be nice.ily dj x"
7. Ben Affleck
"So happy to share these kids with you. Luckiest parents in the world. Thanks for all the good you do.Happy Mother's Day.Love, their Dad"
8. Orlando Bloom
"Got myself a real catch. 🐠 ❤️Sending love and respect to all the amazing people who have shaped our lives, supported us and loved us unconditionally. Happy Mother's Day 🌼"
9. Nicole Kidman
"I was sent this from my daughters' school and it says it all...To all our women out there – to our mums, our grandmothers, our sisters, our daughters, our aunts, our girlfriends – I am so deeply grateful to the women who raise other women, who laugh, and love, and grieve, and befriend, and care, and never, ever, ever give up.Happy #MothersDay, and particularly to my Mumma xxx"
10. John Travolta
"Dearest Kelly, you brought into my life three of the most wonderful children I have ever known. Thank you. We love and miss you. Happy Mother's Day."
11. Drew Barrymore
"To all the moms in my life. Happy Mother's Day!!!!! My mom Jaid and @jillkargman @cocokopelman"
12. Jessica Alba
"My ❤️ heart that walks around outside of my body. The three of you have given me the gift of hopes, dreams and possibilities I never knew existed and, most importantly, the courage to fearlessly go after it all.✨ I love u my babies."
13. Goldie Hawn
"Happy Mother's Day my darling daughter. You're just the best daughter and the most attentive caring loving mother. I love love you!! ❤️❤️🌺🌺"
14. Gwyneth Paltrow
"I love a good snuggle with you. Happy Mother's Day💕"
15. Chris Hemsworth
"Happy Mother's Day to all the brilliant, hardworking, kid carrying, bar raising, husband-putting-up-with-ing woman out there!! We salute you 👏💗🙏 @elsapatakyconfidential"
16. Diane Kruger
"The moment we heard her heart beat for the very first time and nothing was ever the same again ❤️ What a joy to watch you grow my little girl ❤️ I will always love you @bigbaldhead for giving me our little angel and making life just so much better ❤️"
17. Reese Witherspoon
"Happy Mother's Day to my wonderful mom, Betty! The original Mama Bear who taught me to be fierce and loving. Kind and strong. I love that I can always count on her for a great laugh and the best mothering advice ! 💕🌷#mothersday"
18. Barack Obama
"On this Mother's Day, I want to thank Michelle for being such an incredible mom to our girls. And I hope you'll take a moment to thank the women in your life who love you in that special way that mothers do: biological moms, adoptive moms, and foster moms; single moms, grandmoms and godmothers; aunts and mentors—all the people who come to mind when you think about Mother's Day. Or take a moment, like I will, to remember the moms who raised and sustained us, and who we miss every day—no matter how long it's been. All of these amazing people deserve our gratitude, today and every day."
19. Michelle Obama
"I just love this photo of my mom. It was taken at the Great Wall of China a few years ago, and every time I see it, I can't help but think of all the adventures we've had over the years. From the days I spent as a kid around the pool at the cabin we used to rent out in Michigan, to the times in Chicago she'd come over before sunrise to watch the kids so I could work out, to every minute she spent with us in the White House, my mom has always been my rock.I am so grateful to have her as a guiding force in my life, but I know that this can be a tough day for so many who aren't as lucky. So this #MothersDay, I hope you take a moment to celebrate all the moms and mom-like figures in your life—the aunties and grandmothers, the friends and mentors—who have helped you find your way in the world. All of us have needed a little nurturing and care to get us to where we are today, and this is the day to celebrate just that. Happy Mother's Day, everybody. 💖"
20. Joe Biden
"To moms everywhere, wishing you a safe and happy Mother's Day. Share your favorite quote from your mother below."
21. Katie Holmes
"I am so grateful to be a mom to the sweetest daughter. Happy Mother's Day to all of the moms!!!! 💕💕💕💕💕"
22. Ryan Reynolds
"It can't be said enough… you're the heart and soul of every moment this family shares. I'm grateful for the light and for the kindness you smuggle into each and every second of our lives. I see you in the eyes of our children… Every laugh. Every blink and every thoughtful moment of vulnerability. The tender grit it takes to be a mother in 2021 is an act of pure strength and heroism. Never could I have predicted anonymous airport bathroom sex would lead to this. Or how you'd hire Dog The Bounty Hunter to find me. Either way, I'm lucky to reflect a little of the sunlight you shine on all of us. Happy Mother's Day, my love."
23. John Legend
"Happy Mother's Day to my wonderful wife! It's been a year that tested you in so many ways but you've come through stronger, wiser, happier and a better mother than ever. I'm so fortunate to have you as my partner, my inspiration and my best friend. I love you forever."
24. Kim Kardashian
"My Taurus ♉️ baby Psalm. He turns 2 today on Mother's Day. Such a special day to share together. He's my child that looks most Armenian to me like my grandpa and reminds me so much of my dad. He is the sweetest baby ever!!! I can't even describe his smile and sweetness that everyone just feels when they are with him. Psalm- you have brought such calmness and evenness into all of our lives! All of your cousins and siblings love you so much! You really are the joy of our crew! Mommy loves you SOOOOOO much!!!"
25. Khloé Kardashian
"Happy Mother's Day to my Queen! You are my heartbeat!!! Without you we are nothing! Thank you for EVERYTHING you do for each and everyone of us. You are love in human form. I will never be able to express how much we all love, adore and cherish everything about you But I will try every single day. I love you queen mommy 🤍👑"
26. Halle Berry
"I'll never get over the wondrous miracle of growing a life inside my body as I've never felt more myself than when I was carrying my two children. Motherhood is a real privilege. Happy Mother's Day to all the mothers of the world! 💞"
27. Jennifer Lopez
"It was my mom who instilled in us at a very young age that we could do anything. This was something that has really stayed with me. Being a mom is my greatest joy, and today I think about my mommy and all the moms out there. This is your day, and I hope you are surrounded by love, gratitude and appreciation…enjoy it! #HappyMothersDay #IGotItFromMyMama #MamaGlowsBest"
28. Courteney Cox
"VerifiedHappy Mother's Day to all those out there who are mothers, have been mothers, will be mothers, or love like mothers. ♥️♥️♥️@9monthswithcourteneycox premieres tomorrow (May 9th) on @facebookwatch.🎥: @jadeehlers🎸: @thisisjoeltaylor"
Kayleigh Roberts is a freelance writer and editor with more than 10 years of professional experience. Her byline has appeared in Marie Claire, Cosmopolitan, ELLE, Harper's Bazaar, The Atlantic, Allure, Entertainment Weekly, MTV, Bustle, Refinery29, Girls' Life Magazine, Just Jared, and Tiger Beat, among other publications. She's a graduate of the Medill School of Journalism at Northwestern University.