The Met Gala 2021: The Best Red Carpet Looks
The best of the best of "American Fashion."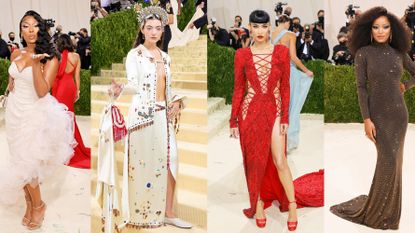 (Image credit: Getty Images)
No, it's not the first Monday in May, and in fact, it's not the first Monday in September either, but tonight, celebrities will return to the Metropolitan Museum of Art for one of the most glamorous events of the fashion season—the 2021 Met Gala. (opens in new tab) Following the cancelation of 2020's event amid the height of the COVID-19 pandemic, this year's more intimate star-studded guest list will gather in celebration of a theme that hits close to home: American Fashion.
Rather than showcasing only big name legacy brands, this year's exhibit will put an emphasis on young, emerging, and avant-garde designers who are the future of fashion. The hosts of the evening are also a nod to a new generation of artists: Naomi Osaka, Timothée Chalamet, Amanda Gordon, and Billie Eilish will kick off the festivities, while some 400 guests will arrived dressed in the theme of American Independence. Before guests enter the Met for cocktails and dinner (where social media is strictly prohibited), take a peek at what they're wearing to this year's Met Ball.
1/67
Ilana Glazer
2/67
Emma Chamberlain
3/67
Rachel Smith
4/67
Anna Wintour
5/67
Keke Palmer
6/67
Alicia Quarles
7/67
Bee Carrozzini
8/67
Tom Ford
9/67
Eva Chen
10/67
Timothée Chalamet
11/67
Brooklyn Beckham and Nicola Peltz
12/67
Amanda Gorman
13/67
Dan Levy
14/67
Ella Emhoff
15/67
Maisie Williams
16/67
Barbie Ferreira
17/67
Billie Eilish
18/67
Saweetie
19/67
Yara Shahidi
20/67
Channing Tatum
21/67
Naomi Osaka
22/67
Lil Nax X
23/67
Serena Williams
24/67
Finneas O'Connell
25/67
Chance the Rapper
26/67
Jennifer Hudson
27/67
Grimes
28/67
Kaia Gerber
29/67
Iman
30/67
Megan Thee Stallion
31/67
Kim Petras
32/67
Tracee Ellis Ross
33/67
Zoey Deutch
34/67
Irina Shayk
35/67
Karli Kloss
36/67
Lorde
37/67
Pete Davidson
38/67
Frank Ocean
39/67
Donatella Versace
40/67
Mary J. Blige
41/67
Kris Jenner
42/67
Ava DuVernay
43/67
Megan Fox
44/67
Ciara
45/67
Alexandria Ocasio-Cortez and Aurora James
46/67
Mindy Kaling
47/67
Chloe Bailey and Halle Bailey
48/67
Virgil Abloh
49/67
50/67
Gabrielle Union
51/67
Sienna Miller
52/67
Megan Rapinoe
53/67
Kacey Musgraves
54/67
Justin Beiber and Hailey Bieber
55/67
Alicia Keys
56/67
Lupita Nyong'o
57/67
Jennifer Lopez
58/67
Olivia Rodrigo
59/67
Chloe Fineman
60/67
Simone Biles
61/67
Rita Ora
62/67
Kendall Jenner
63/67
Kim Kardashian
64/67
Sharon Stone
65/67
Shawn Mendes and Camilla Cabello
66/67
Gigi Hadid
67/67
Kate Hudson