Is Will Smith at the 2023 Oscars?
It's been a year since the slap heard 'round the world.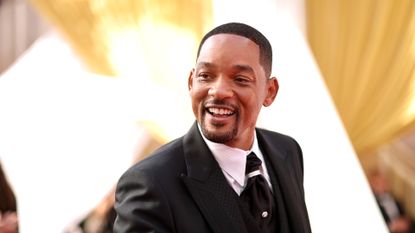 (Image credit: Emma McIntyre/Getty Images))
The biggest night in Hollywood, a.k.a. the Academy Awards, is finally here, meaning the best and brightest of the film industry are currently descending on L.A.'s Dolby Theater. The year, though, you can't think about the Oscars without thinking about the widely dubbed "slap heard 'round the world." We are, of course, referring to the 2022 incident when Will Smith stormed the stage and slapped presenter Chris Rock across the face. Rock had just made a joke about G.I. Jane, referencing Smith's wife Jada Pinkett Smith, who has alopecia. The incident didn't stop Smith from winning the Best Actor award for King Richard nearly an hour later, though.
The infamous Oscars moment was painful to watch, to say the least, and one that had numerous reparations for Smith. For starters, Smith resigned from the Academy of Motion Picture Arts and Sciences, calling his actions "shocking, painful, and inexcusable," in a statement obtained by The Hollywood Reporter. Then the Academy announced that Smith will not be permitted to attend any Academy events or programs for the next 10 years in the wake of the slap (although he can still be nominated for awards). So no, you will not be seeing Smith at the Oscars this year, nor for the next nine years.
Over the past year, Smith has apologized several times. First, he publicly apologized to Rock in a lengthy Instagram post, saying he was "embarrassed" and "reacted emotionally." Smith then broke his social media absence with a video answering questions about the incident and issuing another apology to Rock and his family. Later, during an appearance on The Daily Show With Trevor Noah, Smith called the 2022 Oscars a "horrific night," adding, "I took my hard and made it hard for other people. I understood the idea where they say that hurt people hurt people."
Smith's career doesn't seem to have taken a hit from the slap. At the end of 2022, Smith starred in the Apple TV+ film, Emancipation, while he's currently set to serve as a producer on 14 new titles, according to his IMDb page. He's also set to star in four new films including Bad Boys 4 and the Planes, Trains, & Automobiles remake alongside Kevin Hart.
Meanwhile, Rock subtly referenced the Oscars moment in a few stand-up shows in the last year, but recently addressed it explicitly in his newly-released Netflix special Selective Outrage. "You all know what happened to me, getting smacked by Suge Smith," Rock said. "It still hurts. I got 'Summertime' ringing in my ears. But I'm not a victim, baby." And don't get your hopes up for Rock to attend this year's Oscars, either. He's reportedly staying far away from L.A. during the ceremony.
Brooke Knappenberger is the Editorial Fellow at Marie Claire, where she writes across the board from fashion and beauty to books and celebrities. As a pop culture junkie, Brooke obsessively consumes and writes about the latest movie releases, streaming TV shows, and celebrity scandals. She has over three years of experience writing on fashion, beauty, and entertainment and her work has appeared on Looper, NickiSwift, The Sun US, and Vox Magazine of Columbia, Missouri. Brooke obtained her Bachelor's Degree in Journalism from the University of Missouri's School of Journalism with an emphasis on Magazine Editing and has a minor in Textile and Apparel Management.