Is Chris Rock at the 2023 Oscars?
Don't get your hopes up.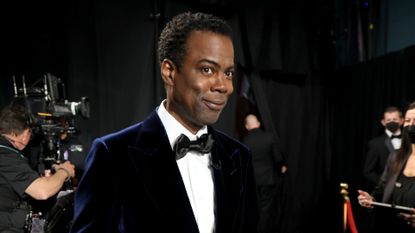 (Image credit: Al Seib /A.M.P.A.S. via Getty Images)
It's been a year since the "slap heard 'round the world," and I don't think we'll ever fully recover. I'm referring, of course, to the 2022 Academy Awards in which Will Smith slapped presenter Chris Rock after he made a G.I. Jane joke about Jada Pinkett Smith. It was truly one of the most controversial Oscars moments of all time, to say the least, and one that likely won't ever be forgotten. Now, a year later, we're left to wonder who from the incident—if anyone—will be attending the 2023 Oscars.
While we know Smith will not be attending the Oscars this year, Rock's attendance is still up in the air. Last August during a stand-up comedy show in Phoenix, Rock admitted that the Academy had asked him to host this year's award show, an invitation he declined. According to the Arizona Republic (opens in new tab), Rock compared returning to host the Oscars to returning to a crime scene. Instead, Jimmy Kimmel is set to host for the third time—but is there a chance Rock will make an appearance as a guest?
It doesn't seem like it. Reportedly, Rock will not be making an appearance at the award ceremony, according to The Daily Beast. In February, the outlet reported that they had asked Rock about attending this year's Oscars while he was dining solo at La Esquina in New York City. He said he will not be making the trip to L.A., and instead will likely be staying on the East Coast, far away from the stage on which he was slapped.
Although Rock is skipping out on the biggest night in Hollywood, the comedian hasn't shied away from talking about the infamous 2022 incident. In the newly-released Netflix special, Selective Outrage, Rock ended his stand-up show with quite a few jokes about the slap. "You all know what happened to me, getting smacked by Suge Smith," Rock said. "It still hurts. I got 'Summertime' ringing in my ears. But I'm not a victim, baby. You'll never see me on Oprah or Gayle crying… I took that hit like Pacquiao."
Later on, Rock pulled out all the stops on Smith, accusing him of "selective outrage" and referencing Jada Pinkett Smith's affair with August Alsina. "I love Will Smith, my whole life," Rock admitted. "I have rooted for Will Smith my whole life … now I watch Emancipation just to see him get whooped."
Brooke Knappenberger is the Editorial Fellow at Marie Claire, where she writes across the board from fashion and beauty to books and celebrities. As a pop culture junkie, Brooke obsessively consumes and writes about the latest movie releases, streaming TV shows, and celebrity scandals. She has over three years of experience writing on fashion, beauty, and entertainment and her work has appeared on Looper, NickiSwift, The Sun US, and Vox Magazine of Columbia, Missouri. Brooke obtained her Bachelor's Degree in Journalism from the University of Missouri's School of Journalism with an emphasis on Magazine Editing and has a minor in Textile and Apparel Management.