Yuna Zarai Brings Her Sound and Style to the U.S.
Already famous in her native Malaysia, singer Yuna Zari brings her music and her fashions sense stateside.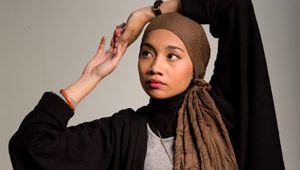 (Image credit: Archives)
Petite and stylish, Yuna Zarai scurried onto center stage at Webster Hall last night to play her opening set. While most of the audience members knew the main act, R&B singer Raphael Saadiq, it was the first time many of them heard of the young Malaysian songstress. It was only her second performance ever in NYC.
After taking her place on a stool behind the microphone, she softly tuned her guitar before all the lights — and eyes — were on her. When she looked up, a huge smile formed on her face. "Hello!" she said exuberantly, quickly following up with a girly laugh.
The 25-year-old singer introduced herself, telling us how she'd just landed in New York today, after a long journey from Kuala Lumpur. Still practically an unknown in the U.S., Yuna effortlessly commanded the stage as she launched straight into her first song, "Someone Out of Town," with a buttery delivery that was reminiscent of Norah Jones' but a slightly different pitch, inflating and bending her sound in a unique, fresh way.
Once she had the audience enthralled, she threw out a wild card: "I decided to cover this song just earlier today," she said with a smile. "I hope you like it." She began strumming her guitar to a familiar tune that no one expected: Nirvana's "Come As You Are." The crowd was smitten, singing along and bopping their heads in approval to her enchanting, jazzy take on a grunge classic. She quickly proved she's one to watch for.
There's an elegance about Yuna that's apparent in her demeanor as much as it is in her fashion sense. The girl definitely has style, wearing a stone gray Topshop shearling leather jacket over a maroon shirt, a multi-colored head cover, a bright yellow scarf from her very own line, IAMJETFUEL — yes, she's a designer too — twice-wrapped around her neck, a long, black Forever 21 A-line skirt, and Chuck Taylor's ("I wanted wear something really different from the last time I performed in NYC – so this time around I decided something more ladylike — a skirt!), it's no wonder she's caught the attention of fashion-forward sites like Refinery 29. With her killer combination of soothing vocals, chic dressing, and sheer beauty, I can already tell she's going to be a hit.
Celebrity news, beauty, fashion advice, and fascinating features, delivered straight to your inbox!