Tove Lo Tells Us the Secret Behind Her Brand-New Single "Timebomb"
The star gets candid about breakups, being pissed off, making breakup music, and getting tattoos.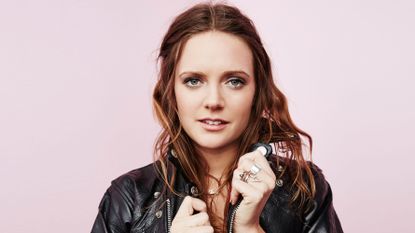 (Image credit: archive)
Tove Lo is our kind of cool girl—unabashedly honest, totally charming, 100% badass. Oh, and she makes the kind of music (pop covered in grit) we could listen (and dance) to on repeat all day and all night. See: her album Queen of the Clouds.
To celebrate her new single and music video for "Timebomb," released today (watch below!), and her newly announced tour, the Swedish singer-songwriter stopped by MC HQ to talk about, well, everything.
Marie Claire: What should we know about "Timebomb"?
Tove Lo: "Timebomb" is about the kind of passionate relationship that can't last more than one night. It will never get that intense again so it's a bittersweet song about how amazing that moment is and also that it's heartbreaking that it won't last longer. You always start to think about the consequences and whether or not you should go for it or not and the song is about kind of just letting that go and just fucking doing it.
MC: And the video?
TL: All the treatments I got in were like, Okay let's make this a one-night-stand video and make it about sex again, which I'm not against at all but I wanted it to have something more to it. So I wrote my own treatment where I brought in the storyline of the kind of love that can't last forever because it isn't allowed to or it's not socially accepted. Everybody doesn't have the fortune to be able to love whoever they want and be just accepted so what we did in the video was bring in all of these different couples, different skin colors, different ages, gay couples, everything—all of these people, in our eyes, that should be able to just love each other and shouldn't be treated any other way. There's all kinds of passionate scenes with them. And I am in the mix in there, too. I'm from Sweden, and when Swedes watch that video they're like, Yeah of course this shouldn't upset anybody, but I also know (and it pisses me off) that it is going to upset people. I want to really make it a clear stamp that this what I think: Everyone should be accepted the way they are and should be able to love whoever they want to love.
MC: What inspires your songwriting?
TL: My own life—basically my whole album is kind of a relationship story from beginning to end, how my past relationships have been. It's everything that is going on in my life. Chasing rushes, like you are always looking for something to just feel, which I think is part of being a creative person. You have all of these strong emotions and you need to just get them out somehow. I think that's what makes people have a mid-life crisis and run off and do something crazy because they never get it out. Not saying that you should, you don't want to hurt other people, but it is so crazy the demands we have on each other just by coexisting together. But it's also love. It's what drives anyone.
MC: Your lyrics are brutally honest—drinking, drugs, heartbreak; you're not trying to flatter yourself—have you always had that confidence it takes to be so honest?
TL: I have—I've been kind of impulsive and done things that maybe I know isn't, at least in the eyes of others, the "right thing to do" or the right way to behave. It is so easy to judge people. We all make mistakes and, I think, that as a girl a lot of the times we are so much harder on girls messing up than on guys. "It's just what boys do." You get that a lot but you never hear that about girls in the same way.
MC: Ever hear from exes who think your lyrics might be about them?
TL: I have, yeah—I mean, some of them take credit even though its not about them Go ahead, you can take that! But no one's been upset or angry.
MC: The concept for your album Queen of the Clouds is The Sex, The Love, and The Pain—what are those three phases of a relationship?
TL: The Sex is when it starts off passionately and you just don't think it can get any better and then you start falling in love and that's when it get a little scary because you start to need this person. You both believe you are in control and you feel like this is fun. But when you start falling in love you start showing your flaws, you start being vulnerable, and that stage is really amazing but it is also what terrifies you. Sometimes you bail out because you're too scared to go fully into it. Then, when you've been in love for a long time that's when it ends—or at least everything up until now, for me, has ended so its when, at least I have felt, go kind of cold. You just feel this distance grow and you don't remember why you are with each other and that can really be painful. Basically just everything that starts passionate ends painful, I think.
MC: Can there maybe be a fourth phase?
TL: Yeah! It's hard to say to because like everything I've had has ended. But I think there's definitely always a way back from whatever you go through and that goes for love as well. If something ends, either you put the pieces back together and you find each other again, or you move on to something else. But just because something is painful doesn't mean it is over completely. Things can always change to make it better.
MC: What's on your summer party playlist?
TL: I have to shout out my friends here, so Icona Pop's "Emergency." My new favorite band, VÉRITÉ —I love their song "Weekend." And Urban Cone's "Sadness Disease!"
MC: Walk me through your tattoos.
TL: Let's start with the first I did: this super ugly scorpion that I have on my collarbone. It was just before my 18th birthday and I came home and my mom thought it was cool. My dad cried and said, "You know the only ones that I know that have tattoos are pirates and criminals." I'm like, "Dad, times have changed." I think he's okay with it now. This one [on her upper left arm] I did second and it reminds me of my first band called Tremblebee. The first band is always very special. I did it like four years ago and I looked at it for a long time before I decided to do it. I'm like, I'm fucking doing it. It's a big step from the scorpion to this. Then this one [on her right forearm] is actually from the same painter, Mark Ryden, and there was something about this heart—it's in all of his paintings as a signature thing—that I just really loved. And the eye is just so freakishly alive. To me, it means always having an open heart and being passionate about everything I do.
MC: If you could collaborate with anyone, dead or alive, who would it be?
TL: I would love to hear Janis Joplin sing something that I wrote. That would be fucking insane.
To see Tove Lo's tour schedule and buy tickets, click here.
As deputy editor, Jen oversees Cosmopolitan's daily digital editorial operations, editing and writing features, essays, news, and other content, in addition to editing the magazine's cover stories, astrology pages, and more. Previously, Jen was a senior editor at Marie Claire. Before that, she worked at GQ.