Good Girl Gone Fad: Rihanna the Trendsetter
Rihanna's 25th Birthday - Trends Rihanna Started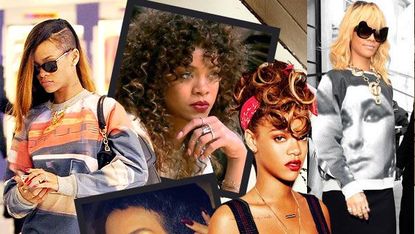 (Image credit: marie claire )
No surprise here: Rihanna has always marched to the beat of her own drum, particularly in fashion. From her barely-there midriffs and playful tomboy crewnecks to her Rosie the Riveter bandanas and classic street Timbs, RiRi has trailblazed some of the biggest fashion trends since the age of 16. The Barbadian beauty always seems ahead of the fashion curve, effortlessly setting trend-after-trend. Now, the pop princess is taking her role in fashion a step further — she just unveiled a new fashion line with River Island at London Fashion Week on Feb. 16. The girl's got style and her ever-changing 'do, chart-topping hits, and "IDGAF" attitude merely complete Rihanna's look. In honor of her 25th birthday today, here's a look at why the "Good Girl Gone Bad" is quite the trendsetter.
We attribute Rihanna's unconventional style to the classics of yesteryear. RiRi takes it back to the '90s — while channeling her inner New Yorker — with a pair of wheat Timberland boots. She elevates the boot from a workman's staple to cool, urban footwear for the ladies.
She also kicks the up-do up a notch with cascading curls and a rather unusual hair accessory: a bandana; RiRi looks to the '40s with this Rosie the Riveter-inspired look, complete with a red lip.
Retro RiRi does it again by mixing the novelty sweatshirt with elegant, feminine pieces like the pointed toe stiletto shoe.
She's edgy from head to toe — even down to the tips of her fingers. Rihanna leads the pack of daggered nail divas with a consistent pair of stiletto nails.
The "Diamonds" singer continues to differentiate her digits with the mid-finger rings and above-the-knuckle bands.
Do you have an all-time favorite Rihanna look? We can't help but wonder what will she come up with next!