Olivia Wilde Is Always Up for a Dance Party, Would Pay for Miniature Chairs, And Can Make a Mean Borscht
The star of this month's horror film The Lazarus Effect and spokesmodel for H&,M's new environmentally sustainable Conscious Exclusive line tackles some ",opposites", in rapid-fire fashion.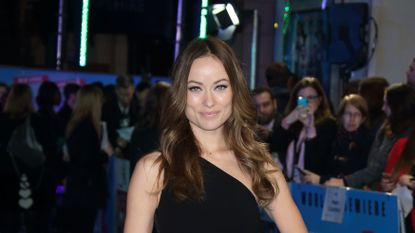 (Image credit: Getty Images)
Marie Claire Newsletter
Celebrity news, beauty, fashion advice, and fascinating features, delivered straight to your inbox!
Thank you for signing up to Marie Claire. You will receive a verification email shortly.
There was a problem. Please refresh the page and try again.
1. I would try once: Burlesque. No, thanks: bullfighting.
2. Too much in my life: E-mails. Not enough of: Burrata.
3. Fear conquered: childbirth. Not quite there yet: My voice-mail box.
4. Risky when it comes to: Travel. Play it safe when it comes to: NYC deli meat.
5. Getting better at: Changing diapers in speeding trains. Getting worse at: Splits.
6. Skills mastered: Making borscht. Can't quite get the hang of: Break dancing.
Image 1 of 1
7. Glad it's ahead of me: My 30s. Glad it's behind me: braces.
8. Would pay good money for: A miniature chair collection. Wouldn't take even if free: A Hummer.
9. Career highlight: Accurately referring to Mick Jagger as "Boss" (on set for our HBO show). Low point: 2002 tampon commercial audition. (I didn't get it.)
10. Endlessly curious about: Bloody Mary recipes. Zero interest: WWE.
11. Always up for: A dance party. Never up for: The Tea Party.
12. I feel for: Circus animals. No sympathy: The NRA.
13. Worth the wait: Your kid's first laugh. No patience for: Impatient people.
14. Always cool: Rescue mutts. Never cool: Pet stores.
15. Subject I won't shut up about lately: Serial. Subject I avoid: Cereal.
16. Moment of triumph: Paddleboarding up to a humpback whale. Epic fail: Not taking a picture of said whale.
17. Perfect day begins with: "I've got great news." And ends with: "Good night, Madame President."
You should also check out:
Miley Cyrus Told Off a Sexist Paparazzo, Regrets Dressing Like a Hippie, and Is a Conspiracy Theory Buff
Celebrity news, beauty, fashion advice, and fascinating features, delivered straight to your inbox!