"I've Learned to Be Grateful Instead of Critical": Salma Hayek Opens Up About Embracing Her Body
The actress talks confidence and beauty in this personal essay.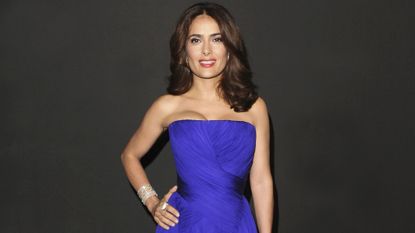 (Image credit: Getty/ Jon Kopaloff)
Marie Claire Newsletter
Celebrity news, beauty, fashion advice, and fascinating features, delivered straight to your inbox!
Thank you for signing up to Marie Claire. You will receive a verification email shortly.
There was a problem. Please refresh the page and try again.
"When I was a little girl, kids used to pick on me because I was short, skinny, and really dark from always being in the sun. Later, when I got my curves, I was self-conscious. But on a trip to Europe one summer, I became aware of the power of the color and the curves. I still didn't think I was beautiful, but when I went to college, the guys liked my personality, which started giving me confidence.
Eventually, after I became an actress in Mexico, I moved to the U.S.and no one would cast me as the leading lady. I could only get parts that were "sexy." It was my way to get into movies, but I resented it a little bit. I wanted people to see that there was more to me. And maybe that's part of the reason I did Frida (2002). I was excited to play artist Frida Kahlo, who wasn't considered beautiful. She had a unibrow and a little bit of a mustache, but she had the courage to be unique. I think that if you're confident, some kind of beauty always comes through.
Today, my husband tells me I'm more beautiful than I have ever been. I don't know if that's true, but I've learned to be grateful instead of critical. And I have to thank my grandmother Maria Luisa because she taught me that you can help preserve your beauty by caring for your skin. Her advice is paying off.
Now, pushing 50, my life looks like the dream I had when I first arrived in Hollywood. I'm working with great directors, doing all kinds of movies, and getting parts because people believe in me as an actress. I've learned it's all about balance: Be kind and patient with yourself, but at the same time, push yourself to go to the next level."
My Look:
"Cleansing— I use my Marigold Oil Cleansing Facial Oil — and putting on my day cream with SPF every morning are as important as brushing my teeth."
Nuance Salma Hayek Marigold Oil Cleansing Facial Oil, $10; cvs.com, and Age Affirm Firming Day Cream SPF 30, $22; cvs.com.
As told to Angie Romero
You should also check out:
Beauty Icon: Salma Hayek Pinault
Eva Longoria Is Empowering the Latina Community Through Education
A Kickass New Project Is Shedding Light on Street Harassment
Celebrity news, beauty, fashion advice, and fascinating features, delivered straight to your inbox!