Facepalm: Jeremy Renner Called Black Widow a Slut Again
Lesson clearly *not* learned.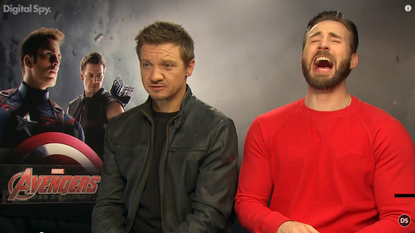 (Image credit: YouTube)
Update, 5/5: Aaaaand we're right back where we started from.
Set-in-his-ways slut-joke-maker Jeremy Renner appeared on Conan last night, where he proceeded to introduce what will be known as the She's Not Real defense: "Mind you, I was talking about a fictional character and fictional behavior. But Conan, if you slept with four of the six Avengers, no matter how much fun you had, you'd be a slut. I'd be a slut. Just saying."
Watch Renner dig his own Tumblr grave while simultaneously reinforcing the idea that if a woman has multiple sexual partners—totally "fictional behavior," BTW—it is funny to call her a degrading name. Again. After you've faux-pologized.
Update 4/23: After facing criticism for their remarks concerning Black Widow, the two actors have both come forward to apologize, issuing separate statements to People.
"I am sorry that this tasteless joke about a fictional character offended anyone. It was not meant to be serious in any way. Just poking fun during an exhausting and tedious press tour," Renner said.
"Yesterday we were asked about the rumors that Black Widow wanted to be in a relationship with both Hawkeye and Captain America," Evans said. "We answered in a very juvenile and offensive way that rightfully angered some fans. I regret it and sincerely apologize."
And that's how it's done—acknowledge, apologize, and move forward. Nice job, fellas!
Original story 4/23: Oh man. Jeremy Renner and Chris Evans are in a lot of hot water after a recent Avengers: Age of Ultron interview hit the internet. Here's what happened: When the host asked the guys what they thought of all the 'shippers who want the Black Widow (Scarlett Johannson) to end up with Captain America (Chris Evans) or Hawkeye (Jeremy Renner), they decided to have a little fun with their answers. Except NOOOO. Watch here:
"She's a slut," Renner said, as Evans burst into hysterical laughter before adding "She's a complete whore."
Evans continued with, "[She's] just flirting with everybody." Right, because flirting automatically makes you a slut. ? "She's got a prosthetic leg anyway," Renner responded, thereby implying—$#@&*!—that having a disability immediately renders a woman unattractive.
Okay, we get it: The guys were messing around and didn't mean any of this seriously. But that's actually the problem. The fact that we live in a world where two men feel comfortable joking—on camera—about a woman being a slut, a whore, or handicapped...just kinda sucks.
Needless to say, the internet is not having any of it.
2 men calling a woman a slut and whore is sexist. Jeremy Renner and Chris Evans made a sexist joke. Intent does not erase impact!April 23, 2015
See more
2 men calling a woman a slut and whore is sexist. Jeremy Renner and Chris Evans made a sexist joke. Intent does not erase impact!April 23, 2015
See more
http://scarletwtch.tumblr.com/post/117109932287
Sigh. It's slut-shaming stereotypes like these that women have been trying to eradicate for years.
Step it up, guys.
You should also check out:
So Disappointing: Michael Bublé Posted a Tasteless Photo of a Woman's Butt
Instagram Apologizes for Removing Poignant Photos of a Woman on Her Period
My writing has regularly appeared in The New York Times, The Paris Review, Salon, VICE, Guernica, The New York Observer, BuzzFeed, Cosmopolitan, Seventeen, Esquire, Elle, Harper's Bazaar, and many more publications.

I was previously the Senior News Editor at Best Life Online and the Viral Content Editor in the Newsroom of Hearst Digital Media. My portfolio consists of a vast and diverse body of work that includes personal essays, lifestyle articles, breaking news posts, and viral content. My areas of expertise, however, are Russia, sex and relationships, and mental wellness.