13 Times Celebrities' Younger Selves Starred in Hilariously Cheesy Commercials
If we've come to know one thing about celebrities, it's that each and every one has a past—many of which includes a before-they-were-famous appearance so good we couldn't have imagined them in our wildest dreams.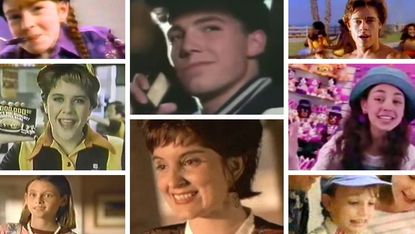 (Image credit: Design by Katja Cho)
Marie Claire Newsletter
Celebrity news, beauty, fashion advice, and fascinating features, delivered straight to your inbox!
Thank you for signing up to Marie Claire. You will receive a verification email shortly.
There was a problem. Please refresh the page and try again.
1. Sarah Michelle Gellar for Burger King
Despite the fact that 5-year-old Gellar was ADORABLE campaigning for BK's $0.39 hamburgers in the '80s, it got her into hot water:
"When I was 5 I did a commercial for Burger King," Gellar explained in a 2004 interview. "McDonald's were so outraged, they sued Burger King and named me in the lawsuit," Gellar said in aabout one of the ads, which compared the two fast food chains' burgers. "I wasn't allowed to eat there. It was tough because, when you're a little kid, McDonald's is where all your friends have their birthday parties, so I missed out on a lot of apple pies."
2. Ben Affleck for Burger King
In 1989, Affleck plays an all-American bro who receives an accidental call from a woman hoping to order in Burger King (because that's a thing). Just as he's delivering her food, his uh, car phone, rings and he's got to get back for curfew and loses out on winning her over with a Whopper....
3. Lindsay Lohan for Jell-O
Here's a little-known fact: LiLo was a member of Cos and the Gang, a '90s rap group that rapped exclusively about purple jello. Their 1995 hit, "Kids Go Ape," really holds up. Trust.
4. Mila Kunis for Lisa Frank
Fact: Mila Kunis, like us, spent the '90s coveting all the Lisa Frank—what more can she say?
5. Leonardo DiCaprio for Bubble Yum
Leo stars alongside a "loud-thumpin', tune-pumpin' Boombox," which is a natural counterpart to a chunk of Bubble Yum, but rest assured, unlike a stereo it'll "never blow out," and "keeps it poppin'."
6. Brad Pitt for Pringles
Brad Pitt has always been as hot as he is at present. As cool? That's up for question thanks to this '80s beach scene gold.
7. Kristen Stewart for Porsche
Stewart has a cool dad. What exactly does that entail in 1999? It means getting a vroomy-esque ride in his Porsche when you miss the bus.
8. Britney Spears for Maull's Barbecue
What makes that meat a culinary thrill? Maull's Barbeque sauce and a 1993 Britney Spears cameo.
9. Tina Fey for Mutual Savings Bank
If Fey could perform anything before our eyes, we'd like it to be a spot-on parody of herself in this '90s bank commercial (down to her carpet-print vest, of course).
10. Meg Ryan for Burger King
We're seen Ryan enthusiastic many times over, but nothing compares to her utter eagerness to share Burger King's "Aren't You Hungry" Whopper Game. Sorry Affleck, but she's got you beat.
11. Paul Rudd for Nintendo
The year? 1991. The product? Super Nintendo. The actor? Paul Rudd. You're welcome.
12. Mark Ruffalo for Clearasil
A sheepish Ruffalo only "vaguely" recalled this throwback moment in his career when it was unearthed by Jimmy Fallon, and we can see why he might've suppressed the memory. In this 1989 commercial for Clearasil, Ruffalo is faced with the struggle of teenage acne. Watch the young actor in all his curly-haired '80s glory as he zap, zap, DOUBLE ZAPS his zits with Clearasil's Double Clear pads.
13. Jenna Dewan Tatum for Unionbay
[/image]
If this Unionbay ad doesn't scream early 2000s, we don't know what does. And there's Jenna Dewan Tatum—before she hit everyone's radar in Step Up opposite her now-husband Channing Tatum—looking tanned and toned and adorable as ever.
Celebrity news, beauty, fashion advice, and fascinating features, delivered straight to your inbox!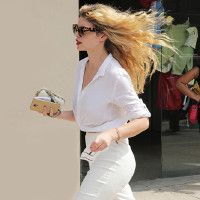 Lauren is the former beauty editor at Marie Claire. She love to while away the hours at coffee shops, hunt for vintage clothes, and bask in the rough-and-tumble beauty of NYC. She firmly believes that solitude can be a luxury if you've got the right soundtrack—that being the Rolling Stones, of course.