Jennifer Morrison Directed a Rom-Com, and She Told Us All About It
"It turns out this little movie has legs."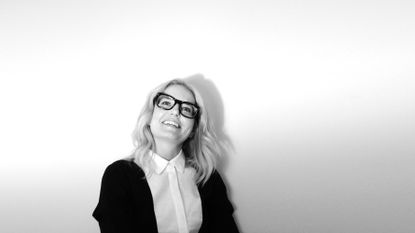 (Image credit: Tina Turnbow)
As the beautiful Emma Swan, Jennifer Morrison kicks ass alongside Cinderella and Snow White in intense, Grimm-Brothers fashion on TV's beloved Once Upon a Time. But now the actress is taking her talents off-screen to direct short film Warning Labels, a quirky romantic comedy that premiered, impressively, at last month's Tribeca Film Festival.
In the midst of a whirlwind TFF week, she took the time to share her thoughts on knocking out her first round as a director.
Marie Claire: How did this project come about for you?
Jennifer Morrison: "Directing started to feel like a natural next step for me. I directed some theater in college and early on in LA. After spending thousands of hours on sets, I started to soak up the technical side of things, and I started studying directors I loved, and then I started studying the directors they loved, and it spiraled into a great passion for wanting to direct."
MC: What were your inspirations?
JM: "Lee Friedlander's book of self portraits was one of many inspirations for the look of the film. Warning Labels is presented from Mindy's perspective. She is on a path of self-discovery and so I wanted to look at self portraits. Friedlander's use of shadow and reflection in his self portraits was directly incorporated into the use of shadows and reflections as Mindy sees momentary and accidental portraits of herself in different moments."
MC: Did the final cut of the film live up to your vision?
JM: "I feel like I made the film I imagined. I am thrilled with the result. The producers, the crew, and the outstanding department heads all made that possible."
MC: Your central crew was largely female—how did that dynamic factor into the final product?
JM: "Honestly, it felt like any other set that I have been on. We were not focused on it being female-driven. I didn't realize until after that it was a female director, writer, and protagonist. In my mind, that is the goal—not that it should be separate and different because females are involved, but that it be the on the same playing field as anything that is male-driven. So we can all truly be equally considered and included."
MC: Getting in to Tribeca is a big deal!
JM: "I made this film because my schedule doesn't permit me to go to film school—I was just trying out the things that I like. I knew that it may never get seen, so I've been so pleasantly surprised and pleased that Tribeca Film Festival brought it to the light. Because of the festival, we have opportunities for so many people to see the film now and in the future. It turns out that this little movie has legs. I could never have imagined that we would be watching Warning Labels in theaters, and that is happening at several festivals as well as through a distribution deal that we are currently negotiating."
MC: Has the experience inspired you to make more films?
JM: "I loved directing. I absolutely plan to continue directing. We're in the process of looking for financing for the feature script Sun Dogs that I optioned from Warrior writer Anthony Tambakis. My hope is to film that in my hiatus of 2016."
MC: What do you love most about it?
JM: "I love all of the actors so much. I appreciate that they took the time to be a part of this passion project with me, but mostly they all elevated the material. They all came in with strong, specific, and compelling characters. They are all just outrageously talented."
MC: Can you talk about how a song by your sister became part of the film's soundtrack?
JM: "My sister is a music therapist, but she is also a singer/song writer. I am always in awe of her voice and the beautiful songs that she writes. She wrote 'Instructions for You' specifically for Warning Labels. It turned out to fit perfectly in the film. It makes me so happy to have her music featured in my first film. The song is actually available on iTunes and Spotify…so go find it! I promise you will love it."
You should also check out:
New Study Reveals Why It's So Damn Hard Out There for Female Filmmakers
Hey Patriarchy: Olivia Wilde Sees Your Sexism and Raises You This Badass Feminist Flick
Carey Mulligan Says the Film Industry Is "Massively Sexist," Lacks Great Stories for Women
I have been a makeup artist for many years. I began interviewing and photographing some of my celebrity clients for T Magazine and the New York Times online. Interviewing such awesome talent, doing their makeup, and taking photos has become a huge passion of mine since then. I'm interested in grabbing a moment, a photo, that will paint a spontaneous honest portrait of the person I am featuring.