Danica Patrick Is an Animal-Loving Record Breaker Who's Always Ready For a Girls' Night Out
The NASCAR race car driver and Tissot watch ambassador on immortalizing her dog, skincare as religion, and that road-rage problem.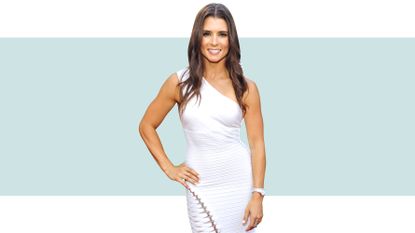 (Image credit: Kevin Mazur/WireImage)
Marie Claire Newsletter
Celebrity news, beauty, fashion advice, and fascinating features, delivered straight to your inbox!
Thank you for signing up to Marie Claire. You will receive a verification email shortly.
There was a problem. Please refresh the page and try again.
1. Pick about: Restaurants and vacation destinations. Not so much about: Coffee. I drink it black.
2. I feel for: Animals. I created a plush toy of my dog, Dallas, and a portion of proceeds go to charities that support them. No sympathy: People who don't work hard but want it all.
3. Skills mastered: Parallel parking and dickering. Can't quite get the hang of: Nonparallel parking.
4. Early for: Anything work-related. Late for: Birthdays, as in I completely forget about them.
5. Totally get the appeal: Skinny jeans. Don't get at all: Why my boyfriend (Ricky Stenhouse Jr.) doesn't!
6. Getting better at: Being patient and kind with others and myself. Getting worse at: Road rage.
7. Perennially cool: Wearing white, watches, and heels. Never cool: Crocs.
8. Moment of triumph: Passing six-time NASCAR champion Jimmie Johnson on the outside on a restart. Epic fail: Anything high-waisted on my 5'1" frame; my storytelling skills.
9. Glad it's ahead of me: Confidence that comes from experience. Glad it's behind me: Insecurity that comes from youth.
10. Hottest place I've ever been: The inside of my GoDaddy Chevy during a summer race—it gets up to 140 degrees. Coldest: Chicago in the winter. There's nothing colder than turning the corner from Oak Street to Michigan Avenue—they call it the Windy City for a reason!
11. Always up for: A girls' night out, outdoor activities, and trail mix. Never up for: Too-tight pants.
12. Too much in my life: Pressure, expectations, schedules, and salads. Not enough of: Free weekends! Every NASCAR race is on a weekend.
13. Endlessly curious about: The human body. Zero interest: What people think of me.
14. Subject I won't shut up about lately: CrossFit. Subjects I avoid: Religion and politics.
15. True believer: God, love, and a good skincare regimen. Major skeptic: The effectiveness of low-impact workouts.
16. Perfect days begin with: Cuddling with my boyfriend and dog, sunshine, a cool breeze, and crashing waves. And ends with: Falling asleep on the couch.
This article appears in the June issue of Marie Claire, on newsstands now.
Celebrity news, beauty, fashion advice, and fascinating features, delivered straight to your inbox!